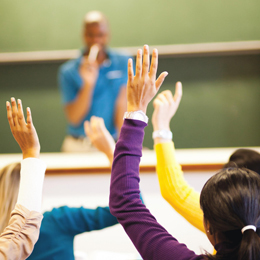 The 2017 Private High School Report Card
September 2017
It's no secret the Greater Philadelphia Area is known for its private school curricula, as evident by the number of its prestigious private institutions. With so many to choose from, the process can feel overwhelming for both the prospective student and their respective parents, which is where Suburban Life / Philadelphia Life's annual Private High School Report Card comes in. We spoke directly with several area private schools to gather the most up-to-date statistical data in an effort to present the most accurate information.
That data spans key categories from tuition cost, student-to-teacher ratio, percentage of students attending a four-year college and numbers of both AP and Honors classes available. Additionally, we gathered information on average SAT scores by asking the schools, as a matter of fairness, to provide their average score for 100 percent of the student body taking the test. If the schools only provided a select percentile, rather than the average, we have omitted their scores. Finally, a few local schools offered advice for both students and parents on how to better prepare themselves when applying to their school of choice.
To see the full 2017 Private School Report Card, click
here
.
What do you look for in a prospective student?
"The enrollment process is not about 'looking' for prospective students. It's more about finding the right fit for the student and for Holy Ghost Prep. Every student comes from a different grade school, family, neighborhood. He has lived different experiences, played on different teams, traveled to different places, met different people. Each student brings with him a story. As an applicant, we want for that boy to tell his story. … Often, that translates into something easy to see: solid grades, a great work ethic, a strong entrance test score, outstanding teacher recommendations and a charismatic interview—all of these components are part of the application process and are key factors in being admitted.
Sometimes the story is amazing, but quiet or new to us, and needs a little help to be told. Our process provides personal connections—whether through an essay, a visit or an interview—for us to get to know the boy and his family. Through this interaction, together we can begin to see how this student might find success at Holy Ghost Prep and come to know our unique Spiritan education."
—Gregory J. Geruson
President, Holy Ghost Preparatory School
What should parents consider when deciding what private school would be the best fit?
"Selecting a high school that is right the academic, co-curricular and social fit is important and, in my years as an admissions counselor, I've learned that each student's selection process is unique and personal. What matters most to one student is relatively unimportant to the next. I'd advise parents and students to sit down as a family to identify their top priorities and also to choose the aspects with which they can be flexible. For example, for some students distance is a huge factor, while others are willing to travel in order to attend a school that has programs about which they are passionate. Identifying these 'must haves,' 'should haves' and 'might haves' will help keep families focused once they start attending open houses. Emotional connections to schools can form fast, so be sure to have these conversations early in the process."
—Laura Lasky
Director of Admissions, Villa Joseph Marie High School
How important are test scores when admission decisions are being made?
"Test scores carry weight with respect to scholarship offers, and to an extent acceptance to Devon Prep, but test scores only tell part of the story regarding applicants. While they are important, we also give a lot of weight to an applicant's transcript and grades—how he has done in the classroom, how he is from a discipline standpoint, what sorts of activities and interests he has outside of the classroom—because we're trying to build well-rounded students, and we want those who come to Devon to be active and participate and really try and make an impact here. Test scores are only one piece of the admission process, and we don't want to accept or reject someone based solely on them."
—Kevin Mulholland
Director of Admission, Devon Preparatory School
How important is it for a student to visit a school and sit in on a class prior to applying?
"The key to choosing the right high school is to engage in the following two phases: research and exploration. … The exploration phase is much more subjective because it's based on the student's engagement with the school community. Attending an Open House, speaking to current students and scheduling a private tour or shadow visit are key components to this phase. Shadow visits are essential because they are an opportunity to be guided by a current student and observe classes, the school's atmosphere and the interactions between students, faculty and staff. The exploration phase provides the prospective student with a sense of the school's atmosphere and expectations. In this stage, the objective points do not matter as much as the idea of the right 'fit.'
It is the feel of the school or its atmosphere that helps drive decisions. My piece of advice to every prospective student is to picture themselves attending the high school and ask the following questions: 'Will this school push me to be the best version of myself? Will I be comfortable in this learning environment? Will I get an opportunity to be myself?' The focus of high school should be academia, but students learn differently and experience the world differently. In that regard, high school is really about finding the place where the student is pushed to the best version of themselves academically, socially, and individually."
—Kimberley Clearkin
Director of Admissions, Saint Basil Academy
THE 2017 PRIVATE HIGH SCHOOL REPORT CARD
Total SAT Score
The Haverford School 1350
Friends' Central School 1300
Princeton Day School (N.J.) 1300
Episcopal Academy 1280
St. Joseph's Preparatory School 1262
Roman Catholic High School 1033
Bishop McDevitt High School 1021
Abington Friends School N/A
Academy of Notre Dame de Namur N/A
Bishop Shanahan High School N/A
Germantown Academy N/A
Germantown Friends School N/A
The Hun School of Princeton (N.J.) N/A
Total Enrollment
Bishop Shanahan High School 1130
Roman Catholic High School 905
St. Joseph's Preparatory School 890
Germantown Academy 547
Episcopal Academy 541
The Hun School of Princeton (N.J.) 530
Bishop McDevitt High School 444
The Haverford School 436
Princeton Day School (N.J.) 422
Academy of Notre Dame de Namur 400
Friends' Central School 380
Germantown Friends School 375
Westtown School 353
Abington Friends School 244
Honors Classes
Bishop Shanahan High School 54
The Haverford School 42
Episcopal Academy 40
Bishop McDevitt High School 35
Roman Catholic High School 33
Germantown Academy 23
Academy of Notre Dame de Namur 21
St. Joseph's Preparatory School 20
The Hun School of Princeton (N.J.) 17
Princeton Day School (N.J.) 9
Abington Friends School N/A
Friends' Central School N/A
Germantown Friends School N/A
Westtown School N/A
AP Classes
Westtown School 66
Friends' Central School 29
Episcopal Academy 23
Bishop Shanahan High School 21
Academy of Notre Dame de Namur 19
The Hun School of Princeton (N.J.) 19
Princeton Day School (N.J.) 18
St. Joseph's Preparatory School 17
Germantown Academy 16
Roman Catholic High School 11
Bishop McDevitt High School 4
Abington Friends School N/A
Germantown Friends School N/A
The Haverford School N/A
Total Tuition
Abington Friends School $39,990
The Hun School of Princeton (N.J.) $39,900
The Haverford School $38,000
Westtown School $35,820
Princeton Day School (N.J.) $35,810
Germantown Friends School $35,775
Friends' Central School $19,000-$35,750
Germantown Academy $34,480
Episcopal Academy $34,095
Academy of Notre Dame de Namur $22,900
St. Joseph's Preparatory School $22,900
Bishop Shanahan High School $9,560
Roman Catholic High School $8,550-$9,050
Bishop McDevitt High School $8,280-$8,780
Students Receiving Financial Aid
Roman Catholic High School 80%
Bishop McDevitt High School 58%
Westtown School 48%
St. Joseph's Preparatory School 47%
Abington Friends School 45%
Friends' Central School 32%
The Haverford School 32%
Germantown Friends School 30%
The Hun School of Princeton (N.J.) 30%
Academy of Notre Dame de Namur 28%
Germantown Academy 27%
Bishop Shanahan High School 25%
Princeton Day School (N.J.) 25%
Episcopal Academy N/A
Student-to-Faculty Ratio
Academy of Notre Dame de Namur 9:1
Germantown Academy 8:1
Princeton Day School (N.J.) 8:1
The Haverford School 8:1
Westtown School 8:1
Episcopal Academy 7:1
Friends' Central School 7:1
Germantown Friends School 7:1
St. Joseph's Preparatory School 12:1
Abington Friends School 16:1
Bishop McDevitt High School 20:1
Bishop Shanahan High School 20:1
Roman Catholic High School 22:1
The Hun School of Princeton (N.J.) N/A
Attending Four-Year Colleges
Abington Friends School 100%
Academy of Notre Dame de Namur 100%
Bishop Shanahan High School 100%
Episcopal Academy 100%
Friends' Central School 100%
Germantown Academy 100%
Germantown Friends School 100%
Princeton Day School (N.J.) 100%
The Haverford School 100%
The Hun School of Princeton (N.J.) 100%
St. Joseph's Preparatory School 99%
Westtown School 99%
Roman Catholic High School 96%
Bishop McDevitt High School 84%