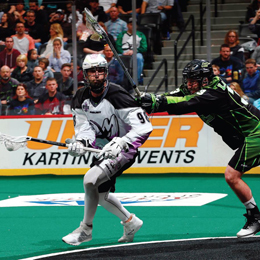 Philly Loves Lax
For Nick Sakiewicz, it's "déjà vu all over again."
On the heels of the 1994 FIFA World Cup, hosted by the United States, Sakiewicz became one of the founding fathers of Major League Soccer. He went on to build new MLS teams and new stadiums, including the stunning waterfront arena in the shadow of the Commodore Barry Bridge—now known as Talen Energy Stadium, home of the Philadelphia Union. He served the Union as CEO until 2015, after having helped to shape it into one of the league's most beloved brands, with a deeply passionate fan base. Just ask the Sons of Ben.
This is where the déjà vu comes in. After parting ways with the Union, Sakiewicz received an unexpected call from the owners of National League Lacrosse, purveyors of a game with North American roots that blends skill, speed and toughness, sort of a combination of basketball, hockey and soccer. They wanted him to do for professional men's box lacrosse what he did for professional soccer.
"Candidly, I didn't know a lot about lacrosse," he says, "but you can't schedule an opportunity."
In 2016, Sakiewicz became the fifth commissioner of the NLL, which currently has nine teams—soon to be 11. As part of his plan to grow the game, he moved the headquarters from New York City to the Greater Philadelphia Area—Conshohocken, to be precise. In time he expects the league HQ to migrate south, into Philadelphia proper.
The NLL's ties to Philadelphia run deep. The city hosted the storied Philadelphia Wings for a stretch of nearly 30 seasons, ending when the franchise relocated to New England in 2014. The good news: Faithful fans won't have long to wait for its return. Comcast Spectacor recently acquired a franchise, meaning NLL lacrosse will resume play at the Wells Fargo Center for the 2018- 19 season. (Another franchise, the San Diego Seals, will begin league play next season, too.) A fan vote will determine the team's name; as of late October, the options had been whittled down to three finalists: the Fire, the Founders and, naturally, the Wings.
"I'd bet my money on the Wings," says Sakiewicz.
Sakiewicz's career in professional sports began as a player—a soccer goalkeeper, to be precise. He retired from game play in 1990, at the tender age of 29, and then moved into coaching and, finally, the executive office. Although soccer will always be in his blood, he says lacrosse has found a home there, too. We caught with him so he could share his perspective on the future of the game, the league and its growing presence in Philly.
The game …
"The quality of the athletes and the product on the floor are our greatest strengths. It's the best lacrosse in the world. We couldn't necessarily say that with Major League Soccer, because there were so many leagues. The league feels a little like the NHL did 30 or 40 years ago. You're seeing more and more kids playing lacrosse, the average attendance is growing at a rate of 12 percent, and it's a great demo: young, very tech savvy and highly educated."
The league's future …
"For me, it's a tale of two leagues. I'm proud of what we built up with Major League Soccer, and now I'm doing it again with another sport. We're continually improving the production of our broadcasts, growing our commercial sponsorships, growing through grass-roots development, and expanding our team services so existing teams can build and develop relationships with other businesses. And every day we're focused on developing our expansion plan, because we need more teams. Our vision is a 20- to 30- team league over the next decade. We believe it's time."
Philadelphia ties …
"The Wings never should have left Philadelphia. It was a legendary team that sold out the Spectrum for many years. The more I looked at the league, and the more I peeled the layers of the onion, I saw there were 30 years of history that didn't go anywhere. We now have a terrific owner in Comcast. Philly is a hotbed of lacrosse, and I know the team will be successful."
Time away from his job …
"I travel a lot, and I spend as much time as I can watching my sons; my older son is a coach [at Guilford College in Greensboro, N.C.], and my younger son is a freshman at the University of Delaware. I'm enjoying just watching soccer rather than working in it. I'm still a huge fan, but I also love lacrosse. … I'm nowhere near as good at lacrosse as I am at soccer, but the soccer balls didn't fly at 160 miles per hour. I'm still blown away by the speed and accuracy our guys can throw a lacrosse ball. We always seem to be in ESPN's [SportsCenter] 'Top 10 Plays,' and that's a testament to the quality and skill of these athletes."
Published (and copyrighted) in Suburban Life Magazine, November, 2017.
For more info on Suburban Life Magazine, click here.
To subscribe to Suburban Life Magazine, click here.
To advertise in Suburban Life Magazine, click here.