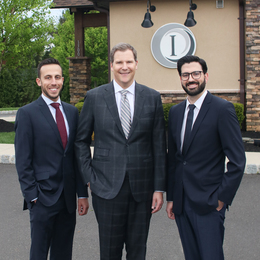 Surgical Precision
With its newly opened Newtown office, Innovative Implant and Oral Surgery accommodates demand from an ever-growing patient population.
Innovative Implant and Oral Surgery has been a fixture of Bucks County for more than 40 years. Nearly five years ago, after having outgrown its original office in Feasterville, the practice moved into a brand-new, 5,000-square-foot facility nearby. But it wasn't done yet. In an effort to best serve its ever-growing patient population, the practice recently opened an additional office in Newtown.
"In order to accommodate our growing patient population, we found that Newtown, Yardley, Richboro, and beyond were home to many of our patients," says Michael B. Salin, D.M.D., the practice's owner. "We chose the location because it's most convenient for our patients, and it is located only 15 minutes from the Feasterville office."
The Newtown office represents a changing of the guard, of sorts. The office once belonged to Alan Yates, D.M.D., a well-respected and talented oral and maxillofacial surgeon practicing in Newtown for more than 40 years.
"We're continuing Dr. Yates' legacy," says Dr. Salin. "He has operated in this community and at St. Mary Medical Center for many years, and he had a wonderful reputation with patients and doctors."
A team approach is critical to providing patients with personalized care and successful outcomes. Jared S. Weiner, D.M.D., and Adam J. Semanoff, D.M.D., also natives of suburban Philadelphia, play a dynamic role in contributing to the success of Innovative Implant and Oral Surgery. Each brings his own specialized skillset and mastered techniques to the practice, enabling the team to seamlessly provide the best practice approach to the wide scope of surgical care that the oral and maxillofacial surgical specialty has to offer.
While Innovative Implant and Oral Surgery intends to carry on Dr. Yates' reputation for top-quality, patient-centered care, the practice will be offering a number of new features at the Newtown location—namely, general anesthesia and specialty care for pediatric patients, as well as those with special needs. Likewise, the practice will utilize the most advanced technology to improve patient outcomes, whether the surgeons are performing surgery to remove wisdom teeth or placing dental implants to improve patients' ability to eat and smile. "We offer surgical techniques and treatment options that are not readily accessible to patients in our region," says Dr. Weiner.
"Being the owner of the practice, it is very important that I maintain the ability to deliver the highest level of care in the community," says Dr. Salin, who is on staff at Temple University Hospital and Holy Redeemer Hospital in Meadowbrook; all three surgeons—Drs. Salin, Weiner, and Semanoff—have applied to become surgical staff at St. Mary Medical Center in order to provide convenient and trusted surgical services to the surrounding community. "I also have to make sure we're staying on the cutting edge by offering the most current, least invasive therapies. We take care to ensure that patient safety is first and foremost, and that we stay ahead of the curve."
One of the ways in which the surgeons accomplish this goal is through continuing education. The practice hosts a number of conferences annually to benefit peers and community members alike. Some of these events include talks by internationally acclaimed experts in dentistry who teach local dentists and physicians new techniques as well as innovations designed to raise the standard of care. Additionally, all of the doctors are instructors with the American Heart Association, teaching CPR to first responders including dentists, physicians, dental hygienists, and dental office staff.
Of course, Innovative Implant and Oral Surgery practices what it preaches. The practice utilizes anesthetics with minimal side effects, for example, and its entire team undergoes preparedness training with paramedics multiple times a year so surgical team members know precisely how to respond in the event of any anesthesia-related emergencies. This goes for Drs. Salin, Weiner, and Semanoff, as well as the clinical staff, many of whom have many years of experience working in the specialty of oral and maxillofacial surgery.
"Our surgeons have a wonderful chairside manner," Dr. Salin notes. "They have been integral to carrying on the patient culture that we have here. They are very respectful of this and very patient-centered, and they're also very skilled surgeons."
In the end, Innovative Implant and Oral Surgery strives to create an atmosphere in which every patient feels seen, heard, and valued. Dr. Salin considers this a marked difference compared with the experience common throughout the current U.S. healthcare system, where patients are treated as "just a number."
"What has been important to me from the moment I started this practice is that patients are central," Dr. Salin says. "For us, as dentists and as oral surgeons, all of our patients—from pediatric to teens to adults—are our No. 1 priority. Sometimes we see three generations of patients in the office, and I think that says a lot about the level of care and compassion that we provide here."
Innovative Implant and Oral Surgery
(215) 322-7810
1300 Bridgetown Pike
Feasterville, Pa.
Newtown Commons
West Medical Professional Building
638 Newtown Yardley Road #2A
Newtown, Pa.
Photograph by Heart and Soul Portraits
Published (and copyrighted) in Suburban Life magazine, May 2019.
---