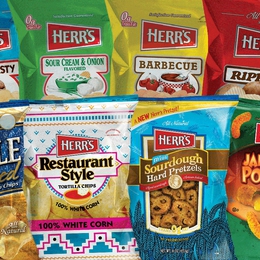 Home Made
Some of the nation's most beloved brands are manufactured right in our backyard
Over the last few decades, as technological advances streamlined and simplified the production of goods, many American companies have found it easier and more cost-effective to outsource their manufacturing to overseas factories.
Although the number of U.S. businesses that manufacture their products abroad continues the rise, some companies are going against the grain by producing their wares close to home. Even better, a good number of these companies are based right here in the Philadelphia suburbs.
Beloved brands such as Rita's Italian Ice, K'NEX and Herr's were all founded in one of the suburban counties surrounding Philadelphia and have continued to base their operations and manufacturing here. In other words, not only are these companies spurring the local economy, but they are also, in the simplest of terms, our neighbors.
Rita's Italian Ice
Trevose
Spring is upon us, and with it comes a Philadelphia-area rite of passage: heading to one of the seemingly countless Rita's Italian Ice locations for a favorite summer treat. Started in Bensalem in 1984 by Philadelphia firefighter Bob Tumolo, Rita's Italian Ice—named after Tumolo's wife—has become a warm-weather staple with sweet treats including Italian ice, ice cream, Mistos, Blendinis, gelati and custards. ritasice.com
Zenescope Comics
Horsham
Founded in 2005 by Joe Brusha and Ralph Tedesco, Zenescope Comics has evolved into one of the nation's most recognized independent publishers of comic books and graphic novels. Known especially for its unique reimagining of classic tales, Zenescope has produced a number of popular series, with "Grimm Fairy Tales," "Wonderland," "Myths and Legends," "Neverland," "Inferno," "Sinbad" and "Salem's Daughter" among them. zenescope.com
Sly Fox Beer
Pottstown
Now known as one of the premier craft beers in the Mid-Atlantic, Sly Fox grew from the Giannopoulos family's original Sly Fox Brewhouse and Eatery in Phoenixville. In January 2012, Sly Fox opened a 30,000-square-foot brewery in Pottstown. Managing partners John and Peter Giannopoulos, along with brewmaster Brian O'Reilly, have extended the availability of their innovative beers—India Pale Ale, Phoenix Ale and Pikeland Pils, for example—beyond Pennsylvania's borders to include New York, New Jersey and Delaware. slyfoxbeer.com
Hank's Beverages
Trevose
With its 12-ounce logo-embossed glass bottle having catapulted the brand in popularity along the coasts and in the Midwest, Hank's is now sold in more than 40 states nationwide. Based in Trevose and manufactured in Wilkes-Barre, the line of gourmet soft drinks started with bottled root beer in 1996. It has since expanded to include a wide variety of flavors, such as vanilla cream, orange soda, cream soda, black cherry, birch beer and diet root beer. hanksbeverages.net
Brad's Chips
Pipersville
When Brad Gruno decided his life needed revamping, he started a new chapter by moving home to Pennsylvania and focusing on a raw-foods diet, hoping to improve the way he looked and felt—and he eventually did. In following his new lifestyle, Gruno craved the crisp and crunch of snack foods and began experimenting with raw chips made from vegetables, seeds, fruit, nuts, buckwheat, groats and spices—ultimately paving the way for Brad's Raw Foods. His stable of products has grown to include Raw Chips and Crackers, Raw Leafy Kale, Raw 4 Paws treats and Raw Onion Rings. bradsrawchips.com
Bucks County Biscotti
Perkasie
These twice-baked, traditional Italian-style biscotti have become popular in coffeehouses and cafés around Bucks County and beyond, extending up and down the East Coast. Bucks County Biscotti's artisan, hand-cut and trans fat- and preservative-free recipes span a range of flavors, including anise almond, chocolate-dipped anise almond, lemon poppy, espresso chip, chocolate hazelnut, cranberry walnut, ginger cherry and, during the holiday season, peppermint cookie. buckscountybiscotti.com
Herr's
Nottingham
Little did James Stauffer Herr know when he bought a potato company in Lancaster in 1946 that it would develop into one of the snack-food industry's leading—and, in this region, beloved—manufacturers, known as Herr Foods Inc. Now produced and based in Nottingham, Chester County, Herr's has more than 340 snack-food items such as potato chips, pretzels, tortilla chips, cheese curls, popcorn, crackers and nuts, among many others. herrs.com
K'NEX
Hatfield
K'NEX hit the toy market in 1992, growing from the germ of a simple idea that Joel Glickman had while playing with some cocktail straws during a wedding. K'NEX rods and connectors are the foundation for one of the world's "leading integrated construction systems for children," in the K'NEX lexicon. With 90 percent of its parts being manufactured in Hatfield, K'NEX produces a variety of products for all ages, including Tinker Toys, Lincoln Logs and advanced model sets. knex.com