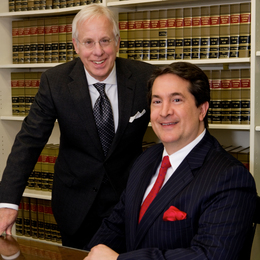 Committed, Connected, Respected
DiOrio & Sereni LLP offers the skill and professionalism of a big-city law firm with the personal attention and service of a hometown lawyer
To practice law, one must first earn a bachelor's degree while maintaining an acceptable grade point average, obtain a satisfactory score on the Law School Admission Test, be accepted to law school and, finally, pass the bar exam. It is no wonder then that the law can cause confusion for even the smartest professionals not familiar with its practice. Media-based DiOrio & Sereni LLP makes sense of the law for its clients in Delaware, Chester, Montgomery and Bucks counties, delivering exceptional legal expertise by following a three-word philosophy: committed, connected, respected.

"What I do is speak for those who can't speak for themselves," says Robert DiOrio, a partner in the firm. "A client may be intelligent, but the law can be complex and they need someone to address their needs specifically. … They need to be partners with a lawyer who can simplify it." DiOrio and his partner in the firm, Mark Sereni, do just that by "offering big-city legal services in a friendly hometown atmosphere."

DiOrio has found that, in the suburbs, families and businesses often want to be able to turn to one attorney with any of their various concerns. "Suburban clients are more prone to believe in the concept of a family lawyer," he says. "Litigation, estate law, family law, real estate—they want to feel they have a trusted adviser to go to when issues arise. Our ability to provide diverse legal services is important to them." He says the full-service firm represents multiple generations of families and their friends and neighbors. "Most referrals come from people we serve. That is important to us; it reaffirms we are doing well by them."

This sort of confidence is a direct result of DiOrio & Sereni's commitment to serving them. "When they come to you, whether it is a domestic dispute or some other situation, these clients are involved in life-altering circumstances," says DiOrio. "Each client is treated as I would treat a member of my family." By doing so the firm fosters a connection with each of its clients. The attorneys are trained to carefully listen to the clients' concerns to better understand their point of view and to treat each with dignity and respect. "This is the crux of our philosophy and how we have become so successful in what we do," DiOrio emphasizes.

They keep connected to clients by informing them every step of the way, providing them copies of each document submitted on their behalf and reaching out to them, in some cases even when there has been no recent activity on a case. "It is basic, but clients expect and appreciate knowing their attorney is working for them," DiOrio explains. "We feel our clients are our partners; they can't help us assist them unless they know what we are doing."

The nature of the practice is such that the lawyers of DiOrio & Sereni also try to be available to their clients whenever they are needed through phone calls, e-mails, text messages and, especially, in person. "We are lawyers 24/7," DiOrio says. "During a divorce, circumstances may arise on a weekend and the client will experience undue stress and anxiety if they have to wait until Monday morning to receive advice. … We do our best to be available on evenings, weekends and holidays when things occur." While it is not possible for an attorney to be immediately available when in court or conference with another client, DiOrio says they go to great lengths to return each call that day or at least have an assistant reach out to see if they can help until the attorney is available. "Our clients shouldn't feel that they are alone in legal system," DiOrio says. "They need to feel that you are there with them, while maintaining candid objectivity."

In its 17-year history, the firm has used this approach to earn not only the respect of clients but also that of its peers. Both attorneys, DiOrio and Sereni, have been designated as Pennsylvania Super Lawyers by Philadelphia magazine for nine consecutive years, and also have earned the AV Rating in the Martindale-Hubbell Bar Register of Preeminent Lawyers. "This honor is especially important because it is a rating by our peers," DiOrio says. "Attorneys know who the good attorneys are." As proof of this, DiOrio & Sereni is often called upon by other firms, including those in Center City, to help represent their clients.

DiOrio has a diverse background, including experience in the federal and local courts. He has represented clients in virtually every phase of criminal and civil law, and has also held elected offices and has served on the boards of several organizations. "These life experiences help me help clients in their experiences," he says. The firm has a team of 20 including eight attorneys, with two of-counsel, legal assistants and support staff. "If we hire and keep an attorney it is because we believe they are intelligent and knowledgeable in the law, responsible and will provide the highest service to our clients," he adds. He specializes in divorce and domestic issues, estate law, school law and civil rights, while Sereni concentrates on employment law, medical malpractice, serious personal injury, business disputes, and school law, and has also developed Jury-Focused,SM a service for trial attorneys to assist them to develop their case presentation based on focus group feedback.

"We are all in this together," DiOrio says. "We have the privilege of being attorneys and serving people in a country that permits us to resolve our differences in a way that is conducive to democracy. Because of that, if we can help another attorney be a better attorney and assist in the process of jurisprudence it makes for a better legal system and a better country."

DiOrio is solicitor for the Delaware County Board of Prison Inspectors, Delaware County Services for The Aging (COSA), and Southeast Delco School District. He has served on the board of directors of the Delaware County Regional Water Quality Control Authority (DelCORA), Metropolitan Hospital and Immaculata College President's Council. He was also on the Academy of Notre Dame de Namur's board of trustees, chairman of the Chamber of Commerce Family Business Committee and a member of the Delaware County Bureau of Elections.

Sereni, meanwhile, is solicitor for Springfield School District and Marple Newtown School District. He is also involved in the Marple Newtown School District Sponsor-A-Scholar Program, the Big Brothers/Big Sisters Mentoring Program, St. Joseph's University Mentoring Program, University of Pennsylvania Law School Mentoring Program and the Association of Trial Lawyers of America Mentoring Program. He is also a member of the Lawyer/Doctor Education Team Partnership Against Drug and Alcohol Abuse and Speaker's Bureau of the Delaware County Bar Association.

"I am interested in serving people in any matter possible, professionally as an attorney and personally I try to give back by being active in other organizations," DiOrio says. "It is all part of everyone coming together to make a better society. If you have a talent, skill or ability that is of some value to another organization, it should not be wasted."

DiOrio & Sereni handles cases involving employment law, commercial litigation, family law, will-and-estate planning, business and real estate matters, personal injury, medical malpractice and bad-faith insurance claims. The attorneys also provide representation for individuals and businesses before state, county and local governmental agencies.
DiOrio & Sereni LLP
21 W. Front Street
Media, PA 19063
610-565-5700
www.dioriosereni.com