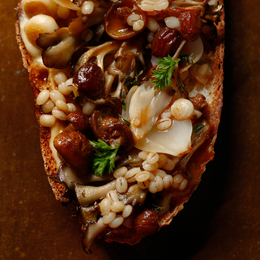 Seasoned
The chefs leading some of the area's most talented kitchens add flavor to an already vibrant restaurant culture
For most animals, food is nothing more than sustenance, merely a means of survival. Humans, on the other hand, know a good thing when we see it.

More than ever before, food is an experience—something to be enjoyed, savored, shared among friends—and the Philadelphia area is one of the best places in America to experience it, no matter what style of cuisine best suits your palate. Philadelphia's culinary competency extends to the suburbs, which are now rife with acclaimed chefs and restaurateurs. Sure, we have our share of chefs with famous last names, but, lucky for us, there's a constant stream of new talent rising up to join them.

On the following pages are the men and women behind some of the finest, most inventive restaurants in our neck of the woods. From Indian to Creole, from Middle Eastern to Japanese, from carnivore centric to plant based, our local restaurant culture has truly become a melting pot—and the folks responsible for this flavorful stew are, in a word, exceptional.


Eli Kulp
Chef Eli Kulp is everywhere: Food & Wine, Bon Appétit, CBS News and, of course, magazines, newspapers and other media throughout the region. The fuss is not without cause. In less than two years, Kulp has gone from locally renowned chef to a man in the early stages of becoming a hospitality magnate.
Kulp, perhaps best known as chef of Fork Restaurant, recently partnered again with Ellen Yin, co-owner of Fork, to form High Street Hospitality Group, which now operates both Fork and High Street on Market (highstreetonmarket.com). On top of this, Kulp has been quite busy since taking over management of a.kitchen and a.bar at AKA Rittenhouse Square. "Essentially, we went from Fork to having four restaurants in under 24 months," he explains.

Born and raised in the Pacific Northwest, Kulp came to Philadelphia by way of New York City about two years ago. He saw tremendous opportunity to make his mark in the area, as he considers Philadelphia's dining scene "on the precipice of becoming something great."

Critics and diners alike have also taken notice of Kulp's cuisine for its emphasis on high quality, regionally sourced ingredients. Pennsylvania, he notes, "has a rich history of producing and farming, and, now with the boom of restaurants in Philadelphia, that is going to grow right along with it."

Ultimately, however, Kulp has one simple philosophy underpinning each of his dishes: "If doesn't taste amazing, it failed." —LS


John Mims
Chef John Mims, "a third-generation restaurant person," moved up to Philadelphia from the Crescent City of New Orleans in 1992. He has been making his mark on the local restaurant scene ever since.

After working in and around the city, in restaurants in Manayunk and Haverford, Mims opened his Creole restaurant Carmine's Act II (carminesacttwo.com) in Narberth just last year—on April Fools' Day, funny enough. Mims says that, with Carmine's, he has aimed to achieve an inviting air, just as he has with all his establishments. "I want people to feel like they're coming into my home," he says.

Mims is looking to offer the area even more lagniappe soon; he has plans in the works for a new venture, a bar and restaurant called TREME, which he is looking to open at the Stutz Building on North Broad Street in Philadelphia in June 2015. The spot, Mims says, will have aspects reminiscent of the revered New Orleans institution Tipitina's, a music venue with locations in the Uptown and French Quarter neighborhoods of the city.

Like Tipitina's, TREME will have a large bar area. Unique to his restaurant, however, TREME will feature a small restaurant area of approximately 50 seats that will serve "upscale Creole" cuisine. At the bar, guests can order NOLA classics such as po' boys and muffulettas, as well as "fried chicken, a little barbecue" and small plate options. "We're gonna be more of a neighborhood joint," Mims says, noting however, that "the restaurant itself will be on the fine dining side." In true New Orleans style, TREME will also feature live music.

Mims also intends to launch a coffee-and-doughnuts spot next to TREME, dubbed Café Beignet. This will be his take on another New Orleans institution: Café du Monde, which has been serving beignets and café au laits for more than 150 years.

"I've owned restaurants since [I was] 22," he says. "This is who I am." —LS


Hiroyuki Tanaka
Chef Hiroyuki "Zama" Tanaka has been "in the business" for nearly 25 years; yet, as a young man, "chef" wasn't even on the list of words he'd use to describe himself. In fact, when he first arrived to Philadelphia (a city he selected in part because of a certain Sylvester Stallone movie he loved) from his home country of Japan, it was to study English at Temple University.

As fate would have it, he took a job at a Philly sushi restaurant as a dishwasher and was thrust into the role of sushi chef. After picking up some terms and tools of the trade, he took on a lead role as a communicator at the restaurant and, before the age of 30, decided he'd found his home in the food industry. Now, Chef Zama—he picked up his nickname while working on the American military base of the same name near his home in the Kanagawa prefecture—is among the elite of Philly sushi chefs.

In 2000, Chef Zama took a position working as a chef for renowned restaurateur Stephen Starr, where he stayed until nearly five years ago, when he opened his restaurant Zama. Zama, like its namesake chef, quickly became known for its top-shelf sushi. Just this year, Chef Zama has expanded his reach with his newest offering, CoZara (cozaraphilly.com). Different from his first establishment, CoZara focuses on more casual fare.

"I wanted to do sushi and izakaya, street food, noodles—the food I grew up with," he says. —LS


Rahul Bhatia
Rahul Bhatia has a simple yet ambitious goal: to convert as many Indian food "first timers" into regulars. He's off to a fine start, with two Saffron Indian Kitchen (saffronofphilly.com) locations—one in Bala Cynwyd, another in Ambler—that are winning praise from newbies and aficionados alike. In a sense, he is making Indian food, which for a long time suffered from something of an image problem in the United States, accessible and even mainstream.

Bhatia went to culinary school in his native India, and he continued to hone his craft in the kitchens of other chefs for more than a decade. These experiences, not to mention his U.S. education at Johnson & Wales University in Rhode Island, helped him craft an authentic and inventive yet fully approachable menu at Saffron. Here, the dishes are big on flavor but light on the heat that could turn off more timid guests who nonetheless want to try something new.

"We started on the Main Line because people there tend to be more adventurous," he says. "When we were looking to expand, we found Ambler to be the same way. We wanted to reach people who were not yet eating Indian food. When I was developing the menu, I wanted to make it so it would appeal to people who can appreciate good food, regardless of [which country] it came from."

Saffron's menu, which Bhatia authored, features Indian dishes built to appeal to the American palate—chicken tikka masala (Saffron's bestselling dish), lamb vindaloo and Goan shrimp curry, for example, as well as plenty of vegetarian options, such as chana Punjabi (chickpeas stewed in onions, tomatoes and herbs) and aloo mutter (curried potatoes and peas). A rotating list of specials not only keeps the menu fluid but also enables Bhatia to experiment.

As 2015 nears, Bhatia will further his quest to "export" his brand of cuisine by boosting efforts to grow his already dynamic catering and takeout businesses. "To me," he says, "it doesn't matter where people enjoy our food, as long as they enjoy it." —BD


Locke Johnston and Owen Lee
Though open only a year, Park Plates (parkplatesrestaurant.com), an Elkins Park BYOB serving Mediterranean and Middle Eastern cuisine, has already made a big splash, thanks in large part to the efforts of its proprietors and chefs, Locke Johnston and Owen Lee.

Johnston and Lee, both graduates of the Culinary Institute of America, have diverse culinary backgrounds. Johnston, a New Yorker by birth, has experience in bakeries, hotels and restaurants, along with 25 years in Philadelphia's catering industry. Lee, too, has a background in catering, along with experience in broadcast. In 2010, he filmed a six-part television series aired on WHYY-TV, focusing on Mexican food and culture; it even featured some original music composed by the chef.

The men were drawn to the culinary world for different reasons. Johnston, who gravitates toward Middle Eastern flavors, pursued a career in food for the excitement and the camaraderie; Lee followed in his family's culinary footsteps, embracing his heritage by adopting a culinary style characterized by Cuban and Mexican flavors.

Lee, who is from southeastern Pennsylvania, says the convivial spirit of Park Plates customers—"everybody seems to know everybody," he says—reminds him of growing up in Chestnut Hill. "The Elkins Park community has been really supportive of us," he adds. "People tell us all the time how happy they are that we're here."

As for the future, he adds, "We're just intending to continue preparing good, quality food and keep the business growing; and who knows? Maybe down the road we'll open something else."

Johnston concurs, noting he'd like to grow the restaurant and build upon its client base. "Personally," he says, "I'm just gonna keep cooking." —LS


Nicole Marquis
Nicole Marquis started her career in the library, not the kitchen, but her creativity and penchant for healthy living brought her out of the dusty world of academia and straight to the top of the Philadelphia restaurant scene.

Marquis is owner of two of the city's hottest plant-based cuisine restaurants, HipCityVeg, and, just opened this year, the vegan small plates and cocktail bar known as "Charlie was a sinner." (charliewasasinner.com).

Before turning her talents toward the culinary world, Marquis studied literature and theater. It wasn't until returning to the Philadelphia area from her time as a graduate student at the California Institute of the Arts, however, that she found her true calling. "When I left California and came home and became vegan, that became an all-consuming passion for me," says Marquis.

She even encouraged her parents to embrace the vegan lifestyle. Not long after making the switch, Marquis' father, a nurse practitioner in his 50s at the time, found he felt like a new man.

"He would just throw up his hands and say, 'It's genetics,'" Marquis recalls. "I said, 'No, it's because you eat the same food your dad eats.'"
It was a green smoothie—the same "Groothie," now sold at HipCityVeg—that introduced her father to the regimen he would come to love. Within two months of switching to a plant-based diet, he lost 35 pounds and was given clearance to stop taking medication for his blood pressure and Type II diabetes. Marquis' mother, who switched to the healthier diet afterward, dropped from a size 16 to a size 8.

Fueled by these successes, Marquis developed a plan to create a restaurant that would bring accessible, tasty vegan dishes to the people. In April 2012, the first HipCityVeg opened, and a second location opened less than two years later.

Marquis' newest venture, Charlie was a sinner., opened just this past May and has already received its fair share of accolades. This is no wonder, as Marquis and partners consulted a brain trust of local experts, including chef Mike Santoro and mixologist Bob Caskey, in creating the cuisine and cocktails.

"From the beginning I wanted to create a national brand because the mission is to bring a plant-based menu to millions of people, because I really am convinced that the single most efficient thing you can do to change your health and to generate a positive effect on the environment is to adopt a plant-based diet," Marquis says. She hopes her next venture will bring HipCityVeg to the nation's capital.

"The fast-casual industry is flooding D.C. right now," she observes. "They have every fast-casual chain, but they're missing a vegan one." —LS


Mike Livelsberger
In New Hope, the building that bears a sign reading "Bowman's Tavern" has lived many lives, which makes sense for such a historic area. Besides its rich history, the restaurant has accumulated a base of regulars who come for the cordial piano-bar atmosphere—and now it also has a well-crafted menu to match.

Since February 2013, when owner James Seward and head chef Mike Livelsberger took the helm, Bowman's Tavern (bowmanstavernrestaurant.com) has benefited from carefully architected renovations, transforming a tired space into an inspired one that makes guests want to stay a while. The facelift extended to the cuisine, thanks to the careful touch of Livelsberger and his kitchen. Livelsberger devised a menu rife with straightforward and unpretentious items that are big on both flavor and freshness—head and shoulders above what people would consider typical tavern fare. Locally sourced meats and fish play a big part in this formula, as do the fresh herbs and produce that find their way onto the plate, courtesy of an onsite vegetable garden.

The seasonally inspired menu has its share of customer favorites, according to Livelsberger. These include the wood-roasted lamb sandwich with whipped goat cheese and truffle mustard aioli, as well as the butternut squash risotto and a veggie burger—a moist patty of hand-pressed veggies and chickpeas, served on brioche—that has earned accolades for being among the best in the Philadelphia area.

Like many who develop a passion for the restaurant business, Livelsberger began his kitchen career when he was still in high school. He matriculated to Pennsylvania State University, but his fondness for the hectic pace of the kitchen encouraged him to change course: culinary school. He has been working to realize his dream—feeding the soul by feeding the appetite—ever since, and regulars at Bowman's Tavern couldn't be happier. —BD


Cake Walk
A renowned pastry chef readies to branch out in Philly

Robert Bennett made a name for himself at Philadelphia's premier French restaurant, George Perrier's Le Bec-Fin, which he served faithfully as pastry chef for 13 years. He's now leading Classic Cake (classiccake.com), which has retail locations across the river in Cherry Hill and Sewell, N.J. Classic Cake also has a production and distribution facility in Philadelphia, north of Port Richmond, which serves the needs of wholesale, retail and private-label clients. Philadelphians should expect to see more of him in their neighborhood very soon.

"We are definitely looking for a Center City location," says Bennett, who once ran his own boutique pastry shop, Miel Patisserie, in Philly. "Years before we did have a small store [in Philadelphia], and we definitely want to delve into the market again. I miss Philadelphia. It's where I got my start."

This is big news for fans of all things sweet and delicate. After graduating at the top of his New England Culinary Institute class, in 1989 he captained the U.S. team at the premier World Pastry Cup in Lyon, France. He also made the cake for President Reagan's second inauguration. In other words, he has a gift for crafting world-class pastries and other desserts—everything from intricate wedding cakes and artisan breads to his signature carrot cake, gourmet chocolates and French macarons. A master in the traditional American and classical French styles, he's eager to put his talents back on display in the town where he first came to prominence.

"I'm champing at the bit to get back into Philadelphia," he says. "Wholesale is nice, but I love the retail aspect of pastry. My work is far from done." —BD


Turning up the Heat
Another serving of chefs from whom we expect—or have already seen—big, bold things

Sami Benouhiba
Trattoria Tiramisu
Newtown
trattoriatiramisunewtown.com

Lindsay Beswick
Marshall Paul
Plumsteadville Inn
Pipersville
plumsteadvilleinn.com

Eli Collins
Pub & Kitchen
Philadelphia
thepubandkitchen.com

Scott Crabill
Jarrettown Hotel Italian Restaurant and Bar
Dresher
jarrettownrestaurant.com

Gianluca Demontis
Fraschetta
Bryn Mawr
610-525-1007

Fahmi Elabed
Piccolo Trattoria
Newtown | Pennington, N.J.
piccolotrattoria.com

Carmen Egoavil
El Tule | Quinoa
Lambertville, N.J. | Doylestown
eltulerestaurant.com | quinoarestaurantbyo.com

Donna Ewanciw
Radice
Blue Bell
radicerestaurant.com

Blake Faure
Jon Ramsay
Golden Pheasant Inn
Erwinna
goldenpheasant.com

Ron Inverso
Ron's Original Bar & Grille
Exton
ronsoriginal.com

David Marques
Buona Via
Horsham
buonavia.com

Caitlin Mateo
Square 1682
Philadelphia
square1682.com

Anthony Pasceri
Forcella
Jenkintown
forcellajenkintown.com

Andrew Wagner
Devil's Pocket Food & Spirits
Philadelphia
215-735-2202

"Charlie was a sinner." photograph by Jason Varney