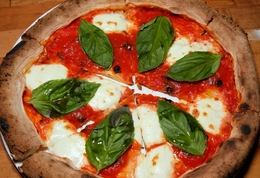 Upper Crust
Praiseworthy pies from 25 of the best pizzerias, trattorias and hot spots in the Philadelphia area
Much like a cup of coffee or a glass of wine, there's no such thing as a bad piece of pizza. But why settle? Although New York and Chicago have given birth to some serious pies, Philadelphia and its surrounding counties are home to some of the best pizza we've ever tasted, so we wanted to share.

Over the course of the past several months, we visited dozens of pizzerias, trattorias and osterias in search of excellence … and we found it. From stuffed pies in Downingtown to inventive flatbreads in Mt. Airy, from tomato pies in eastern Montgomery County to blistered-crust vegan pies in Queen Village, we encountered varieties that were, as you might have guessed, simply amazing.

Considering the unfathomable number of restaurants and pizza shops selling pie in the Philadelphia area, we couldn't get to all of them, but we sure tried. On the following pages is a record of our gustatory journey, highlighting 25 of the very best establishments that we enjoyed. Any way you slice it, each is transforming the seemingly simple combination of cheese, tomato sauce and other ingredients into something extraordinary. We're confident you will agree.
Bar Lucca photograph by Rob Hall


Ardé Osteria & Pizzeria
Here, at this new addition to Wayne's dining scene, each pie is built on a thin, Neapolitan-style crust that serves to heighten whatever is placed gingerly atop it. With the Margherita, it's the tangy San Marzano tomatoes, orbs of mozzarella and basil leaves. With the more exotic truffle pie, it's taleggio fondue, mushrooms, almonds and a quail egg, all amplified by the refined zip of truffle oil. No matter which pie you order, though, this BYOB gives anyone within driving distance yet another reason to pay a visit to Wayne. 133 N. Wayne Ave., Wayne, 484-580-6786, ardewayne.com

Bacco Italian Restaurant
The Cipullo family's interpretation of Neapolitan recipes will win your heart. Whether you head to Bacco Italian Restaurant in North Wales or Bacco Bistro, a more casual BYOB sister restaurant in Doylestown, you are guaranteed to fall in love with the pies—especially because there are so many styles, so many options from which to choose. It's much more than one mortal person should attempt to consume in one sitting, but we vote for the 18-inch "Old World" crispy pizza, loaded up with add-ons from the copious toppings list. 587 DeKalb Pike, North Wales, 215-699-3361, baccobacco.com

Bufad Pizza
We can't say enough about Brussels sprouts on pizza—and we certainly can't say enough about shaved Brussels sprouts on Bufad's Neapolitan-style pie. Add in scallions, speck and taleggio, finished off with a generous drizzle of balsamic, and you have something truly awesome. Bufad has plenty of other excellent pies to offer, but this one has become our go-to anytime we're near the corner of 13th and Spring Garden. 1240 Spring Garden Street, Philadelphia (Spring Garden), 215-283-9311, bufadpizza.com

Café Alessio
Heading to Café Alessio in Doylestown on a weekend evening in late spring inevitably means having to wait for a table—but you will do so, happily, for the comforting alfresco dining space but more so for the food, specifically the pizzas, which are baked to perfection in a wood-burning oven. The selection is considerable, with plenty for vegetarians and carnivores alike, from the simple greatness of the Margherita to the meaty heft of the Buffalo, amped up by the classic combo of Buffalo wing sauce and bleu cheese. 24 N. Main Street, Doylestown, 215-340-1101, cafealessiodoylestown.com

Corropolese
A sheet of tomato pie from Corropolese seems like a challenge—30 "slices" just sitting there, daring you to dig in. Downing one delicious slice of the sweet pepper, veggie or traditional varieties quickly leads to the consumption of another, and another after that, till after long you've made quick work of a quarter of the pie. Chances are the leftovers will find their way to the fridge, meaning the process will carry over into the next day and maybe even the day after that. Lucky you. Visit corropolesebakery.com for locations in Norristown, Limerick, Douglassville and Lansdale.

Earth Bread + Brewery
We admit it: We have a soft spot for Mt. Airy's Earth Bread + Brewery, and if you've been there you know why. If you haven't, let this be your guide: housemade beers, an ample wine list and flatbreads on hand-stretched dough made from premium flour, then baked to perfection with a host of inventive toppings, depending on the season (or, really, the day of the week). Two words: pierogie flatbread. There's even a pie for dessert—the s'mores dessert flatbread—to nudge you into extending your stay. 7136 Germantown Ave, Philadelphia (Mt. Airy), 215-242-6666, earthbreadbrewery.com

Bar Lucca
As if we needed another reason to spend time in Conshohocken, Bar Lucca occupies the space once filled by the Conshy institution Totaro's. Although the bones of the old building remain, it's a vastly different place in terms of design and menu. Brian Pieri, who owns another excellent Conshy locale known as the StoneRose, has created a gorgeous spot where brick-oven pizzas take center stage. The Margherita is a marvel, despite its simplicity—or perhaps because of it—and the Arrosto is a well-orchestrated symphony of roasted cherry tomatoes, kale and summer squash, all complemented by tangy crumbles of goat cheese. 729 E. Hector Street, Conshohocken, 610-825-2700, barluccarestaurant.com

Blackbird Pizzeria
Never mind that it's a vegan pizza joint, meaning no "real" pepperoni, sausage or any other ingredient tied to anything that had parents. Blackbird is baking up some seriously imaginative, seriously tasty pies out of a tiny shop with a counterculture feel; take note of the Ramones- and Misfits-themed takeout pizza boxes and the Youth of Today-inspired staff T-shirts. We like the "Popeye," with wilted spinach, garlic and mushrooms, and the "Haymaker," with seitan sausage, daiya cheese and red onions. 507 S. 6th Street, Philadelphia (Queen Village), 215-625-6660, blackbirdpizzeria.com

Gio's Pizza Rustica
From the owner of Dresher's excellent Jarrettown Inn comes Gio's, a small shop in a Maple Glen shopping center that's turning out some of the best pies in Montgomery County. You can build your own pie or choose from one of the more than 20 standard pies on the menu. Our money is on the Margherita Rustica. This thin, crispy, rectangular pie—discs of melted mozzarella capped with basil leaves and a drizzle of EVOO, all atop a crispy crust basted with sweet marinara—is well worth the $18 price point. 1941 Norristown Road, Maple Glen, 215-643-3333, giospizzarustica.com

In Riva
Scenario: You're biking along Kelly Drive on a beautiful spring day. After having built up an appetite, you see a sign in the distance for this place, In Riva, so you park your bike out front and head inside. You are so happy you did, because here you discover a menu stocked with Naples-inspired dishes, including some righteous pizzas. This includes the four-cheese quattro formaggi and another favorite stacked with sausage and peppers. You leave, fully satisfied, reassuring yourself that you will reenact this day very, very soon. 4116 Ridge Ave., Philadelphia (East Falls), 215-438-4848, in-riva.com

Jules Thin Crust
If you're looking for ordinary slices of the Old World sort, you won't find them here. Truth is, you might linger at the counter as you try to decide among the colorful assortment of toppings-heaped flatbreads, with plenty of seasonally adjusted options for carnivores and vegetarians alike. Each "slice" is loaded with fresh, locally sourced ingredients, so whether you like your pizza with roasted Brussels sprouts and bacon or artichoke hearts and arugula, you can't make a bad decision here. Visit julesthincrust.com for locations in Ardmore, Doylestown, Jenkintown, Newtown, North Wales, Wayne and Cherry Hill, N.J.

La Porta Ristorante & Wine Bar
With an Irish chef at the helm, La Porta is something of a contradiction in terms. No one would guess, though, because Italian-trained Peter McAndrews has crafted a menu of specialty pizzas, pastas and other Mediterranean treasures you will be thrilled to tuck into. From the "Sporco" (a spicy white pie with applewood-smoked bacon, spinach and provolone) to the "Jersey boy" (jumbo lump crab meat with roasted red peppers, provolone and pistachio pesto) to the "farmers" (a white pie with taleggio cream, Brussels sprouts, bacon and a fried egg), the pies are inventive, interesting and deeply satisfying. 1192 North Middletown Road, Media, 610-358-5104, laportaristorante.com

Lione's Pizza and Restaurant
We just love Lione's, and you will, too. Pizza making has been elevated to a handcrafted art form here, at this shop in Downingtown. From its "famous" stuffed pies, which are big enough to feed you and seven of your closest friends, to its Sicilian tomato pie, to its thin-crust Neapolitan pies, the options—including gluten-free pies—are many and, gratefully, fantastic. 102 Wallace Ave., Downingtown, 610-873-2500, lionespizzadowningtown.com

Nomad Pizza Co.
Take a seat at Nomad's communal table and tuck into the Margherita di Bufala, heaped with fresh, locally grown arugula. Every bite is a wonder, though our favorite part is the blistered, blackened crust that's equal turns chewy and crackly. If you can't make it to Nomad's locations in Philly or Hopewell, N.J., its roving REO Speedwagon pizza truck will come to you, fully equipped with a wood-fired brick oven and everything else needed to make the perfect pie. 611 S. 7th Street, Philadelphia (Washington Square West), 215-238-0900, nomadpizzaco.com

Olcé Pizza Grille
Perusing the menu at this Montgomery County BYOB will inevitably lead to some swooning. In addition to the "regular" pies, the lineup of specialty pies for any given month will test the taste buds in the best way possible. One recent hit was topped with roasted pork, squash and diced apples, while another starred roasted parsnip chips, roasted garlic and mozzarella. 3401 Skippack Pike, Cedars, 610-222-3839, olcepizza.com

The Original Tacconelli's Pizzeria
There's a reason you have to call ahead to reserve your pie (or, better put, the dough used to make it). And there's a good reason people in the Philadelphia area regularly proclaim Tacconelli's as the best pizza anywhere on the planet: consistency. Now led by the family's fifth generation of pie makers, Tacconelli's offers a basic selection out of its storied Kensington shop, each thin-crusted slice a perfectly synchronized combination of ingredients, be it cheese, sauce, garlic or whatever toppings you prefer. There's nothing fancy or pretentious here—just one heck of a good pie. 2604 E. Somerset Street, Philadelphia (Kensington), 215-425-4983, tacconellispizzeria.com

Osteria
On an episode of "The Best Thing I Ever Ate," Food Network veteran Marc Summers famously said the Margherita pizza at Marc Vetri's iconic Fairmount restaurant was, in fact, the best thing he's ever eaten. We won't disagree. The Roman-style pie is like the restaurant itself—rustic, warm and inviting. In addition to the traditional thin-crust pizzas, Osteria's thicker-crust Neapolitan pies are bowling over the masses, too. 640 N. Broad Street, Philadelphia (Fairmount), 215-763-0920, osteriaphilly.com

Ron's Original Bar & Grille
With everything coming out of the kitchen at Ron's, expect exceptionally fresh and healthful ingredients that refuse to compromise on flavor. Ron's pizzas, each one beginning with a base of imported Italian flour, are no exception. Start with the garlicky white or the Margherita and, depending on your taste, dress it up with something from the array of toppings, everything from anchovies and char-grilled steak, to artichokes and pineapple. 74 Uwchlan Ave, Exton, 610-594-9900, ronsoriginal.com

Piccolo Trattoria
Piccolo has earned a reputation for its exceedingly fresh ingredients used to amplify every dish, including its "Old World" Brooklyn-style pie. Heaped with mozzarella, fresh basil and a slathering of house-secret plum tomato sauce, all topped off by a drizzle of EVOO and a pinch of Parmigiano, the Brooklyn-style pie has garnered fans on both sides of the river. 32 West Road, Newtown, 215-323-5823 | 800 R Denow Road, Pennington, N.J., 609-236-3306 | piccolotrattoria.com

Pitruco Mobile Wood-Fired Pizza
If you see the wood-burning oven on wheels with the name "Pitruco" emblazoned on the side, be sure to stop. On this food truck, two guys named Jonah and Nathan are turning out made-from-scratch, built-to-order pies that stand "dough to dough" with anything you'll find in the region's finest sit-down pizzerias. Choose from one of the five or six regular pies, or follow their Twitter feed for daily specials. Our favorite? So far it's the one with roasted Brussels sprouts, burrata and fig, topped with a dukkah spice blend. Visit pitrucopizza.com for locations in Philadelphia.

Pizzeria Vetri
Riffing on the thin-crusted beauties of Naples, Italy, Pizzeria Vetri builds its excellent pizzas on a base of blistered crust hearty enough to withstand whatever selection of toppings you prefer. Thanks to an extended fermentation process that the dough endures, not to mention a turn in the wood-fired oven, each pie is, in a word, profound. One of the most intriguing pies on the menu has to be the Tonno, which pairs Sicilian canned tuna, tomato sauce and onions with pepperoncini and mozzarella—funky, flavorful and refined. Good news: Plans call for a second Pizzeria Vetri location, this one set to open this spring in Rittenhouse. More good news: Word has it there will be even more to follow. 1939 Callowhill Street, Philadelphia (Spring Garden), 215-600-2629, pizzeriavetri.com

Radice
It's all about the oven at Radice. Walk through the door of this Blue Bell beauty, and the massive white dome of the wood-burning oven doesn't just draw the eye; it dominates. That wonderful oven is responsible for the amazing pizzettes that find their way to the tables of the Radice faithful. Whether you opt for the Boscaiola (spinach, garlic, Fontina and wild mushroom) or the Integrale (asparagus, red onion and goat cheese on a whole wheat crust) or the Rustica (prosciutto, ricotta and arugula), you're sure to savor every bite. 722 W. DeKalb Pike, Blue Bell, 610-272-5700, radicerestaurant.com

Sam's Italian Market
Sam's has made its way onto too many "best of" lists to keep track of, but here's the thing: It deserves every last one of those accolades. From the Italian pastries to the fresh-baked breads, Sam's is the real deal. Its tomato pie, however, sets the standard for all others. OK, so Sam's tomato pie is not technically pizza, but this close cousin succeeds in all its sauce-laden, Romano-sprinkled, crisp-crusted glory. Sam's also raises the bar on freshness, proven by the fact that even a day after you've placed the leftovers in the fridge, each piece is still moist and exceedingly flavorful. 3504 W. Moreland Road, Willow Grove, 215-657-3666, samsitalianmarket.net

Vault Brewing Co.
Craft beer, live jazz and premium wood-fired flatbreads—three reasons to make a night of it at this speakeasy-inspired Bucks County hotspot, which was built from the bones of a shuttered bank. Paired with one or more of the housemade beers, we like the Margherita and wild mushroom varieties, though the more exotic pies on the menu—Thai chicken curry, duck and apple, and brown-sugar Buffalo—sound like reasons for three more trips to Vault. 10 S. Main Street, Yardley, 267-573-4291, vaultbrewing.com

Zavino
Wine and pizza—two great things that go great together, and they go down easily at Zavino's two Philly locations. Zavino is doing much more than just pizzas; it's just that the pizzas are so @#$% good—charred crusts, perfectly cooked throughout, with fresh ingredients to go well with whatever glass of crushed grapes you prefer. Whether you like your pies topped with Berkshire pork and veal meatballs or arugula and oyster mushrooms, you'll find a new favorite here. 112 S. 13th Street, Philadelphia (Washington Square West), 215-732-2400 | 3200 Chestnut Street, Philadelphia (University City), 215-823-6897 | zavinohospitalitygroup.com



'This is Your Brain on Pizza …'
Folks flock to Philly's Pizza Brain for kitsch, culture and some excellent pie

Four guys and one hot, cheesy dream came together in 2011 to form Pizza Brain (pizzabrain.org), which bills itself as the world's first pizza museum and pizzeria.

The founders came from disparate locales—Joe Hunter from Hilton Head, S.C.; Brian Dwyer from Syracuse, N.Y.; Ryan Anderson from near Buffalo; and Michael Carter from right around the corner in Mt. Airy—to open Pizza Brain on Frankford Avenue in Philadelphia's Fishtown neighborhood. They met by chance as members of the Philadelphia faith community Circle of Hope, and the rest is history.

"People love this whole idea of 'pizza culture' that we've stumbled on," Carter says. "Early on we were really keen on the concept of pizza culture being told."

Pizza Brain isn't a typical museum, however; don't show up expecting docents leading groups down echoing halls or glass-fronted exhibits with wee plaques chronicling pizza's history. It's really more of a collection of ephemera celebrating all things pizza related. Dwyer actually earned himself a Guinness World Record for possessing the largest collection of pizza-related items in July 2011, and Carter estimates the collection has tripled since then.

"We're kind of a community hub," Carter says. "We really involved the community in the building of the restaurant. I think that really made us a part of the community really quickly."

Pizza lovers also supported Pizza Brain by way of Kickstarter, having contributed more than $15,000 toward building Pizza Brain via the crowd-funding site. More than just a collection of records and Ninja Turtles paraphernalia, however, is the fact that Pizza Brain makes some damn fine pizza—New York-style, thin-crust pies cooked in a gas-powered oven, to be precise. Standouts include the nationally recognized Forbes Waggensense, which is a red-sauce pie topped with three cheeses, basil and smoked pepperoni, and the Whur Herpert, which features spicy mustard and "fancy sauce," white cheddar and seared hamburger on a sesame-seed crust. Pizza Brain also makes a mean-looking vegan pie.

Like Carter says: "If you're a pizza lover and you're not into kitsch, come for the pizza." —Leigh Stuart


Exporting Lorenzo's
Lorenzo and Sons Pizza, long a South Street institution, readies to peddle its mammoth slices to West Chester

Philadelphia's street-food culture has a number of notable touchstones: the cheesesteaks from Pat's, Geno's and Jim's; the iconic soft pretzel; and, of course, the mammoth slices from Lorenzo and Sons Pizza (lorenzoandsons.com), a culinary institution at 3rd and South streets.

Although South Street remains home base, Lorenzo's brain trust has since exported those bigger-than-a-baby slices to four locations at Wells Fargo Center in South Philadelphia's Sports Complex. In the coming months, however, fans will also be able to chow down on one of those signature slices—among other things—at a sixth location in West Chester.

Although the South Street location unapologetically sells nothing but plain slices ("Toppings Tuesdays" aside) and offers standing room only, the sit-down location in West Chester will offer a full menu of items, such as personal pizzas, strombolis, sandwiches and more, according to second-generation owner Giuseppe Pulizzi. This also includes the so-called "Philly Taco," traditionally a late-night delicacy consisting of a Lorenzo's slice folded around a cheesesteak from fellow South Street icon Jim's Steaks.

"We'll have room in West Chester to make our own steaks in house, so we'll be making our own Philly Taco there," says Pulizzi. "When West Chester came into play, we knew the university was only a half-mile away, so as business owners we thought we would offer a different variety."

Lorenzo's owners had expected the West Chester location to be open for business by November 2014, but zoning restrictions forced a delay. Pulizzi now expects the new location to be selling slices to West Chester University students and others by the end of May, before students depart for summer break. The full menu will be truncated to a late-night menu, including those slices, from 11 p.m. to 3 a.m. Sunday through Thursday, and as late as 4 a.m. on Friday and Saturday.

"At West Chester no one stays open late, even though there's something like 17 bars in the area, so we're going to stay open late," Pulizzi says. "At South Street, we only make two pies at a time, with two in the rack, so we're constantly rotating pizzas all the way through to keep it fresh. The best way to get a pizza is as a whole pie just out of the oven, but when you have 400 people in line on a Saturday night, selling slices is all you can handle."

People will see a few other things at the West Chester location that they won't see at the South Street original. Namely, West Chester will accept credit cards as opposed to cash only, and it will also offer delivery service. —Bill Donahue