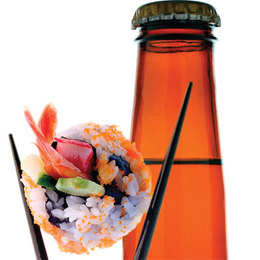 Cheers: Pairing Sushi and Light Local Brews
After all the wine and Champagne of the holiday season, this is the perfect time to take a break from the grape and enjoy a good beer. Fortunately for all of us, we live in one of the best beer-brewing centers of the country, and companies like Philadelphia Brewing Co., Dogfish Head, Victory, Troegs, and more are leading the way to an American beer renaissance.
With great sushi dishes like the ones that are served at Ooka, I tend to gravitate toward lighter, crisper beers that brighten up the fish without overwhelming it. The Troegs Dreamweaver Wheat brings out any ginger notes in the preparation, whereas the Sly Fox Pikeland Pils (in a can, no less!) cuts through the richness of, say, tuna or salmon perfectly. Really, it's a matter of trial and error. And with the low prices and fabulous selection of great local brews, your sushi-and beer pairings are sure to be surprising, delicious, and cost-effective.