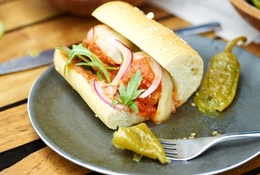 Stacked!
Sink your teeth into these 22 essential sandwiches
The sandwich is such a seemingly simple formula: protein, vegetables, a few slices of cheese, maybe a carefully selected condiment or two, all tucked neatly into a freshly baked roll or slices of artisan bread for maximum portability. But when it's done right, it's something scores of people not only crave but are also willing to travel for and, as is the case with a few legendary sandwiches, even go out of their way to have shipped across the country.
For our first-ever "Sandwich Issue," we canvassed the Philadelphia area—from the ivy-lined streets of Princeton, N.J., to the outlying areas of Chester County, to the figurative birthplace of the cheesesteak and the hoagie in South Philly—in search of the "best of the best." We were not disappointed, and you won't be either.

On the following pages we present 22 succulent sandwiches sure to make your stomach grumble. From subs stacked with duck meatballs to po-boys filled with fiddlehead ferns—and everything in between—you'll find some truly delectable sandwiches you'll want to add to your "favorites" list. It's time to dig in.

Photograph by Felicia Perretti

Blue Duck Sandwich Co.
BBBLT
Bacon lovers rejoice! If bacon is an amazing thing, then three times the bacon must be a religious experience. That's the thinking behind the BBBLT from this Northeast Philly BYOB, which opened its doors in 2014. Featuring applewood bacon, smoked bacon and bacon mayo on toasted brioche, balanced with romaine and tomato, this sandwich is, in a word, wonderful. 2859 Holme Ave., Philadelphia (Northeast) | blueduckphilly.com

Cresheim Valley Grain Exchange
Buttermilk Fried Chicken Sandwich
It's a relative newcomer to Mt. Airy, but Cresheim Valley Grain Exchange is quickly gaining a reputation for turning out inventive dishes, paired with crafty cocktails, that have guests craving a quick return. The menu is rife with creative sandwiches that cater to omnivores as well as vegetarians. Our recommendations: the buttermilk fried chicken sandwich or, for those who follow a plant-based diet, the vegetarian "TLT," which features tempeh in place of pork bacon. 7152 Germantown Ave., Philadelphia (Mt. Airy) | 267-766-2502

Dalessandro's Steaks and Hoagies
Buffalo Chicken Cheesesteak
There's no bad decision at Dalessandro's, but the Buffalo chicken cheesesteak is a definite winner. It's an ensemble of white-meat chicken, cheese—bleu and American—and tongue-tingling hot sauce, all on one of those crispy, chewy rolls for which Dalessandro's has become famous. 600 Wendover Street, Philadelphia (Roxborough) | dalessandros.com

The Feedstore
The Abbot
This newbie on the edge of downtown Ambler is producing some serious sandwiches, and the Abbot is one of the most unique. The formula: beef short rib, kimchi and cotija on onion poppy-seed brioche, brightened up by sesame mayo and Sriracha. The result: pure awesomeness. Also, be sure to pair any order with a side from the fries menu, which includes something called "ultrasupermegafries," starring fries heaped with bacon, cheddar cheese and caramelized onions. Sounds like a dare to us. 242 E. Butler Ave., Ambler | amblerfeedstore.com

High Street on Market
Duck Meatball Sandwich
With this sandwich, chef Eli Kulp blends the causal with the exquisite. Those luxurious meatballs, married with liver and onions, Lancaster Swiss cheese and a blanket of spicy marinara, produce an end result that is nothing short of remarkable—just like pretty much everything else on the menu here. Ingredients aside, it's the house-baked bread that carries this sandwich home. 308 Market Street, Philadelphia (Old City) | highstreetonmarket.com

Bacco Bistro
Hot Chick
A sandwich doesn't need to be overly complex to be great. In some cases, the simpler the better—letting the high-quality, flavorful ingredients speak for themselves. Take the "Hot Chick" from Bacco Bistro in Doylestown. It's a chicken cutlet loaded with fiery long hot peppers and provolone cheese, lovingly placed on fresh Italian bread—simple yet fantastic. Lucky you: This winner is also available from Bacco Bistro's sister location, Bacco, in North Wales. 478 N. Main Street, Doylestown | baccobacco.com

John's Roast Pork
Roast Pork Sandwich
Talk about looks being deceiving: You'd never guess that inside this diminutive, second-generation family-owned shop lie the "fixins" for three of Philly's most glorious sandwiches. A John's cheesesteak with provolone and long hots had a stellar showing in the 2012 "Best Sandwich in America" competition, hosted by Travel Channel's Adam Richman. The roast beef is phenomenal, especially when served on a crusty sesame-seeded roll with a heap of melty sharp provolone. The roast pork sandwich, however, will become the mark by which you compare every pork sandwich you'll ever eat again. 14 E. Snyder Ave., Philadelphia (South Philly) | johnsroastpork.com

Khyber Pass Pub
BBQ Pulled Pork
Renowned for its laidback vibe and ample beer selection, this Old City hot spot has made plenty of noise for its excellent Southern-inspired food menu. For our money, you can't go wrong with the pulled pork. Topped with a generous heaping of coleslaw, this tangy, slightly spicy sandwich would hold its own against the best North Carolina-style barbecue found in the Tar Heel State. Don't fret, vegetarians: The Khyber graciously offers a vegan version. 56 S. 2nd Street, Philadelphia (Old City) | khyberpasspub.com

McNally's Tavern
The Schmitter
Although it's not pretty, "the Schmitter" is pretty amazing. A combination of sliced beef, grilled salami and plenty of cheese, topped off with tomato, fried onions and "special sauce," this legendary sandwich—it's more than 40 years old, and has since been "exported" to locations at Citizens Bank Park and Lincoln Financial Field—is the embodiment of happiness, served on a Kaiser roll. 8634 Germantown Ave., Philadelphia (Chestnut Hill) | mcnallystavern.com

Memphis Taproom
Smoked Coconut Club
As the darling of one of Guy Fieri's "Diners, Drive-Ins and Dives" episodes, the smoked coconut club is a meatless version of a traditional club sandwich, with the garlic tofu and smoked coconut as suitable stand-ins for proteins of the meaty sort. If tofu and coconut don't seem up your alley, try the spaghetti sandwich (vegan) or the kielbasa grinder (not so much), and wash it down with something from the excellent tap list. 2331 E. Cumberland Street, Philadelphia (Kensington) | memphistaproom.com

Monty's Sandwich Shop
Muffuletta
These Bucks County newcomers boast some serious talent. The menu overflows with any number of signature sandwiches—playfully named entries such as the Hulk Hoagie, the Day after Thanksgiving and Elvis' Gold, which could make the task of ordering just one a challenge—but the muffuletta is a strong contender for the championship. Inspired by one of New Orleans' most famous sandwiches, this panini (of sorts) stars a trio of deli meats—capicola, salami and mortadella—olive salad and provolone cheese. What's not to love? 354 Second Street Pike, Southampton | montyssandwichshop.com

Old Original Nick's Roast Beef
Roast Beef
Do not be fooled by like-named counterparts: There is only one (well, four) Old Original Nick's Roast Beef. Deservedly, the Old Original Nick's sandwich empire has grown to include locations in Springfield, West Chester and inside Xfinity Live! within the city's Sports Complex. The granddaddy is the South Philly location, which has been sating the meaty desires of local beef lovers since 1938. The roast beef sandwich is definitely "no frills"—a savory, gravy-laden portion of beef on a roll. Add a dab of fresh—and potent—ground horseradish at the table for a bit of kick. Oh, and shame on you if you leave without experiencing the glory that is Old Original Nick's gravy fries. 2149 S. 20th Street, Philadelphia (South Philly) | nicksroastbeef.com

Paesano's
Arista
Paesano's prides itself on serving "Philly-style sandwiches with Italian inspiration." The sandwiches are just that—inspired. From sweet Italian sausage and meatloaf parm to beef brisket and roasted eggplant, Paesano's delivers a sandwich that's tough to duplicate. Our suggestion: Get the "Arista." The combination of roasted suckling pig, broccoli rabe, Italian long hots and sharp provolone is something to be experienced. Two Philadelphia locations: 152 W. Girard Ave. (Northern Liberties), and 1017 S. 9 Street (South Philly) | paesanosphillystyle.com

Ron's Original Bar & Grille
Italian Sausage
Ron's does just about everything right, including this house specialty. Topped with a generous layer of peppers and onions, the spicy Italian sausage rises to a whole new level when sharp provolone and broccoli rabe come into the mix. It tastes amazing, but guests gain the added benefit of Ron's utilization of organic, locally farmed ingredients whenever possible, including hormone- and antibiotic-free meats. 74 E. Uwchlan Ave., Exton | ronsoriginal.com

Royal Tavern
Grilled Sweet Potato Banh Mi
The Royal Tavern recently won a "best of" award for its meatless fare—specifically, for having Philly's best vegan cheesesteak—and it's easy to see why. The vegan cheesesteak is terrific here, but we prefer the grilled sweet potato banh mi. This unique take on a Vietnamese favorite—lettuce, jicama, jalapenos, carrots, pickled daikon, etc.—is a 100 percent vegan sandwich, and it's also 100 percent delicious. 937 E. Passyunk Ave., Philadelphia (Bella Vista) | royaltavern.com

Sam's Italian Market & Bakery
South Philly Pork
Tomato pie and Italian pastries have earned Sam's plenty of street cred, but this Montgomery County gourmet market also makes one heck of a great sandwich. For our money, we like the South Philly pork sandwich with broccoli rabe and fried peppers. (You will, too.) Of course, it would be a sin to leave without also picking up a ricotta-cream-filled cannoli or two. 3504 W. Moreland Road, Willow Grove | samsitalianmarket.net

Santucci's Original Square Pizza
Garlic Bread Cheesesteak
A cheesesteak is a cheesesteak is a cheesesteak all day long, right? Wrong. Santucci's—best known for its pizza, just as its name implies—is turning out a masterpiece of rib-eye, caramelized onions and provolone "wiz," all tucked into a toasted garlic-glazed roll, that could very well turn any cheesesteak lover's world upside down. 901 S. 10th Street, Philadelphia (South Philly) | santuccispizza.com

Sarcone's Deli
Italian Hoagie
So many delicatessens in the Philadelphia area do an amazing Italian hoagie, but few do it as well as Sarcone's. The ingredients are so simple—Italian meats, provolone, lettuce, tomato and onions, maybe some hot or sweet peppers if the mood strikes—but the result is simply phenomenal. 734 S. 9th Street, Philadelphia (South Philly) | sarconesdeli.com

Silvio's Deli & Bakery
Chicken Cheesesteak
Fancy it's not, but drop by Silvio's around lunchtime, and the line of people waiting for their to-go orders explains everything one needs to know about this Hatboro institution. Although the menu stars any number of excellent hoagies, steaks and sandwiches, the chicken cheesesteak is a clear winner. Sure, the meat is perfectly cooked, wrapped in a gooey web of melted cheese, but it's the crispy roll that, as one Food Network star might say, is "the kicker." Without a doubt, the torpedo rolls here rank among the area's best. 100 N. York Road, Hatboro | 215-674-8843

Sprig & Vine Pure Vegetarian
Fiddlehead Fern Po-Boy
Faithful vegetarians and dyed-in-the-wool meat lovers alike have fallen in love with Sprig & Vine. This casual yet upscale BYOB offers inventive plant-based cuisine that includes flavorful sandwiches such as the cauliflower banh mi and the edamame falafel wrap. Our favorite, when in season, is the fiddlehead fern po-boy. This inventive take on a New Orleans staple features fried fiddleheads and other veggies folded into the nook of a crispy baguette. 450 Union Square Drive, New Hope | sprigandvine.com

DiNic's Roast Pork
Roast Pork Sandwich
Having been at it for close to a century, DiNic's is now in the capable hands of the family's fourth generation. Like fellow sandwich mecca John's Roast Pork, DiNic's fared rather well in the Travel Channel "Best Sandwich in America" competition in 2012. While John's was a runner-up—quite an accomplishment in its own right—DiNic's took home the crown with its paper-thin slices of slow-roasted roast pork, spiked with aged extra-sharp provolone and broccoli rabe. Enough said. Reading Terminal Market, Philadelphia (Center City) | tommydinics.com

Tradestone Café
House-Made Turkey Breast
Anything with chef Chip Roman's name attached to it is all right by us. This relative newcomer to Conshy's casual dining scene offers made-to-order sandwiches, including this winner. This mammoth orchestration includes turkey breast (roasted in house), pretzel roll (baked in house), tomato, cucumbers and greens, all brought together by the house mayo. After you've cleared your plate, be sure to peruse the selection of in-house gourmet chocolates from Tradestone Confections. 117 Fayette Street, Conshohocken | tradestonecafe.com


High Steaks
Celebrating the city's best cheesesteaks

A good sandwich is worth traveling for, and people have traveled not only from the suburbs but from across the country—and around the globe—for a taste of Philadelphia's best cheesesteaks. Countless pages have been written in their honor. Numerous television shows have not only celebrated their contribution to Philly's culinary culture but also documented the (mostly) friendly feud among their purveyors.

Everyone who has ever enjoyed a Philly cheesesteak has his or her favorite, and each one has its own distinctive merits. Whether one prefers a "wiz wit," a "wit-out" or a chicken cheesesteak, there's no "wrong" choice (unless, of course, you ask for yours with Swiss). For our part, we love the cheesesteaks from Jim's Steaks … and Geno's Steaks … and Pat's King of Steaks … and Steve's Prince of Steaks … and Tony Luke's.

Some might consider these five culinary institutions "the usual suspects," but each one has earned its place as a cheesesteak destination for a very good reason. To Jim's, Geno's, Pat's, Steve's and Tony Luke's: We salute you.


On a Roll
There's much more to sandwich kingpin Tony Luke Jr. than just cheesesteaks

By Matt Cosentino

Ask Anthony Lucidonio Jr.—better known as Tony Luke Jr.—what he does for a living, and he's not likely to provide a simple answer. Ever since he was a kid, the South Philadelphia native has been a man of many interests and talents, from music to acting to, of course, food. His adult life has been about chasing his dreams in all of those arenas.

Today he is the face of Tony Luke's, the sandwich empire he started with his father and brother in 1992, right here in his hometown. Specializing in roast pork, chicken cutlets and cheesesteaks, the fast-casual chain has extended its reach throughout the Delaware Valley. It also has a shop in Florida and will soon be opening several locations in Southern California. Tony Luke's is no longer just a U.S. brand; it also has two stores in the Middle East, with plans for further expansion.

Besides the signature sandwiches that bear his name, Luke is passionate about music, and he has written a number of songs for himself and other artists, usually with an R&B flavor. Also an actor and screenwriter, he has appeared in a number of films, the most notable of which is "Invincible," the Mark Wahlberg flick about former Philadelphia Eagle Vince Papale. Lastly, Luke entered the reality television realm last year with Spike's "Frankenfood," a show in which he and chef Josh Capon rove the country in search of unique food creations that use unexpected—and sometimes unfortunate—ingredients.

We spoke to Luke about all this and more. Here's what he told us.

On betting his future on the sandwich business …
I know my father was very concerned, and so was my brother. It took us forever to open up because we had no money. … We laid the concrete, we put in the framing, we put in the windows. When businesses say they built from the ground up, we literally built from the ground up. We opened [the original location on Oregon Avenue] on Feb. 3, 1992, and … I would be surprised if we had more than $1,500 sitting in the register; that was all we had to our name. You never start a business with no money, but that's all we had. … We didn't make anything when we first opened. I remember losing my home and losing my car. Me and my now ex-wife and my kids had to move in with my father and mother, because there was no money. It was a massive risk that we took.

Turning things around …
The first year, it was touch and go; we almost weren't able to open the doors. The second year was a little bit better—we were making enough to keep the doors open. Then in 1994, [we were voted] best cheesesteak and best roast pork, and business really started to pick up. People who didn't know who we were started to come by. … By the fourth year, we were actually doing OK. We started winning more awards—GQ magazine gave us the golden dish award for the roast pork, and then business started to double. Gourmet magazine voted us one of the best 150 restaurants in America. If I remember correctly, it was only us and Le Bec-Fin that won. It was such a weird dichotomy; we were on opposite ends of the spectrum. … Business really started to take off then, and '97 was really when Tony Luke's came into its own.

Visions of building a brand …
The entire time, I was always the dreamer. … I remember being across the street at the Roy Rogers when we were still building. I told my father, "One day everybody in the whole world is going to know who Tony Luke's is. We didn't invent the cheesesteak, but one day, when people hear cheesesteak, they're going to think of Tony Luke's." I'll never forget the look my father gave me. It was like, "Why don't we concentrate on finishing the concrete in front of the building before you take over the world?"

So I always believed in the concept, I believed in myself, and I believed in the family. … My mindset was always to make Tony Luke's the biggest name in cheesesteaks. That was my goal before the building even opened.

Taking things to the next level …
In about 2005, I was really itching to do more. I remember going to my father and brother and saying I wanted to expand, I wanted to go worldwide. I remember cutting a deal with them for the trademarks and everything, and then I partnered up with Ray Rastelli. My goal when I partnered up with Ray was to give people that experience all over the world. It was very naïve, obviously. I never quite understood what kind of undertaking that was, and maybe if I did, I might not have done it. In my case, ignorance truly was bliss. Here we are, 23 years later—Feb. 3 [was] our 23rd anniversary—and I'm still learning every single day. I continue to make a million mistakes, but that's part of the process. … My goal for Tony Luke's has not changed. I want Tony Luke's in every city in the world, or at least the United States. I want to be in Europe, and I want to make it a household name.

Cheesesteaks in the Middle East …
We have two locations there now, and the reaction has always been great. I couldn't believe the reaction when I got there. I was a little apprehensive to go; I didn't know how I would be treated. It was a shock for me, but I was treated amazingly well, and they loved the idea of the cheesesteak. My experience in the Middle East was amazing—I saw a bunch of hardworking people who loved their families, and unfortunately, like everyone else on the planet, they're caught up in whatever craziness the governments are doing.

More than just a sandwich guy …
In everything I've ever done, there's no feeling like I have when I'm in a recording studio or when I'm writing music. Don't get me wrong; I love writing scripts, I love filmmaking, and I love acting—I love being an entertainer of all sorts. I used to draw when I was a kid, and I wanted to be an artist at one point. I guess you could say I just love the arts. I don't enjoy doing business; in fact, I hate it. I know how to do it and I can function in doing it, but I don't like it. I don't get any pleasure from it whatsoever. If I could sketch and write music and do plays the rest of my life, I would die the happiest individual in the world. But that's a fantasy land, because there's a thing called paying your bills and taking care of your family that intercedes. Very, very few people that I've known in my entire lifetime actually make a living from doing the arts.

Being on the Mount Rushmore of Philly sandwich shops …
Growing up, it was always Pat's and Geno's and Jim's. That was the Mount Rushmore. It seems to me now, even when Geno [Vento] does an interview or Frankie [Olivieri] from Pat's does an interview, it really is Pat's, Geno's, Jim's and Tony Luke's. I believe we've made it to the top of cheesesteaks, and it's an amazing honor to be a part of it.