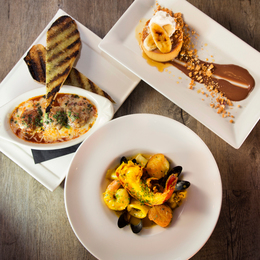 Gold Plated
Our 2016 Golden Fork Awards celebrate the best restaurants in our backyard
A good restaurant doesn't simply serve food. It tells a story.

Like a well-told tale, a restaurant has a theme (its décor and personality), a plot (its menu, broken out by course) and a rich cast of characters (cocktails, appetizers, entrées and desserts). And, if done well, the story ends with a satisfying sigh that comes only from the enjoyment of a well-curated meal.

The restaurants on the following pages have gotten exceptionally good at "telling stories" their patrons crave. From Chester County's westernmost rim to the easternmost edge of Bucks County, from the neighborhoods of Philadelphia to the quaint towns along the seam of the Delaware River, these restaurants are among the best we've enjoyed over the past year. Sure, there are some incredible restaurants we just haven't gotten to—yet—but we're confident the places on this list will have you hungering for an encore, eager to return to the well again and again.

Pictured: A few signature dishes from Bowman's Tavern in New Hope; photograph by Jody Robinson

Amada
Philadelphia
This Old City stalwart—Chef Jose Garces' introduction to Philadelphia—feels as fresh and exciting as it did the day it opened its door in 2005. The inventive menu of authentic Andalusian tapas, cured meats and artisanal cheeses, as well as Spanish specialties such as paella and, of course, roasted suckling pig, offers an experience that is, in a word, amazing. Just a couple of suggestions: Go the "Chef's Tasting" route, which guarantees more than a few surprises; and indulge in one of the housemade sangrias. 215-625-2450, philadelphia.amadarestaurant.com

Bowman's Tavern
New Hope
Welcome to Bowman's Tavern, home of locally sourced, wonderfully flavored and artfully plated dishes, served up in a setting big on rustic-tavern chic. This roadside hot spot is technically in New Hope, though it's ideally located a ways down the road from the borough's main drag. Its warmth and seclusion somehow make this place seem like you've stumbled into a part of the world that belongs solely to you, but it's the selection of thoughtfully conceived dishes—American comfort food, more or less—are what make the BT a weekly, if not daily, indulgence for many patrons. Can't-miss dishes include Bowman's signature seared scallops, wild boar meatballs and your choice of butcher's cut steaks. Bonus: Jazz and other live music from local talents is a nightly occurrence. 215-862-2972, bowmanstavernrestaurant.com

Bud & Marilyn's
Philadelphia
This Midtown Village hot spot is executive chef Marcie Turney's salute to a bygone era—somewhere in time between the start of the Atomic Age and the end of the shag-carpeted '70s. It also pays tribute to the Wisconsin restaurant owned by her grandparents (the aforementioned Bud and Marilyn). The menu abounds with delights influenced by Turney's Midwestern upbringing: hot buttered buns, fried chicken, kielbasa and pierogies, etc. With a place that offers a starter named "pork 'n' pickles" and its own private-label bourbon, you know you're in for an unusual treat. 215-546-2220, budandmarilyns.com

Charlie was a sinner.
Philadelphia
One might be tempted to label this stunner a "bar," but few bars are turning out such thoughtfully conceived fare, which, by the way, is 100 percent friendly to vegetarians. The cocktails are strong, the space is slick, and the small plates are a big deal: avocado toast; potato gnocchi, smoked cauliflower. Consider us some of Charlie's biggest fans, no matter what he does with his free time. 267-758-5372, charliewasasinner.com

Fermentaria
Ardmore
Fermentaria comes from the good folks who brought you Tired Hands Brew Café. Like the brew café, Fermentaria places an emphasis on housemade beers inspired by the "farmhouse brewers" of Belgium and France; the space itself—a nearly century-old spot roughly the size of an airplane hangar, once used as a shop for repairing trolleys—overlooks a field of vats and other brewing equipment. That having been said, there's an equal emphasis on great food. Menu highlights include the pork carnitas, veggie bánh mì and, last but not least, blackened shishito peppers served with a generous portion of buttery grits. 484-413-2983, tiredhands.com/fermentaria

From the Boot
Ambler
The dining scene in downtown Ambler has been riding a wave for a few years now, with a surfeit of notable bars and restaurants, including this lovely ristorante. From the Boot has two other locations, in Lafayette Hill and Blue Bell, and it has flourished since coming to Ambler in '09. It's no surprise why: straightforward Italian dishes, served up in an atmosphere that will make you want to linger. (Complimentary garlic knots!) Customers swear by the chicken Marsala and shrimp scampi, but the thin-crust pizzas are among our favorite things on the menu. 215-646-0123, fromtheboot.com

Golden Pheasant Inn
Erwinna
Depending on which direction you're coming from, getting to the Pheasant can take some doing, but the journey has a distinctly satisfying end. Classical French cuisine in the Philadelphia suburbs is a rarity, and they're doing it right here, with a gentle "new American" touch, in an understatedly sophisticated space along scenic River Road. From the honey on the cheese plate to the greens in the pickled fiddlehead-fern salad to the mushrooms in the Lancaster County "cowboy steak," the kitchen utilizes locally based farmers, artisans and other suppliers to bring in freshly harvested, high-quality ingredients. As you'll discover when the plate reaches the table, such devotion pays tremendous dividends. 610-294-9595, goldenpheasant.com

The Hattery Stove and Still
Doylestown
This gem in the belly of the Doylestown Inn on State Street offers modern American cuisine in a comfortable space that effectively blends rustic with industrial. The menu is unpretentious, even simple (chicken potpie, stuffed pork chops, etc.), but the results are spectacularly satisfying. It's the kind of place the borough has been craving for some time. 215-345-1527, hatterydoylestown.com

Jarrettown Hotel
Dresher
Considering its signature crab cakes, amazing bruschetta and a raft of excellent pastas, among other Italian-inspired dishes, the Jarrettown Hotel Italian Restaurant offers many reasons to make it a favorite dining destination. (Also, for oenophiles, it boasts a righteous wine list, with some nice Italian and California reds and whites.) The Jarrettown's spacious alfresco patio, canopy included, has us counting down the days to the return of kinder weather. 215-654-6880, jarrettownrestaurant.com

La Stalla
Newtown
Representing Bucks County at its finest, La Stalla was crafted from the bones of a restored barn dating back to the 1920s. The menu has more than its share of personality, too, studded with antipasti, pastas and other traditional Italian favorites made for sharing. The hustle-and-bustle of the open kitchen adds elements of intimacy and theater, further connecting guests with the food that can't reach the table quick enough. At meal's end, be sure to retreat to the lively bar area for a digestif. 215-579-8301, lastallarestaurant.com

Los Sarapes
Chalfont and Horsham
No matter which location you step into—the more "festive" original in Chalfont, or the more intimate follow-up in Horsham—you're sure to benefit from the talent of a confident kitchen. Los Sarapes' guacamole has long been making headlines, and deservedly so, but that's merely a fitting first taste of the authentic Mexican fare to come. No matter which direction you let the menu take you, be sure to have your culinary journey end with the flan, which is among the best (if not the best) the suburbs have to offer. Chalfont: 215-822-8858, lossarapes.com | Horsham: 215-654-5002, lossarapeshorsham.com

Pineville Tavern
Pineville
Although it made an appearance on an early episode of "Diners, Drive-Ins and Dives," the Pineville Tavern is none of the three. It is, however, the kind of place where locals from this stretch of Bucks County will remark to a new neighbor, "Have you been to the Pineville yet?" Inevitably, what begins with an exploratory visit quickly becomes a tradition. There's so much history here—the building dates back to the 18th century—that you can almost feel it the moment you step through the door. The menu abounds with distinctive American favorites, including the signature dish that brought it to the "DDD" dance: snapper soup. 215-598-3890, pinevilletavern.com

Rat's Restaurant
Hamilton, N.J.
Just across the Delaware River from Bucks County lies Grounds for Sculpture, a lush sanctuary where art intermingles with beautifully tended flora from around the world. It's a magical place, especially in spring and summer, and Rat's (managed by STARR Restaurants) is a worthy component of this local treasure. The restaurant's décor impresses at every turn, as does its cuisine. Inspired by the French town of Giverny, which was home to impressionist Claude Monet and the gardens that so deeply influenced his work, Rat's offers an experience sure to touch all the senses. 609-584-7800, ratsrestaurant.com

Ristorante Castello
Blue Bell
Restaurateur Habib Troudi has done something extraordinary in Blue Bell. Here, he and his team are serving up dishes rooted in the cuisine of northern Italy—seafood risotto, pollo saltimbocca, grilled scallops, etc.—but with panache that belies its traditional appearance. Excellent entrées aside, Ristorante Castello specializes in beginnings and endings. The artichoke Romano or tomato avocado mozzarella makes for an A-plus appetizer, while the pistachio cheesecake or something else from the selection of housemade desserts provides a fitting exclamation point. Speaking of panache, we're eagerly awaiting Troudi's encore, Panache Wood-Fired Grill, coming soon to the space once occupied by L'Angolo Blue, across from the Blue Bell Inn. 215-283-9500, ristorantecastello.com

Ristorante San Marco
Ambler
Calling Ristorante San Marco a restaurant seems unfair, as it is more akin to a rite of passage to celebrate a special occasion inexorably becomes a way of life. San Marco is perhaps best known for its copious seafood options, including masterful tableside fish preparations such as branzino and Dover sole. Even so, the restaurant's many excellent Italian dishes—lobster-stuffed black ravioli!—have a way of embedding themselves in one's long-term memory. 215-654-5000, sanmarcopa.com

Vedge
Philadelphia
Meatless or plant-based food has been steadily gaining popularity throughout the Greater Philadelphia Area, and Rich Landau and Kate Jacoby—the duo behind the stunning institution that is Vedge—deserve much of the credit. Like their excellent follow-up, V Street, Vedge offers some truly impressive dishes—taste and presentation alike—that will delight even the most die-hard omnivore. Brussels sprouts, beets and radishes have never been so exciting. 215-320-7500, vedgerestaurant.com

Vetri
Philadelphia
It's been quite a few months for Marc Vetri. In November he sold off most of his empire to Urban Outfitters, save his cherished namesake restaurant in Midtown Village. It's easy to see why. Vetri (the restaurant, not the man) offers the kind of intimate, deeply personal experience one might enjoy in the dining room of a close friend (a friend with exceptional taste and pasta-making abilities, mind you), with a menu to match the refined space. Here, pasta has been raised to an art form—no surprise considering the devotion the restaurant's owner has paid to his craft. 215-732-3478, vetriristorante.com

Volvér
Philadelphia
This Chef Garces showstopper doesn't create dishes; rather, it offers curated works of art for the eyes as much as for the palate. The menu changes seasonally, and one rather artful dish we enjoyed from several months ago was the Chawanmushi, a Zen garden of umami—savory Japanese egg custard dotted with puffed nori, shiitake mushrooms and flavorful bits of teriyaki-glazed short rib. No matter which route a guest takes—eight courses or 12—one thing is for certain: Volvér offers an experience that will be hard to shake and even more difficult to duplicate. 215-670-2303, philadelphia.volverrestaurant.com

Yanako
Philadelphia
Yanako is the latest example of the "moment" currently being enjoyed by the Manayunk dining scene. It's an elegant BYOB from the team behind popular Chabaa Thai Bistro, offering one of the most accomplished Japanese meals in the city or its outskirts. Although the menu is devoted mostly to sushi and rolls, it offers plenty of culinary room to roam. Some of the more notable territory to explore includes the octopus-laden takoyaki and the rich broth of the tempura udon. 267-297-8151, theyanako.com

Zahav
Philadelphia
Michael Solomonov's Society Hill masterwork hasn't lost a step. Zahav's consistency in turning out the best "modern Israeli cuisine" in Philadelphia, or perhaps anywhere outside of Tel Aviv, is even more impressive considering the further expansion of Solomonov's empire, which now includes Abe Fisher and Dizengoff. Whether you opt for Zahav's duck kebabs, beef-and-lamb kofte or some other coal-grilled entrée, any meal here must begin with your choice of hummus and oven-baked laffa. Consider it a rule. 215-625-8800, zahavrestaurant.com



Second Course
Hungry for more? You're in luck. Following are some of our readers' favorite restaurants—based on their online votes—to dine in the Greater Philadelphia Area. We can't agree more.

Azie on Main
Villanova
610-527-5700, azieonmain.com

Bacco Bistro and Bacco Italian Restaurant
Doylestown and North Wales
215-348-9882, 215-699-3361
baccobacco.com

Bing Bing Dim Sum
Philadelphia
215-279-7702, bingbingdimsum.com

Diamond's Restaurant
Pennington, N.J.
609-730-1244, diamondsofpennington.com

elements
Princeton, N.J.
609-924-0078, elementsprinceton.com

I-Pasta
West Chester
484-887-0760, i-pasta.net

KO
Newtown
215-860-5515, eatko.com

Kooma
West Chester
610-430-8980, koomarestaurants.com

Limoncello Restorante
West Chester and Chester Springs
610-436-6230, limoncellowc.com
610-524-3112, limoncellocs.com

Oishi
Newtown
215-860-5511, eatoishi.com

Osteria Vecchia
Newtown
215-860-7774, vecchiaosteriabypasquale.com

Pepperoncini
Conshohocken, Havertown and Phoenixville
pepperoncinirestaurant.com
610-941-7783, 484-454-5995, 484-924-8429

Piccolo Trattoria
Newtown and Pennington, N.J.
215-860-4247, 609-737-9050
piccolotrattoria.com

Plumsteadville Inn
Pipersville
215-766-7500, plumsteadvilleinn.com

Ron's Original Bar and Grille
Exton
610-594-9900, ronsoriginal.com

Roots Café
West Chester
610-455-0100, rootscafewc.com

Split Rail Tavern
West Chester
splitrailtavern.com
484-999-8805

Station Taproom
Downingtown
484-593-0560, stationtaproom.com

Washington Crossing Inn
Washington Crossing
215-493-3634, washingtoncrossinginn.com

The Yardley Inn
Yardley
215-493-3800, yardleyinn.com