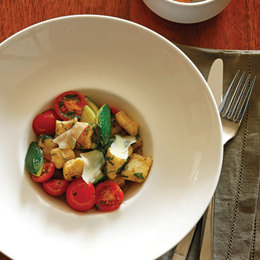 Farm to Table
Dettera Restaurant turns more focus on naturally grown, local ingredients
The words de terra translate to "of the earth," and Dettera Restaurant & Wine Bar doesn't take its namesake lightly. With a new chef and menu, the Ambler upscale casual locale has focused its efforts more intensely on the farm-to-table concept. Everyone on staff at Dettera is a fierce believer in the benefits of using locally sourced ingredients throughout the menu.

In fact, the chef, manager and owner all have home gardens where they grow ingredients for their own cooking and find inspiration for the seasonal dishes served at the restaurant.

Beyond using the best possible ingredients in the food, Dettera also makes dishes that are approachable and unpretentious.

Owner Frank Lutter's original dream for the restaurant was to offer flavorful, nutritious "real" food. He and his wife, Trish, eat primarily organic food and try to eat healthfully all the time. It's a priority in their lives, and they want to share the passion for well-made food with their guests.

"The farm to table concept is good for everyone," Lutter says. "It keeps local producers in business, helps chefs find tastier, fresher food, and makes the cuisine more nutritious."

Lutter says when he opened Dettera, he used restaurants in California as a model. "I fell in love with the Napa way of cooking," he says. "It's using what's available. The food looks and tastes amazing."

General manager Jay Stevens agrees that growing ingredients the natural way results in the most authentic flavors, so he has made it Dettera's mission to incorporate even more seasonal, organic foods into the menu.

"If you rush something, it just doesn't taste the same," Stevens says. "Just like in cooking, this slower process tends to build a better flavor."

Stevens also notes the financial benefit of Dettera's increased use of local and organic ingredients. "It's a better value all around for diners," he says. "Through doing our part for the environment and maintaining healthy lifestyles, we're also able to lower price points and offer all but one of our dishes for under $30."

The new menu, designed with Executive Chef Jeffrey Power, changes often depending on what's in season. At the moment, it is bursting with summertime fruits and vegetables, as well as seafood dishes fresh from the coast.

New England scallops, line-caught striped bass and Carolina shrimp are all purchased off day boats, which means the fish is reaching Dettera's tables between 24 and 48 hours of being pulled from the water.

The dishes are prepared with herbs grown in the restaurant's own small garden, and most entrees are served with vegetables sourced from local farms and family owned co-ops. Meats and fish are accompanied by house-made sauces, such as a silky avocado puree or a bright and familiar tomato sugo.

"I like to keep flavors clean and simple and put a twist on a dish to make it different," says Power, who was previously the chef de cuisine at Conshohocken's Blackfish and also worked under Georges Perrier at Le Bec-Fin and Terence Feury at Striped Bass. "We use creativity, but at the same time put out an approachable menu that everyone is comfortable eating."

A Culinary Institute of America graduate, Power says he uses European techniques with modern updates, making every dish from start to finish.

"The only things we're not making in-house are cheese, bread and cured meats," Power says.

Dettera also offers simple, delicious desserts to the menu—all made in house. The focus of the desserts, says Stevens, is on familiar, comforting sweets, nothing processed or fussy.

From crème brulée to seasonal sorbet flavors to a modern take on s'mores served in a parfait glass, the desserts also get a lift from locally sourced fruits and herbs.

As a wine bar, Dettera's staff works to hand pick a wide variety of well-made and affordable wines. With more than 50 by the glass and nearly 300 bottles, the list has an emphasis on California varietals that stems from Lutter's love of the Napa Valley, but also provides a strong showing from some of the world's finest wine regions.

"Wine is something you can really know the soil, the climate and the art form behind how it is made. Wine is of the earth, like so many of the ingredients we use," Stevens says.

Although it has a heavy focus on its wine bar, as it should, Dettera also puts a "farm-to-glass" twist on some classic cocktails. Highlights from the summer cocktail menu include a Jersey peach sangria, an organic lemonade with tarragon cordial and a refreshing cucumber fizz.

From appetizers to desserts, Dettera's chefs and management have given new life to their menu in order to better share with customers their admiration for fresh, seasonal ingredients.

129 E. Butler Ave., Ambler
215-643-0111
www.Dettera.com

Dinner served from Mon. - Sat. 5 to 10 p.m.; Sun. 3 to 9 p.m.; Bar snack menu also
available Mon. - Thurs. 4 to 10 p.m.; Fri. - Sat. 4 to 11 p.m.; Sun. 3 to 10 p.m.

Molly Yun is a freelance writer based in Philadelphia.