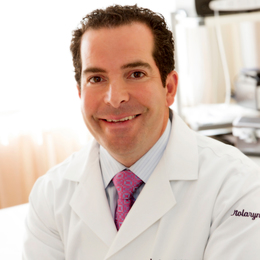 Breathe Easy
Introducing Dr. Joshua E. Goldberg of Ear Nose Throat & Facial Plastic Surgery Specialists P.C.
Joshua E. Goldberg, D.O., FACOS, of Ear Nose Throat & Facial Plastic Surgery Specialists P.C., in Willow Grove, takes pride in delivering expert, individualized, compassionate, specialty care in ear, nose, throat and facial plastic surgery to patients in Montgomery County and the surrounding communities. Board certified in pediatric and adult otorhinolaryngology, facial plastic surgery, and head and neck/robotic surgery, Dr. Goldberg discovered his passion for these complementary specialties while completing his surgical residency in Philadelphia.

After graduating from Penn State University and medical school at Philadelphia College of Osteopathic Medicine, Dr. Goldberg completed his residency training at the Consortium of Hospitals of Philadelphia College of Osteopathic Medicine, which includes Medical College of Pennsylvania, St. Christopher's Hospital for Children and the Albert Einstein Medical Center. Born and raised in the Philadelphia suburbs, he chose to practice in the local community.

For the past 15 years, Dr. Goldberg has been providing specialized care in ear, nose and throat conditions, ENT allergy treatment, facial plastic surgery, hearing and balance problems, and voice, swallowing and cough disorders. He opened his private practice in 2013 in Willow Grove, where the late Jeffrey Cooper, M.D., a highly regarded ENT-otolaryngologist, had practiced for more than 30 years. Dr. Goldberg is extremely appreciative of the excellent guidance Dr. Cooper provided.

Dr. Goldberg works as a team with certified audiologist Susan Harrison, M.S., CCC-A, in the well-established practice of Hearing Specialists Inc. Mrs. Harrison has more than 30 years of experience in the field of audiology and provides professional care for hearing and balance conditions. She specializes in audiology and vestibular testing, tinnitus, and hearing aid dispensing. In addition, she performs specialized hearing testing for children.

"We offer our patients a professional practice with providers who have more than 50 years of combined experience," says Dr. Goldberg. "As otolaryngologists and audiologists, we spend most of our time listening to our patients to ensure that we understand their concerns and respond with an individualized treatment plan. Our goal is to educate patients in order to help them feel more informed and make better decisions about their health and well-being.

"A majority of ear, nose and throat problems are allergy related," he continues. "We offer allergy testing and treatment for children and adults, including medications, allergy shots and allergy drops, as well as minimally invasive office procedures, including laser nasal treatments, PolypVac and Balloon Sinuplasty."

Another specialty area addressed at the practice is snoring. Dr. Goldberg recently opened the Philadelphia Snoring Center to treat patients with snoring problems and sleep apnea.

"In children, snoring may be a sign of problems with the tonsils or adenoids, which may require the need for a tonsillectomy and/or adenoidectomy," says Dr. Goldberg. For adults, he provides conservative treatment options to alleviate snoring, including oral appliances and laser treatment of the nose and palate. He also provides home sleep studies from the office. For patients who cannot use CPAP, a device commonly used to treat obstructive sleep apnea, Dr. Goldberg can provide alternative options.

The practice also offers facial plastic surgery services, including face and neck skin cancer diagnosis and treatment, facial plastic reconstruction, rhinoplasty/nasal surgery, face lifts, brow lifts and scar revision.

"We have a full-time aesthetician on staff, Nancy Blau, with 50 years of professional experience in facial skincare services," says Dr. Goldberg. "We offer Botox, chemical peels and injectables/dermal fillers."

Dr. Goldberg also established the Voice Swallowing Cough Institute. Working together with an on-site speech and language pathologist, the institute offers the latest fiber optic technology to alleviate hoarseness, voice disorders, swallowing problems and, especially, chronic cough. In addition, the practice offers a novel device for reflux laryngitis called Rezaband.

"We also provide an annual head and neck cancer screening in April, free of charge to members of the community, in addition to our regular practice of addressing head and neck cancer concerns," he says. "We offer our patients the convenience of not having to travel to multiple providers for the treatment of complimentary medical disciplines, while focusing on providing expert, individualized and compassionate care."

Dr. Goldberg is on staff at Abington Hospital-Jefferson Health, and serves as a consultant at Albert Einstein/Moss Rehabilitation Hospital. He is a Fellow of the American Osteopathic College of Otolaryngology and Head & Neck Surgery and a Fellow of the American Osteopathic College of Surgeons. In addition, Dr. Goldberg is a clinical assistant professor of otorhinolaryngology at Philadelphia College of Osteopathic Medicine. He volunteers as a Penn State University Eberly College of Science Premedical physician mentor. He has published numerous articles and posters for various academic journals and meetings.

Ear Nose Throat & Facial Plastic Surgery Specialists, P.C.
723 Fitzwatertown Rd.
Willow Grove, PA 19090
215-659-8805

www.entfpss.com
www.hearingspecialistsinc.com
www.noseandsinusallergyspecialist.com
www.philadelphiasnoringcenter.com

Photograph by Jody Robinson

Published (and copyrighted) in Suburban Life Magazine, February, 2017.
To subscribe to Suburban Life Magazine, click here.