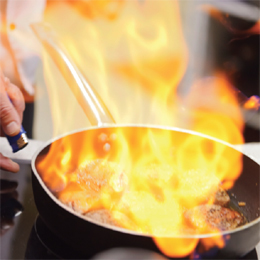 Fired Up
A fresh crop of brilliant chefs turns up the heat
A little more than five years ago, the Greater Philadelphia Area's restaurant scene was dominated by a handful of chefs and restaurateurs with relatively famous last names: Garces, Vetri, Sbraga, Starr, etc. Now, it seems there's a culinary wunderkind on every corner, as proven by the chefs highlighted on the following pages. These men and women have used their love of food to create some of the country's most inventive dishes, where each lovingly crafted meal serves not only as sustenance but also as an artistic expression of the most flavorful sort.
Christos Marchio
There's a secret ingredient in every dish coming out of Christos Marchio's kitchen: humility.
"Everyone has a different taste, so when I'm creating a dish, I ask people what they think," he says. "If it's only me tasting it, I like things a certain way, so I want to know what other people think. That's the approach I take to creating a dish, and people seem to like it."
After honing his culinary skills in the kitchens of notable restaurants throughout Philadelphia and Manhattan, Chef Marchio settled in Chester County, where he has led the kitchen of Floga Bistro since it opened its doors in 2008. At this Kennett Square BYOB, Chef Marchio has crafted a vast menu of traditional Mediterranean favorites. Whether it's a handmade pastas dish, an artisanal pizza or one of the thoughtfully prepared dishes of the veal, chicken or seafood variety, customers have fallen in love with his distinctive creations.
In fact, patrons come not only from the surrounding area but also from much farther afield—some from as far away as Allentown, approximately 80 miles away—to soak in the cozy atmosphere, to interact with the friendly wait staff and, most importantly, to taste Chef Marchio's food.
Originally from Italy, Chef Marchio grew up with aspirations of Hollywood stardom, but his love of food took him in another direction. He considers himself an artist of sorts, and it shows in his culinary work. He crafts nearly everything on Floga Bistro's menu from scratch, featuring organic produce and other key ingredients sourced from local farms. Although he knows it sounds like a cliché, he says he makes every dish to order, each one plated with love.
"I've been in America a long time, and I love this country," he says. "In European culture, family is very important, and you tend to be very humble when you have a good family. Food is the cornerstone of a good family, particularly in Italian culture, so I learned my love of cooking from my family.
"I've been doing this a long time," he continues, "and I still love what I do." —BD

Scott Anderson
Scott Anderson begins his days wandering in the woods surrounding Princeton, N.J., his eyes scouring the mossy earth for hints of ramps, morels and other wild edibles.

"I'm out there foraging almost every day, maybe an hour or so," says Anderson, best known as executive chef and co-owner of elements (note the lower-case "E"), which is less of a restaurant and more of an interactive dining experience served up in an artfully designed building in Princeton. "I like starting my day off with a fresh head with these hikes. Sometimes I'll find something that shows up on the menu, and sometimes it's just me out there clearing my head."

Now 42, Anderson considers his daily walks in the woods as part of his commitment to slowing down. That might sound funny considering his hectic schedule, which includes overseeing the kitchen of not only elements but also the equally distinctive Mistral in Princeton. His schedule will get only more harried in early 2017, when a second Mistral will open in bustling King of Prussia.

"I still work a ton of hours on the line every night," he says. "When I say I've slowed down, I mean in my own head I've slowed down. I take longer to think about things, which I chalk up to maturity. I think it shows in the food and in the ingredients I use."

In Princeton, elements enjoys a sensational reputation, with each dish coming out of the kitchen as an incredibly flavorful, thoughtfully curated work of edible art that speaks to Anderson's fondness for wild places. In King of Prussia, which has suddenly become one of the region's hottest culinary destinations, he's setting the stage for things to come.

"King of Prussia is close enough [to Princeton] to manage effectively, and if it works out well, maybe we'll be more comfortable doing something outside of driving range," he says. "It could be a good stepping stone for the future." —BD


Kristol Bryant
Kristol Bryant has always had a love for cuisine, but it wasn't until a unique opportunity crossed her path as a young mother that she decided to pursue culinary arts as a career.

"I was in between, trying to figure out what I wanted to do," she says. "I was about 19 years old, I had two kids and I was trying to go to college, but it was very difficult to go to college and to take care of two kids and to work."

When Bryant received a pamphlet in the mail from the Philadelphia Opportunities Industrialization Center Inc., she knew this opportunity was something special.

"It was something that I really wanted to do," she says. "It was my passion, culinary arts."

From this springboard, Chef Bryant's career skyrocketed.

She went on to work with renowned chefs, including Philippe Chin and Jean-Marie Lacroix. She also took her talents on screen, providing support for Jim Coleman on his PBS show "Flavors of America."

All of these experiences taught her a great deal, but Chef Bryant makes particular note of her role in the 2006 opening of the Philadelphia restaurant XIX with Marc Plessis.

"[Plessis] was actually the chef of XIX restaurant when I came there, and he was just so well rounded and taught me a whole lot about different spices, different techniques, different cooking skills, and that's where I actually got my love to combine cuisines," Chef Bryant says. "I didn't think it had to be so boxed in."

This past June, Chef Bryant, now a mother of four, accepted a new opportunity, this time as executive chef of the Sonesta Hotel in Philadelphia.

"It's about innovation, it's about food as art is their concept, [and] it's about interpreting life influences and putting them on a plate," she says of the Sonesta's Art Bar. "We're just learning every day. We're playing with new stuff, we're coming up with new creative ideas, and we're pushing the limits of culinary." —LS


Nongyao "Moon" Krapugthong
Moon Krapugthong took a circuitous route to her current position as successful chef and restaurateur.

Chef Krapugthong holds an MFA in photography as well as an MBA. Even though she was doing just fine in the worlds of business and art, she found herself looking for more.

What could be referred to as an unofficial catering gig changed the trajectory of Chef Krapugthong's life. Around 1994, she had an art installation on display and made a few select morsels to correspond with her showing. She recalls: "I served the food and then people told me, like, 'Your cooking is something else!'"

At the time, Chef Krapugthong didn't even know herself that she had a knack for that particular skill.

"I just do what I enjoy," she says. "When I have a party at home, I love cooking and entertaining people."

Hungry for more, her art fans inquired what the future would hold for Chef Krapugthong. A chance trip to Philadelphia provided the answer. It took attending only one "First Friday" for Chef Krapugthong to fall in love with the City of Brotherly Love.

Approximately 12 years ago, she opened the first Chabaa Thai Bistro location, drawing inspiration from her native Bangkok and her time cooking with her family as a child. In 2012, her empire grew to include Yanako Japanese Kitchen & Sushi Bar. Chabaa Thai, meanwhile, outgrew its space and, just this past August, reopened in Manayunk with a new neighboring business, BINTO Market & Café.

"I cannot pretend," Chef Krapugthong says. "I talk what I talk, I cook what I cook. Sometimes people ask me, 'Why [have] you put this, that on the menu?' Well, because I like it." —LS


Nelson Rodriguez
Nelson Rodriguez started his career in cuisine at the proverbial "bottom"—as a dishwasher at a popular chain restaurant. Today, he is executive chef of Paladar Latin Kitchen & Rum Bar, one of the newest dining hot spots in King of Prussia.

Chef Rodriguez is no stranger to the Paladar brand; he has been with the family of restaurants for three years, most recently working to open Paladar locations in Maryland and Virginia.

Previously, Chef Rodriguez was with Cuba Libre. Not only did he work at its iconic Philadelphia location but he also helped open its sister location in Washington, D.C.

A native of El Salvador by way of Orlando, Fla., Chef Rodriguez draws upon a rich culinary tradition in creating what he refers to as his "new Latin cuisine."

One of his current favorites on the Paladar menu is a pork dish he created.

"The mojo pork tostones is one of my favorites and is one of the best sellers for happy hour right now," Chef notes. "Also I have a bunch of specials that will come on the menu eventually."

Another of his creations, influenced by recipes honed by his own family, is the light and sweet Ron Abuelo coconut cake.

When asked about his favorite aspects of a career in cuisine, Chef Rodriguez responds, "The freedom." He also says he particularly enjoys serving a well-executed meal to a happy guest—one who will go on to talk about the meal long after its end: "Even sometimes it's, like, rice and beans, but if you can do a nice rice and beans people will talk about it."

One day, if all goes according to plan, he hopes to plant the seeds of a culinary empire all his own. "Eventually, in six to seven years, I want to open my own restaurant," he says. "I'm still young so I'm looking to open a restaurant when I'm 40, maybe." —LS


Andrew Masciangelo
Give Andrew Masciangelo a slice of cold pizza and he's a happy man.

"Right now I'm a spaghetti and meatballs kind of guy; I eat it at least three or four days a week," he says. "Pizza is my weakness. My mother said when she was pregnant with me, all she wanted was to eat pizza and drink beer. I guess that was all right back in the '70s. Also, tacos—I love tacos."

Such humble tastes might be surprising for a man who heads the kitchen of one of the Main Line's most elegant restaurants, Savona in Gulph Mills. Since taking over as executive chef in 2004—he started at Savona in 1997 and has since added the title "partner" to his résumé —Chef Masciangelo has been turning out menus starring handmade pastas, wood-fired pizzas and other specialty dishes, as well as Italian-inspired seafood such as its signature, the Dover sole.

"My major influence is probably my family," says Masciangelo, who grew up in Central Pennsylvania, with fond memories of making pasta with his father and grandmother. "We had family dinner every night when I was growing up. Every dinner started with a salad, which the kids always made. My dad would come home and dress the salad, and my sisters and I would fight over who would drink the vinaigrette out of the bowl."

Savona benefited from a "huge renovation" over the summer. The facelift included not only updates to the furniture and décor—an open kitchen enables Chef Masciangelo "see the smiles on people's faces," he says—but also a customized kitchen suite to give the culinary staff more tools for working their magic.

"As a younger chef, I was always trying to figure out what I could do differently than anyone else … or thinking of some pairing that had not been discovered before," he says. "As I got older and more mature, I've come to realize that I just want to take those classic preparations or combinations of ingredients and just prepare them more masterfully.

"After 20 years I've learned to roll with the punches," he continues. "I'm focused on making Savona as great as it can be, with good, attentive service and high-quality food, without the stuffiness that goes along with it—nothing further than that. If something comes up down the line, we'll see what happens then." —BD


Benny Puleo
Long considered a Bucks County gem, Newtown's charming downtown is rapidly evolving with new retail, lifestyle and residential developments. La Stalla, the historic family-style Italian restaurant at the corner of Swamp and Sycamore streets, stands as a prominent link between past, present and future.

Even as other restaurants have popped up around it, La Stalla remains a local hot spot—especially in the warmer months, when the outdoor patio is abuzz—thanks in large part to the efforts of its chef, a 29-year-old culinary whiz named Benny Puleo.

Puleo grew up in Palermo working in the family business—baking bread—but he also developed a passion for cooking more ambitious meals and crafting recipes of his own. By the time he was 17, he was living in the United States and working as a line cook in a busy restaurant. By 23, he had earned the title of head chef at La Stalla.

"When I first came here [to the United States] I was just trying to make a living," he says. "I quickly found that I was very creative in the kitchen. All those years I thought I would reach a level to be famous, like Gordon Ramsay. I don't know if I'll ever get there, but the passion for what I do has never stopped growing inside me."

Aside from the restaurant, Puleo is spearheading La Stalla Italian Market, a specialty grocery and gourmet market that will soon contribute to Newtown's quiet reinvention. Set to open on Sycamore Street by year's end, the 2,400-square-foot market will offer a range of meats, cheeses and imported items, as well as homemade goods. The facility will also serve as a second kitchen to accommodate La Stalla's flourishing catering business.

"It's going to be amazing there," says Puleo, who will be part-owner of the market, along with the Masso family, which owns La Stalla. "We're going to introduce a variety of imported meats, cheeses and handmade pastas, plus burrata, gnocchi [and] fresh-stuffed mozzarella. We'll also have some stuff people barely see here in the USA … and Italian items we offer at La Stalla."

Even with the opening of the new Italian market, Puleo intends to keep his eye squarely on the flagship, La Stalla.

"I try to improvise every day to keep innovating and offer something new to suit the different palates of our customers," he says. "I want people to leave here impressed." —BD


Ben Thomas
In the past decade or so, food has become an art form, meaning, naturally, chefs have become artists. Although some might consider such language akin to hyperbole, Ben Thomas isn't one of them.

"I've got a 2-year-old now, so I don't get out as much as I used to, but I like going to the Philadelphia Museum of Art a lot," says Thomas, the co-owner and executive chef of Restaurant Cerise in Bryn Mawr. "Looking at the artwork of some of the masters gave me some good ideas. Chef Gerard [Pangaud, the two-star Michelin chef under whom Thomas trained at L'Academie de Cuisine in Gaithersburg, Md.] used to say that you need to look at each plate as a painting that changes.

"All chefs at restaurants of our level have to be cognizant of how a plate looks from the moment it arrives at the table to the second the diner has finished eating," he continues. "It still needs to look pretty even halfway through, so you have to know how the colors will mix and blend. … It could be something as simple as the green of the asparagus against the redness of the duck, and how those two things blend together."

Chef Thomas' artistic touch and attention to detail have yielded dividends at Restaurant Cerise (French for "cherry"), which recently turned three years old. The cozy BYOB features multicourse meals of award-winning European cuisine inspired by his and his wife Elena's time spent wandering abroad, during which they developed a fondness for Europe's open-air markets.

"In Paris, every neighborhood has [a market]," says Thomas, an Alabama native who spent part of his childhood in Stuttgart, Germany. "I loved the changing vendors and the produce you'd find there. Considering those kinds of foods and the way people eat there, I wanted to bring that idea and that kind of feel here."

Away from the restaurant, Chef Thomas likes to forage for ramps, strawberries and other wild edibles—often with his 2-year-old in tow—to ensure he's using the best possible ingredients. Of course, he's always pondering the big question: "What happens next?"

"I want to be careful of expanding too early," he says. "I want to focus on five solid years here. When I feel confident I have done it right, then maybe I'll do a second location—maybe Cerise No. 2, or something with more of a German influence, or maybe a place with our 'greatest hits.'" —BD

Published (and copyrighted) in Suburban Life Magazine, December, 2016.