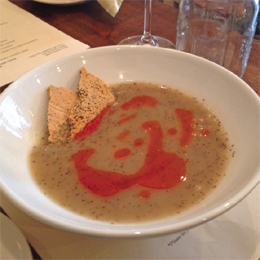 The Lovin' Spoonful
Whether we like it or not, the chilliest of all seasons is here. We're bundled up in our cold-weather coats, snow has already made its way into our area, and restaurants are serving up seasonal dishes that reflect the comfortingly decadent flavors of winter. Whether you're sitting down for a full meal or just want to grab a quick lunch, a great bowl of soup at one of these hot spots can warm both your belly and your spirits.
Coyote Crossing
Conshohocken
If you're looking for real traditional Mexican cuisine, look no further than Conshohocken's first-ever mezcal bar, Coyote Crossing. Owner and founder Carlos Melendez takes pride in recreating traditional family recipes that make every restaurant patron feel right at home. This well-established restaurant's "famous" Cuban-style black bean soup (sopa de frijol), served with croutons, chorizo and queso fresco, is a hearty way to start off a delicious meal.
CoyoteCrossing.com
Famous 4th Street Delicatessen
Philadelphia
Crisp winter breezes inevitably bring coughs and sniffles. When you're feeling under the weather, there's often no better medicine than chicken noodle soup. Skip the Campbell's and head over to Famous 4th Street Delicatessen for a proper bowl of this staple. In traditional Jewish deli fashion, this cold- weather classic is made with matzo ball, kasha and kreplach. Be warned: Portions are intended to serve up to three people.
Famous4thStreetDelicatessen.com
Flora
Jenkintown
Flora is a cozy BYOB with a menu featuring only the freshest seasonal ingredients of the vegetarian sort. When warming up inside the intimate 16-seat dining room, Flora's parsnip soup is a no- brainer. Starring celery seeds, a drizzle of smoked paprika oil and topped with house-made poppy seed crackers, Flora's version of this winter delight is sure to give you that warm-and-fuzzy feeling you need in order to fend off the cold.
FloraJenkintown.com
In Riva
Philadelphia
Chef Arthur Cavaliere's twin inspirations—southern Italy and Philadelphia—make for some interestingly authentic contemporary cuisine. In the summer, guests can enjoy one of the largest outdoor dining spaces in the area. In the winter, stay inside and enjoy In Riva's Italian-inspired version of a classic pea soup. Featuring flavors of Parmigiano cheese and roasted garlic, this soup serves as a perfect transition from the chilly outdoors to the warmth of the Neapolitan- style pizza that inevitably will follow.
In-Riva.com
La Peg
Philadelphia
Built from the bones of a high-pressure water pumping station, La Peg boasts an industrial-inspired interior and an all-American menu that makes for a hearty meal at the pinnacle of comfort food. This includes the brasserie's famous New England clam chowder—a permanent menu item that's even more inviting during the colder months. Featuring bacon, potatoes and cherry stone clams, this soup is nearly a meal in itself.
LaPegBrasserie.com
Ocean Prime
Philadelphia
Savor summer's fleeting flavors with traditional seafood fare. Before diving into an impeccably prepared entrée at this modern seafood restaurant and steakhouse, pay homage to the snow with a warm bowl of lobster bisque. A cold-weather dish full of warm-weather flavor, this smooth and creamy concoction is chock full of lobster claw and knuckle meat, topped with a sweet corn fritter.
Ocean-Prime.com
Parc
Philadelphia
Many love Paris in the springtime, but it's also pretty nice in the winter. Influenced by classic French café favorites, Parc brings the tastes of Paris to the heart of Rittenhouse Square. Ease into your lunch break with a bowl of Parc's famous French onion soup, served with bubbling melted cheese. The friendly, welcoming interior invites you in, and this delicious starter will surely bring you back.
Parc-Restaurant.com
Pho and Beyond
Willow Grove
Traditional Vietnamese cuisine at its finest, Pho and Beyond keeps it authentic with dishes inspired by family recipes handed down through the generations. The restaurant's Bún Th?t Nu?ng (also known as the No. 37) combines unique flavors of mint with pickled carrots, radishes and peanuts, all on a tangled bed of vermicelli, to create a surprisingly soothing dish sure to warm up even the chilliest of customers.
PhoandBeyond.net
Pineville Tavern
Pineville
Housed in a centuries-old building, the Pineville Tavern is big on history. What started out as the Pineville Hotel in the 18th century is now known as a restaurant famous for its classic menu featuring authentic tavern favorites. Recommended most at the Pineville would have to be its famed snapper soup, full of savory turtle meat. This made-from-scratch soup is rich enough to make you reconsider ordering an entrée.
PinevilleTavern.com
Tinto
Philadelphia
If you're looking for a unique, refreshing flavor profile, look no further. Tinto is a Basque- inspired bar and restaurant that seeks to capture the delicious, authentic flavors of Spain. Thanks to Iron Chef Jose Garces, every dish at Tinto exudes talent and finesse. The sopa de castaña, a truffled chestnut soup served with fried quail egg and pistachio, is a "must try" sure to impress even the most sophisticated palates.
Philadelphia.TintoRestaurant.com
Photograph by Dan Brightcliffe/ Flora Restaurant
Published (and copyrighted) in Suburban Life Magazine, February, 2017.