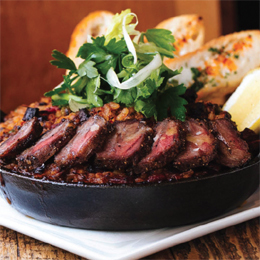 Dinner is Served
We are lucky because we live in an area that's rich in culture and replete of restaurants spanning different parts of our world, giving the Greater Philadelphia Area the reputation of being a worldly cuisine destination. And the local culinary scene is constantly evolving which only adds to the excitement.
It starts in the nook and crannies of Philadelphia and then moves to the suburbs, stretching across Chester County, into the heart of Bucks and Montgomery Counties, along the Delaware River and finally, across the bridge in New Jersey. Whether its new restaurants or longstanding eateries that have earned clout with its locals and visitors, our area's restaurants are worth making a reservation for.
After picking and choosing with our forks and stomachs, we're proud to present the 2017 Golden Fork Awards—20 restaurants that wow us with each inspiring plate. This year, we spiced things up by giving you a few insider tips on what to try during your next dining experience, what to imbibe and of course, if you should save room for dessert. And to make the list even more comprehensive, we included our readers' picks for their favorite spots to break bread. While every restaurant is different, they all share one attribute: their food brings families and loved ones to the table for one delectable meal.
The Restaurant at Wyebrook Farm Market
Honey Brook
It doesn't get much more farm-to-table than Wyebrook Farm's very own restaurant. With meats raised on the 360 acres of sustainable farm, vegetables are also grown right on the property, as well as sourced from local organic farms. The restaurant strives to make everything from scratch—including the pastas. The kitchen's key dishes include the gnocchi with butternut squash purée or confit chicken dressed with parsnip creamed leeks and lemon verbena jus.
ORDER THIS: Chicken Ravioli in Brodo is as simple as it gets, but a complicated flavor to behold. Fresh ravioli pasta is stuffed with a chicken, spinach and ricotta filling and cooked in a rich chicken stock.
PERFECT FOR: Those who appreciate sustainability and have a preference to knowing exactly where their food comes from.
EXTRA BITE: With countless events offered by the farm—including chef's dinners and cooking classes—make a calendar reminder for their Summer Starlight concert series.
The General Warren Inne
Malvern
For a taste of elegance and classic dining, make a reservation at the General Warren Inne. Known for their classic dishes including Beef Wellington, Snapper Turtle Soup and their award-winning crab cakes, the restaurant is located inside the historic bed and breakfast nestled in Chester County. Their worldly list of wines are the perfect complement to the Inne's modern American cuisine.
ORDER THIS: In addition to the current menu, the chefs curate weekly special additions, which recently included the Pan-Seared Frog Legs. Each dish can be shared with the table or enjoyed as a small plate.
EXTRA BITE: You don't want a meal that doesn't end with a sweet treat and luckily, General Warren Inne excels in dessert, thanks to Executive Pastry Chef Andy Sciarretta. Be sure to order the Bananas "Foster" for Two, which is made tableside only in the evening.
Tinto
Philadelphia
When choosing our favorite Jose Garces restaurant, our hearts lead to the Basque tapas bar better known as Tinto. While regulars tend to favor Tinto's Sopa De Castaña (a truffled chestnut soup enhanced with a quail egg, pistachio and a duck and mushroom hash), the multitude of elevated options will give you a reason to keep coming back.
ORDER THIS: Paella Bellota, a spicy combination of braised pork and Ibérico pork cheek, along with chorizo, piquillo pepper and peas.
SOMETHING TO DRINK: Take advantage of the full bar, which also serves up classic sangrias. If cocktails aren't your thing, try one of the Spanish wines and ciders Tinto carries.
EXTRA BITE: Take advantage of Tinto's happy hour, which runs during the week from 5-7 p.m., featuring $5 tapas and a choice of cocktails or wines.
DeAnna's Restaurant
Lambertville, N.J.
Known as a mainstay in the riverside city of Lambertville, DeAnna's has been dishing classic Italian fare for over 20 years, while perfecting the art of homemade pasta and ravioli. Helmed by owner and Chef DeAnna Paterra and partner Lisa Nichols, the menu—which features rotating daily additions—also caters to gluten allergies, vegan and vegetarian preferences. The space comfortably seats 30 and features a full bar with impressive wine list catering to all aficionados.
ORDER THIS: If you're feeling bold, go for the Seafood Fra Diavalo. A tantalizing seafood dish featuring DeAnna's home- made spaghetti—made fresh daily from semolina flour—topped with steaming mussels, shrimp and more, all dressed in a decadent red sauce.
EXTRA BITE: Be sure to make room for DeAnna's famous homemade ricotta cheesecake. It's a light and fluffy take on the traditional cheesecake.
Laurel
Philadelphia
C'est la vie! This modern French-influenced American restaurant is quaintly nestled among the city's brick architecture and one of the hottest recent additions to East Passyunk Avenue. It offers an intimately exquisite 26-seat dining room experience and serves dishes including seasonal and local fare prepared by owner and Chef Nicholas Elmi, a former Top Chef winner. Patrons can select between sampling from a tasting menu, or indulging in one of Elmi's Parisian creations. But don't think twice—reservations book up to two-months in advance. Let's just say, it's well worth the wait.
ORDER THIS: The Wild Burgundy Snails—a twist on a classic French entrée—accented with hearty mushroom, spring onion and potato.
PERFECT FOR: Date night. What's more romantic than dining in the City of Brotherly Love with food inspired by the city coined as the City of Love?
Vernick Food and Drink
Philadelphia
This Walnut Street eatery happens to boast not only some of the finest in American cuisine, but the finest in culinary accolades as well. Although one would assume a high-caliber Philadelphia restaurant would render impossible to reserve for a night out, Vernick remains a fairly accessible restaurant without requiring weeks of scheduling in advance. Chef Greg Vernick's broad array of dishes from small plates of Maryland crab-topped toast to larger, shareable plates of spice-rubbed wagyu beef brisket makes the restaurant ideal for any type of appetite.
ORDER THIS: Though sea urchin might not exactly scream "all- American," this dish from Vernick's popular raw menu has a classic American twist, served alongside warm scrambled eggs.
SOMETHING TO DRINK: It's hard to go wrong with any libation from the current menu and The Brilliant Green—a flavorful blend of gin, matcha, apricot, citrus and bubbles—is an exceptional choice, especially for first-time visitors.
EXTRA BITE: While Vernick provides an extensive menu of award-winning American cuisine, it's not uncommon to hear patrons and food critics rave about the most classic in American food—their toast. In fact, it remains one of their most popular menu items to date. We recommend not leaving without ordering from at least one of eight toast entrées.
Vetri
Philadelphia
Marc Vetri remains the chef about Philadelphia and our taste buds continue to swoon at his name- sake restaurant. Flourishing with authentic Italian dishes operating under a tasting-menu format—which rotates based on market availability—longtime favorites include the Spinach Gnocchi with Brown Butter, Sweet Onion Crepe with Truffle Fondue and Capretto with Soft Polenta.
SOMETHING TO DRINK:You'd be hard-pressed to find a more expertly crafted wine cellar than Vetri's. Business partner and sommelier, Jeff Benjamin, has carefully chosen more than 2,500 bottles of Italian wine—from almost every region in Italy. In light of the craft beer boom, Vetri also offers beer pairing with dinner.
EXTRA BITE: If you're looking for a more personalized meal experience, Vetri offers private dining to host a myriad of events, whether it's a cocktail party, private class or a seated dinner.
Marsha Brown Creole Kitchen and Lounge
New Hope
Louisiana is known for its deep-rooted culture, dazzling nightlife, eclectic music and, of course, world-class cuisine. Happily, locals needn't catch a flight to enjoy the vibrant and piquant flavors of the bayou. A visit to Marsha Brown Creole Kitchen and Lounge in New Hope will do the trick. Run by Marsha Brown, a New Orleans native, the kitchen at this elegant establishment features satisfying Southern classics including sautéed catfish, crab cakes, jambalaya and crawfish étouffée.
ORDER THIS: The Mamére's Crab Cheesecake appetizer, which is a savory, eggy tart accented by jumbo lump crab- meat, smoked gouda and two sauces—a green onion coulis and a traditional Louisiana remoulade.
SOMETHING TO DRINK: The wine list at this restaurant is extensive and carefully curated; any diner can find a great libation to accompany their meal from among the vast selection of reds, whites and sparkling glasses and bottles.
PERFECT FOR: Mardi Gras, or "Fat Tuesday" is on Feb. 28 and this holiday is traditionally a celebration marked by parades, cocktails and great food—Marsha Brown's restaurant seems like just the place to celebrate.
Blackfish
Conshohocken
This well known BYOB in downtown "Conshy" helmed by Chef Chip Roman has a daily rotating menu that changes with the tides of the ocean. With an à la carte seafood-heavy menu and tasting menus featuring five-to-seven courses, one meal is never the same. Some nights could serve octopus, sea urchin raviolis, tuna tartare, or foie gras.
ORDER THIS: With a menu that changes daily, we hope the Miso Cavatelli Dumplings remain. The delicate dumplings with mushrooms are dressed in an ivory sauce with thyme from the Blackfish garden.
EXTRA BITE: A meal at Blackfish isn't complete without dessert and their Cinnamon Sugar Beignets are the sweet ending you're looking for. They are served warm with a side of chocolate and berry sauce for your dipping pleasure.
333 Belrose Bar & Grill
Radnor
A true gem of the Main Line, 333 Belrose offers the best of local and seasonal ingredients dedicated to preparing the finest American fare, while incorporating flavors from around the globe. Don't be alarmed when your plate arrives looking similar to a piece of art; each entrée is meticulously crafted by Chef Carlo DeMarco into a seamless, photo-worthy, show-stopping presentation. Just don't forget to eat your food.
ORDER THIS: The Java Pork Tenderloin is a dish most recommended and is garnished with juicy mango salsa, black bean sauce, maple jus and a side of smashed yams.
PERFECT FOR: With a selection of lunch and dinner packages available, this venue is the ideal place to host your next event.
Creed's Seafood & Steaks
King of Prussia
A restaurant earns itself a lot of clout when they're a steakhouse. Their beef is an art form while their sides elevate the taste of every porterhouse or filet they share a plate with. But a steakhouse's ability to craft seafood in the same way, reigns supreme. For Creed's, a staple to the dining landscape since 1982, they excel in both land and sand, as Executive Chef and Partner John Talbot, treats his every plate with precision and using the highest quality.
ORDER THIS: Opt out of a steak and go for the Sesame Seared Tuna dish, where fresh tuna is perfectly sliced and seasoned for a soft and tasty bite. The plate also comes with wasabi, lemongrass ponzu, pickled ginger and julienned cucumbers for a spicy kick.
EXTRA BITE: While their menu is all you'll need in a restaurant, Creed's goes one step further with their weekly live music. Their entertainment roster sees a new musical face each Friday and Saturday.
Golden Pheasant Inn
Erwinna
Nestled between the Delaware River and Canal is the Golden Pheasant Inn, which is listed under the National Registry of Historic Places and has been serving plates of classic French cuisine, updated with some "New American" flair, for over 20 years. While the onion soup is a favorite, the oysters, seasonal cheese platters and pork chops are close contenders.
ORDER THIS: The Sirloin and Sausage entrée. A grilled 12 oz. Lancaster County sirloin steak and boudin blanc sausage is served atop a bed of tri-color quinoa, broccoli rabe and accompanying Dijon mustard and a chimichurri sauce. It makes for a surprisingly perfect combination.
SOMETHING TO DRINK: A French meal is never complete without wine and the Golden Pheasant Inn's wine list fills the void. The impressive list features French wines, Champagne and sparkling wine, in addition to bottles from other parts of the world from California and New Zealand. We, of course, recommend a bottle of Bordeaux.
Restaurant Neuf
Philadelphia
Joncarl Lachman and Bob Moysan, co-owners and the faces behind the culinary and artistic creations adorned throughout Restaurant Neuf, sought to integrate North African French cuisine into the likes of the Italian market. Today, it remains a welcome addition to the region, bringing together the essence of savory and sweet through dried fruits and meats. The aroma of spice blends, such as the ras el hanout—a custom blend from the Italian Market spice shop, including rose petals, cayenne pepper, white pepper, ginger, caraway, coriander and cumin—make it almost impossible for city goers not to stop in.
ORDER THIS: We'd recommend trying the Spicy Braised Goat Leg with rice, sweet potatoes, dried apricots, roasted vegetables, crushed mixed nuts and tomato broth to harness the full gamut of true Moroccan flavors. If you're one for brunch, we'd recommend the crowd-pleasing Paris-Brest Pain Perdu, a French toast with candied cherries, almonds and rosewater.
SOMETHING TO DRINK: Guests can choose from a wide array of libations, including one signature cocktail, the Dirty Picholine, which has proven to be a home run for scotch drinkers. The restaurant also offers a wine list with selections from Lebanon and the Canary Islands.
EXTRA BITE: The bar frequently runs bar specials, including an intimate candle-lit cocktail hour Wednesday through Sunday from 10 p.m. to midnight.
Honey
Doylestown
A visit to Honey might make you forget you're in the suburbs. This urban-inspired restaurant provides an entertaining and memorable experience and is just the destination to satisfy any gourmand's palate. It is also the perfect choice for the indecisive connoisseur, who prefers not to decide on a single dish; food at Honey is served "family style," meaning everyone at the table can easily share plates.
ORDER THIS: The Duck Samosas are a great place to start off if you've never dined at Honey. The dish includes slow braised duck in feuille de brik—a pastry shell similar to fillo dough—a peppery Peruvian sauce and curried apricot chutney.
SOMETHING TO DRINK: Heat up your night with one of several signature cocktails, including the Heat of Passion, which blends Cuervo Gold Tequila, passion fruit juice, spicy habanero syrup, fresh lime and garnished with a salted rim.
PERFECT FOR: Honey is best known as a place where many go to celebrate the most-special of occasions. If you have a birthday anytime soon on the calendar, it's best to book your reservation sooner than later, as the intimate space only houses 12 tables.
Nectar
Berwyn
As fusion-inspired cuisine has grown in popularity over the decades, so has the pool of talented chefs executing dishes in these various styles. One restaurant excelling in the area of fusion cuisine is Berwyn's Nectar, which serves a stunning tapestry of French/Asian cuisine by chef Patrick Feury. In addition to dim sum, bento, lo mein, curry and rice dishes, Nectar offers a vast selection of sushi and sashimi.
ORDER THIS: Believing one is never too old to play with their food, we recom- mend sampling the exquisite Moo Shu Pork. A savory medley of leeks, shiitake mushrooms, bean sprouts and peppers, this umami-laden dish requires some assembly. Guests can stuff accompanying pancakes with meats and veggies to enjoy a hands-on dining experience.
SOMETHING TO DRINK: The mango and blood orange martinis are worth ordering. Mixologists blend blood orange juice with locally distilled Stateside Urbancraft Vodka and a touch of simple syrup for a total sum of a few sips of heaven.
Townsend
Philadelphia
Make your way to France by way of Philadelphia with Townsend Wentz's namesake restaurant, churning out perfect concoctions of French plates full of savory flavors. Wentz—who has Chemistry and Biology degrees from Rutgers—uses a scientific-like approach to make use of the season's bounty, working in tandem with general manager and sommelier Lauren Harris to create expert food and wine pairings.
ORDER THIS: Rabbit Pot au Feu is a melody of flavors featuring rabbit roulade, along with an array of vegetables including turnip, rutabaga, butternut squash and thyme braised potato.
PERFECT FOR: The adventurous foodie who is eager to try different dishes and flavors. The third course menu itself spans a variety of entrées from halibut, venison, to duck breast.
SOMETHING TO DRINK: Go with Townsend's libations, which are expertly crafted by the bartenders, who can make anything from an Old Fashioned, a Pimm's Cup, a Negroni or even something you've never tasted before.
Oishi
Newtown
For residents of Newtown, they can experience the flavors of Korea, Japan or Thailand in one enchanting restaurant. Oishi, which translates to "delicious," first opened its doors in 1999 as a quaint restaurant consisting of only eight tables, a sushi bar and a desire to create the finest in Japanese, Korean and Thai cuisine. Today, the restaurant boasts an enchanting interior and some of the area's best Asian cuisine, with all sauces made from scratch.
ORDER THIS: You can't go wrong with their eclectic sushi menu served à la carte, but if raw fish isn't your palate's craving, the Red Snapper Teriyaki or Beef Korean Bulgoki are excellent choices to stay within the realm of an authentic Asian experience.
SOMETHING TO DRINK: Since Oishi is a BYOB, we recommend adding your favorite bottle of dry Riesling or Pinot Noir—two wines best known for pairing well with sushi without counteracting their flavors.
PERFECT FOR: While Oishi has a dinner menu chock-full of pungent authentic Asian entrées, this spot is ideal for the connoisseur in search of delectable sushi that's not stingy with portions.
Elements
Princeton, N.J.
Home of the "Interpretive-American" cuisine, Elements caters to the purest of flavors the earth has to offer. Chef Scott Anderson sources his food from local purveyors, including farms and butchers, as well as forging of his own. "Sometimes I'll find something that shows up on the menu," Anderson recently dished to Suburban Life. With only 28-seats available, the well-crafted and seasonally driven menu offers edible art even for the simplest of dishes, whether it is wood ear mushrooms, pork belly, or grilled carrot and kale salad.
ORDER THIS: You won't want your meal to be without the Bison Tartare (pictured here). The dish may appear small in size, but its flavors are big as the bison and skillfully paired with kohlrabi, roasted red onion and egg yolk. If you're craving some- thing lighter, try the Fairytale eggplant, dressed with vadouvan chicken jus, sesame seeds and Malabar spinach.
PERFECT FOR: The artsy foodie, who values both art and a flavorful meal, and patrons looking for a seasonal change. Each of the nine tables has a view of the open kitchen, providing a natural and unforgettable dining experience.
EXTRA BITE: While the menu rotates based on the seasons, Elements also offers a Chef and Grand Tasting Menu—which requires a reservation—and the chance to watch the kitchen in action.
Flora
Jenkintown
This vegan hot spot was created to cater to a niche not previously served in the area and has been delivering plant-based cuisine since 2014. Flora offers diners a greater array of vegetarian and vegan options outside of the city of Philadelphia with quality and flavorful dishes that are more than just tofu and raw salads. With ingredients locally sourced—in addition to their own gardens—Flora's menu changes to reflect a season's crop. Seating just 16, it's worth making a reservation.
ORDER THIS: From the current winter selection of dishes, the braised red beets—which features a balsamic reduction and is served with mashed parsnips with thyme—is a satisfying play on the non-vegetarian braised short ribs dish.
SOMETHING TO DRINK: As this spot is a BYOB, a diner can select any favorite libation to accompany their meal.
PERFECT FOR: Vegan and vegetarian diners looking to introduce carnivorous friends to a new type of meal.
EXTRA BITE: Flora also offers a Chef 's Tasting Menu, featuring a seven course menu with dishes not found on the regular menu. Only available for parties of two, reservations are required one week in advance.
Charcoal
Yardley
This innovative and ingredient-driven BYOB has been around since the mid-1970s under two family owners during that time— one family from the restaurant's inception through the mid '90s, and the second family from that time through to today. While the restaurant serves breakfast, lunch and dinner, it excels with its breads and pastas, which are all made in-house. As the dinner menu derives inspiration from locally sourced ingredients, it tends to change week to week offering new seasonal dishes or reinventing favorites.
ORDER THIS: While the pasta dishes are always a good choice, it's worth ordering their Griggstown Fried Chicken. It's fried to order and served with lemon pepper caramel, baby lettuce and pickles.
PERFECT: Young families or date night with a bottle of your favorite wine.
EXTRA BITE: Be sure to get your fingers on one of Charcoal's homemade doughnuts. These circles of pastry perfection use a brioche batter, which ferments for 18 hours and features no yeast. They are served dusted with cinnamon sugar and with a coffee caramel sauce.
Junto
Chadds Ford
Embrace the hearty flavors of countryside at this modern farmhouse BYOB located on the historic Brandywine frontier star- ring influences from the Lenni Lenape, Susquehannock Native Americans and the Swiss and German settlers of Pennsylvania. Although a 40 minute trip from the likes of Center City, Owner and Head Chef MacGreggor Mann promises flavorsome refined old-world recipes using generations of skills including Native American preservation and pickling techniques, and knowledge passed down through Mann's research and local roots to Pennsylvania.
ORDER THIS: Go for the Duroc pork tenderloin, which is tenderly cooked and infused with cider. It's served on a bed of white bean and pearl barley cassoulet, along with baby carrots.
SOMETHING TO DRINK: As another BYOB, with the Chaddsford Winery about 10 minutes from this favored establishment, it wouldn't hurt to pick from one of their several bright, crisp and earthy wines.
EXTRA BITE: The word Junto comes from the Latin word jungere or "to join." This restaurant was named for the historical society founded in 1727 by Benjamin Franklin. Members of this society gathered in the spirit of improving themselves and their surrounding community—values and motifs Chef Mann instills within himself and his business today.
STILL HUNGRY?
Try these 20 eateries, as voted by our readers, who also serve up dishes worth your tasting.
Ristorante San Marco
Ambler
Mt. Fugi
Southampton
Limoncello Ristorante
West Chester
Canal Street Grille
Yardley
Ron's Original Bar & Grille
Exton
Panache Wood Fire Grill
Blue Bell
Estia Greek Taverna
Radnor
Yangming
Bryn Mawr
Opa
Philadelphia
Bowman's Tavern
New Hope
Jarrettown Hotel
Dresher
Bacco Bistro and Bacco Italian Restaurant
Doylestown and North Wales
La Stalla
Newtown
Tandoori Grill
New Hope
Plumsteadville Inn
Pipersville
Cafe Alessio
Doylestown
Firepoint Grill
Newtown Square
The General Warren Inne
Malvern
Autograph Brasserie
Wayne
Azie on Main
Villanova
Published (and copyrighted) in Suburban Life Magazine, March, 2017.
To subscribe to Suburban Life Magazine, click here.