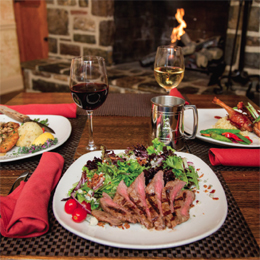 Welcome Inn
Historic landmarks abound in Pennsylvania—from Valley Forge Park to the Liberty Bell, the Greater Philadelphia Area truly boasts some of the country's most storied sites and venues.
One beloved local institution, housed in a building dating back to 1716 by English immigrant Samuel Hart, is part of this rich history.
The Plumsteadville Inn in Pipersville has been offering meals and a place to rest a weary head to visitors since its inception in 1751, when it was known as Hart's Tavern. Many fires occurred at the Inn—the first in 1965, another in 1989 and then one in the 2000s—putting the Inn out of operations for periods of time, but restoration took place not long after and revived this historic oasis to its former glory. The Inn has been known by many names, including the Redrock Tavern, Widow Browns and, currently, the Plumsteadville Inn. The Inn has a rich history, with rumors that it was involved in the Underground Railroad and that President Washington stayed overnight. Nothing is documented, but such legends help to add depth to the Inn's story.
Since January 9, 2012, the restored haven known by locals as the "Plum" has been carrying on its tradition of offering world-class meals and accommodations to visitors from all over the state, and the globe.
Eight of the hotel's rooms have been renovated in a historic style reflecting the Inn's deep roots in the area. Though these rooms are highlighted by a quaint period air, they are hardly antiquated. The historic rooms, as well as the five newer suites renovated in the 1970s, all have the most modern of amenities, including televisions, private bathrooms and Wi-Fi. The rooms are also available as blocks, a popular option for those who choose to rent out the Plum for a wedding, gala or other special event.
"We pride ourselves on being the place for everyone," says Matt George, general manager at the Plum. "We have the luxury of being a very big place with different types of atmosphere. We have a tavern and bar, where someone can watch the game and eat a burger, and we have dining rooms where you can order lobster."
Nightlife at the Plum is just as varied— from 80s-themed dance parties to sets by Raymond the Amish comic, the staff of the Plum explores all options when it comes to entertaining guests.
"We have a diversified team here," George says. "It allows us to provide whatever dining experience a guest is looking for that day."
The menu, George notes, reflects this eclectic nature.
"We offer pub/bar/tavern food, and also fine dining," he says. "The menu is very diversified, as is our downstairs."
George refers to the various dining areas throughout the establishment, which include a bar, tavern, a garden room over- looking the patio, a lounge—part of the original 1715 cottage—with a 12- person chef 's table, and the three dining rooms—the hunt, wine and chandelier rooms. There is even a "Phillies" room decorated in sports memorabilia.
In all of these spaces, a menu of world-inspired dishes is served.
"Our food is all around the board," says Dennis Matthews, a kitchen team member. "When you come in and eat at the Plum, you have a wide selection of ethnic foods and new, modern cuisines as well."
The "American bistro" menu, as Matthews calls it, features cuisines of all styles, from German to Italian to Asian to American com- fort-food classics such as meatloaf and chicken pot pie. The menu is not only available to those dining in-house; the Plum offers catering as well. With Free delivery and set up, the Plum loves to customize any off-premises catering order.
One popular German-inspired dish, according to Matthews, is the Jaeger schnitzel, a dish starring thinly sliced pan-fried pork loin with brown butter and mushrooms accented by a white wine lemon caper sauce; he recommends ordering the dish "a la Holstein."
For seafood lovers, Matthews recommends the shrimp and lobster scampi. This dish, a medley of jumbo shrimp and petite lobster tail sautéed in white wine, garlic and lemon butter, is served over pasta and is a crowd favorite.
"We do a seasonal menu," Matthews notes. "We change the menu two times throughout the year, just to keep up with what's going on every season. Every season we try to bring in something new. Sometimes we take things off, sometimes we bring old favorites back. There are new things with every menu change."
A winter menu favorite, according to Matthews, is the 12-ounce New York strip steak. "People love our peppercorn demiglaze," he notes.
The Plum is also a popular spot for brunch, voted "Best of Bucks" for three consecutive years. The brunch buffet allows diners to indulge in their heart's desire of dishes from a selection including a cold bar with shrimp cocktail, whitefish salad, and charcuterie, as well as warm options which include an assortment of breakfast and lunch items that are left open to the chef. Guests can have a custom- crafted omelet, a Belgian waffle, or even fresh crepes at times. Carnivores can rejoice at the carving station, which features a rotating variety of meats such as brisket, prime rib, and roast turkey or pork. They can also accommodate and dietary restrictions or preferences. This is all in addition to a bevy of dessert options— mousse, petit fours, crème brulee—and a chocolate fountain.
"We have a very talented kitchen," Matthews says. "We have a big crew here and they all have great ideas."
This emphasis on innovation extends to the wide selection of beers and craft cocktails available at the Plum. Deanne McNally, bar manager, says bartenders are constantly working to invent refreshing new libations for customers. The staff changes the drink menu four times a year, to go with the seasons, and always use the freshest possible ingredients.
One popular recent concoction is the "Philly mule," a blend of locally distilled State- side Urbancraft vodka, peach schnapps, ginger beer and freshly squeezed lime juice. Popular during the summer months are the daiquiris, made with only real strawberries because, as McNally says, "they are fresher, nicer and taste better." The bar also offers featured cocktails, which rotate several times a week.
"Regulars" at the Plum are of course not forgotten. Many of these individuals opt in to a group called the "Mug Club." To join, a prospective member purchases a 20-ounce pewter mug, engraved with that person's name, to remain at the bar. The membership is good for one year and comes with bonuses including double drinks for the price of singles; a 15 percent discount on bottles of wine; $3 domestic drafts and $4 imports. The Plum also holds special events throughout the year, such as tailgate parties and pig roasts, just for members.
Truly, with such a vast array of offerings, the Plum really is a place for everyone. The rich tapestry of history weaves with a jovial air that brings together people of all ages and backgrounds.
As McNally says, "We consider ourselves family here; we really do."
THE PLUMSTEADVILLE INN
5902 Easton Road Pipersville, Pa. 18947
(215) 766-7500
PlumsteadvilleInn.com
Published (and copyrighted) in Suburban Life Magazine, February, 2017.
To subscribe to Suburban Life Magazine, click here.