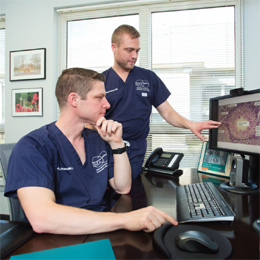 Hope on the Horizon
According to the Centers for Disease Control [CDC], a staggering 7.5 million women ages 15 to 44 across the United States suffer with impaired fertility. Further data from the CDC notes that of women in that age group, 6.9 million have utilized infertility services. Yet, physicians are quick to caution, not all fertility services are on par with one another in terms of service, patient care and outcomes. The physicians of Reproductive Medicine Associates of New Jersey (RMANJ) understand this, and strive to be the best in their field.
"There definitely are a lot of missing facts in terms of fertility care," says Jason M. Franasiak, M.D., FACOG, TS (ABB) and member of the RMANJ team. "One myth when people think of fertility care is that all of the infertility reproductive science labs are created equal. Point of fact—when you order a blood test, one lab is fairly comparable to another. I think people think the care they will get out of a reproductive lab is the same. The fact is, technology is variably implemented at different places. This impacts a patient's chances of success when they go through treatment.
"Patients out there are pretty savvy, though," he continues. "And there are requirements from the federal government that IVF [In Vitro Fertilization] centers report their outcomes."
Such success rates are important for a patient to consider when choosing a facility.
"I've been a patient myself before," Dr. Franasiak notes. "I want to think any doctor I see will give the same level of care, but there are just different resources available at different fertility centers that make that care different."
Dr. Franasiak's RMANJ colleague Daniel J. Kaser, M.D., FACOG, agrees.
"When folks are considering various fertility clinics in the area, they should compare success rates at each center," he says. "RMANJ consistently offers live birth rates 15 to 20 per- cent higher than the national average in all age groups. This information is available online, as the federal government re- quires reporting these rates to the CDC."
The site he references is SART.org. "On this site," Dr. Kaser says, "any time a patient is comparing clinics—in terms of where to proceed with treatment—another important consideration is the twin rate and also the singleton delivery rate."
This, Dr. Kaser notes, relates to another myth—that fertility treatment often leads to multiple births.
"At RMANJ, we have all but eliminated the risk of twins," Dr. Kaser says. "We take pride in our unique approach to IVF care, which allows the vast majority of patients in our practice to undergo a single embryo transfer."
Dr. Kaser notes that thanks to the pioneering efforts of the RMANJ staff, the facility offers the most modern in chromosomal screening processes. Such testing, he explains, improves pregnancy rates and decreases the rate of miscarriage.
"We're awfully proud of our reproductive science lab," Dr. Franasiak says. "A couple of things have allowed us to experience success rates which have been well above the national average for years and years. We try to stay up to date with cutting-edge technology as a standard of care. We routinely cultivate embryos out to the blastocyst stage. This still allows us to employ genetic testing of embryos, to see if there are all the genetic materials needed to make a normal pregnancy."
With the various steps necessary in the course of treatment, one might think the process needs to be a lengthy and cumbersome one; in fact, this is another fallacy to dispel. "Another myth is that treatment takes a long time," Dr. Kaser says. "It sometimes does, but it doesn't always have to. At RMANJ, we recognize that this is a stressful period of time in a patient's life and we try to help them achieve success in the shortest time possible."
To exemplify, Dr. Kaser explains that during the first few weeks of treatment, consultation and diagnostic testing take place to determine if there is a quantifiable cause behind a patient's difficulty conceiving. By a patient's next menstrual period, he explains, treatment is beginning. "Ideally the following month, the woman is pregnant," he says.
Even more remarkable than the modern treatment options available at RMANJ are the facility 's CareShare program and "360 degree" approach to patient care.
The CareShare program sets RMANJ apart from many other fertility practices in the field. CareShare is a 100 percent guarantee that a couple will have a live born baby after up to six rounds of IVF or they receive 100 percent of their investment back.
"Financial concerns are definitely at the forefront of a lot of patients' minds," Dr. Kaser observes. "CareShare is a unique program because it takes some of the financial constraints and stressors away from patients and allows them to make decisions that are medically sound, and not informed by finances." In line with this patient-first stance on care is RMANJ's 360 degree approach. This model encompasses caring for all aspects of a patient, from 1 on 1 nursing care to integrated financial and genetic counseling consultations to collaborative wellness offerings such as acupuncture and yoga.
As the team at RMANJ is experienced in so many specialized areas, as Dr. Franasiak says, "Even with the most complex cases, we are able to put our heads together to help patients move forward."
"We measure success in delivering one healthy baby at a time," Dr. Kaser says. "We take that goal ver y seriously and with our unique approach to care, we achieve that for the vast majority of patients who come to see us."
To find an office near you, set up an appointment or learn more about Reproductive Medicine Associates of New Jersey, call (973) 656-2089 or visit RMANJ.com.
Reproductive Medicine Associates of New Jersey
RMANJ.com
(973) 656-2089
Published (and copyrighted) in Suburban Life Magazine, February, 2017.