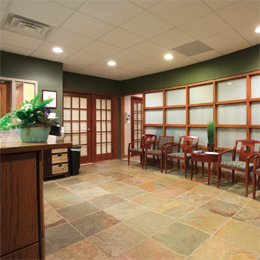 On the Forefront of Addiction Treatment
Drug and substance addiction plague more than meets the eye. For some, addiction can harm quality of life for several months—even years—before a person seeks or receives the help they need.
"Up until recently, we were treating a man in his 70s who came to Summit to address his alcohol addiction," says Bethany Kassar, executive director of outpatient services at Summit Behavioral Health. "After years of marital problems brought on by his drinking, he made the decision to ask for help so that he could lead a healthy and happy life with his wife."
A comprehensive treatment experience with Summit proved all the difference in the world.
Summit Behavioral Health, with two area locations in Princeton Junction, N.J., and Doylestown, offers several types of programs. These include Partial Care/Hospitalization, Intensive Outpatient, Outpatient, as well as Medical Detoxification and Residential Treatment at their other locations in New Jersey and Massachusetts. Summit treats everything from alcohol to drug and prescription abuse, as well as co-occurring disorders. And their approach to their treatment is unlike anything most clients receive elsewhere.
Kassar says Summit takes a personalized treatment approach to empower change in individuals seeking help. She says this integrative treatment model encompasses medical, clinical and holistic services that are offered within Summit's continuum of care and based upon the client's individual needs. Such was the case for the client in his 70s.
"He was engaged in the family programming, so not only did he receive the treatment and help he needed, but his wife also received a lot of support," Kassar says. "We worked with him individually on sobriety and helped him understand the triggers for his alcohol use. His needs for ongoing recovery were able to be met by continuing to participate in Summit's aftercare program." Kassar says that clients need a period of sobriety to join that group.
"He just recently left us, and he's doing great," she adds.
Clients at Summit Behavioral Health receive the full gamut of treatments, but more importantly, individualized approaches aimed at resolving the underlying trigger or triggers behind each client's particular substance abuse problem. Maria Ulmer, chief clinical officer at Summit Behavioral Health, says clients are often admitted through referrals from community providers as well as internet searches, all greeted by the Summit admissions team. After speaking with a prospective client, an admissions coordinator assists them in scheduling an assessment at one of the treatment programs based upon their substance use history and presenting problems, with the highest emphasis on meeting the individual's needs.
"The client might be able to function day to day; they might know they need treatment but also realize they have other obligations as well. Sometimes [those clients] are referred to an outpatient program," Ulmer says. "They see a licensed professional who is relatable and comforting, so clients can share their feelings and experiences in a confidential environment. We differentiate our process by meeting the client at the current state of where they are, rather than putting them into a mold."
Part of the process includes something Ulmer refers to as pharmacogenetics— a genetic testing method that enables Summit's medical providers to examine a client's genetics and how their bodies metabolize different types of medications. These medications, she says, can range from antidepressants to pain medications—even Tylenol.
"People are predisposed to metabolize a medication in a certain way," Ulmer notes. "When we receive results back, we realize sometimes clients aren't getting enough dosage or they're getting too much, which can often lead to overusing medications or dis- continuing medications altogether. When individual needs go unmet and symptoms continue, clients can become frustrated and hopeless."
Ulmer adds that the Summit team also works with co-occurring disorders—an offshoot of substance abuse.
"We have to assess from the very beginning, 'is it the chicken or the egg,' meaning, did the substance abuse come first and then the mental health issues or vice versa," she says. "A lot of people self-medicate their symptoms of anxiety or depression, and then pick up alcohol or opiates to help soothe these symptoms, causing them to become physiologically and psychologically dependent on the substance which can lead to addiction."
Kassar, who works at the Doylestown location, also recognizes co-occurring disorders among clients.
"We offer medical services on site at all locations," Kassar says. "Mental health issues with addictions are more common now than they have ever been. Because we're sort of a 'one stop shop,' our programming can provide clients with different experiences, including psychiatrists and nurse practitioners."
While Kassar mentioned a recent client in his 70s, she emphasizes that substance abuse plagues a plethora of age groups. Kassar and Ulmer say Summit treats anyone from adolescent teens to young adults ranging anywhere from 18 to 25 years of age to those 40 years of age and older.
"We have programming that is suited for each age range," Ulmer says, noting she has observed an increase in the number of patients received with heroin addictions. "There's a huge heroin epidemic taking New Jersey by storm. We're seeing these young adults struggling to get past this disease and get on with their lives, and many aren't able to overcome this because the addiction is fatal. It's our job to strategize ways to see that clients can get past this.
"Clients need support as long as possible, because this isn't something that changes overnight," she continues. "We show them there is hope and a world of recovery out there for them."
In addition to the cutting-edge care Ulmer describes as "breaking away the barrier stand- ing between the person and getting the help they need," Summit Behavioral Health boasts a beautiful facility accented with essential oils and aromatherapy used to create positive energy and relieve anxiety. She says the space is open, warm and safe, as op- posed to one featuring a sterile, hospital-like setting.
"Those who have been experiencing active addiction have been through 'the ringer,'" she says. "They're exhausted, depleted financially, spiritually and mentally. There are some treatment centers that don't have the aesthetics and connection to the individual. We remove shame in active addiction. When you're taken in with any other illness in other places, you're taken in with dignity and respect. Our clients deserve the same."
"You can walk in here and feel at home," Kassar says. "There's always coffee brewing, too. We want someone to feel special. Just because you have an addiction or a mental health issue, it doesn't mean you're any less important."
Summit continues to exceed client expectations while simultaneously continuing to grow as a facility. According to Kassar, the Doylestown location will be introducing a program in early April specifically targeted for eating disorders in women. The program will remain holistic and individualized, thus similar to other programs offered through Summit. Kassar hopes the program will someday expand to include men.
"It's a community that we needed to make a connection with," she says. "Our medical team and nutritionists will be highly involved in this program. I'm very excited for this."
"The astounding number of people impacted by drug addiction is growing," Ulmer says. "The more education and awareness we can get out there, the more we believe it will allow people to ask for help and feel a sense of hope."
For more information on Summit Behavioral Health, call (844) 643-3869 or visit SummitBehavioralHealth.com.
Published (and copyrighted) in Suburban Life Magazine, February, 2017.
To subscribe to Suburban Life Magazine, click here.
To advertise in Suburban Life Magazine, click here