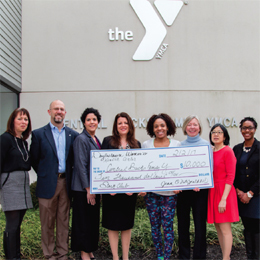 Fit for the Future
Pregnancy is one of the most exciting times in a woman's life. It can also be one of the most confusing times. Expectant mothers or even those considering the possibility of getting pregnant, often turn to the internet for answers to pressing questions related to pregnancy. While a plentitude of information sounds ideal to some, it can oftentimes lead to misinformation.
This reason alone, according to Dr. Jean Fitzgerald, an OB/GYN at Doylestown Women's Health Center, was the driving force behind the implementation of the practice's "Stork Club."
The practice, which Dr. Fitzgerald says has been taking care of the women of Bucks County for decades, is composed of four female physicians and a nurse practitioner, all specializing in women's health. Services include pre-pregnancy and pregnancy management, ultrasounds, labor and delivery, postpartum care, contraception, adolescent gynecology and menopause management in addition to complete gynecology surgery services, including DaVinci robotic surgery. The practice utilizes the latest technology and devotes itself to treating patients with the highest level of care and attention.
"We all love what we're doing, and we're all part of the community," Dr. Fitzgerald says. "Helping our community of women is in large part what the Stork Club intends to do—to educate them and give them the correct information they need for a healthy, uncomplicated pregnancy."
Dr. Fitzgerald recalls the generation of her idea for the Stork Club during a spin class one Sunday. She realized, while watching one of her pregnant patients attend the same spin class, how many women are often thrown off by common misconceptions about pregnancy—including exercise.
"I watched her adapt to each month and each stage of her pregnancy while attending class weekly," she says. "I said to her, 'I wish all of my patients were this mindful of exercising regularly.'"
Dr. Fitzgerald notes that women are often led to believe they could harm their pregnancy with intensive exercise and too much activity. This, she says, couldn't be further from the truth.
"Women can almost always accommodate their exercise routines," she says. "Unless they develop a complication during their pregnancy and they're told to limit daily activity, almost all pregnant women can still exercise regularly. The American Congress of Obstetricians and Gynecologists [ACOG] actually recommends 30 minutes of moderately intense exercise five days a week during your pregnancy."
Debunking common myths, educating and empowering women who are pregnant, seeking to get pregnant, or recently delivered, are just some aspects of the newly developed Stork Club. The Stork Club provides current and prospective patients with a one-stop hub for all information and materials related to pregnancy care and management. In addition, the Stork Club and Doylestown Women's Health Center have partnered with the Central Bucks Family YMCA to offer a three-month complimentary membership coupon to patients who are pregnant, have recently delivered, and those with pregnancy in their near future. The YMCA's partnership with the practice and the Stork Club will offer exercise classes specifically tailored to meet the needs of women in each of these categories.
"There are a lot of classes at the YMCA and a lot of them you can do while pregnant without any hassle; you just have to know which ones to choose from," Dr. Fitzgerald says, mentioning the practice at one point did sponsor an exercise class for pregnant women, however it was not conducive to the schedules of busy moms-to-be. "As a CBFYMCA board member for over five years, producing some sort of exercise experience that would benefit our obstetrical patients in becoming their healthiest was a huge goal of mine."
Women who choose to keep their membership after their three-month trial period will have their joining fee waived.
"The most receptive time for women to be fit is when they're preparing for pregnancy or have found out that they're pregnant," she continues. "The benefits of exercise while pregnant are significant."
These benefits include reducing a woman's chance of having a C-section, chances of diabetes, backaches, swelling and bloating—it can also aid in a better night's sleep. Acceptable exercise routines for women include walking, biking or spinning, yoga, and moderate running to name a few. And yes, she says, don't be afraid to sweat a little bit.
"I always tell my patients that if you're doing anything aerobic, you should be able to answer a question while exercising," she adds.
"That's the easiest way to tell you're not overdoing it. But I see very young women whose idea of exercising everyday is a short walk—which isn't a bad thing—but for women of childbearing age, you should be capable of doing more. I have had some patients running several miles a day even right up until the day they were due because they felt great and didn't experience pregnancy complications.
"One-third of the population is considered obese; more than half of us fall into the over- weight category," she continues. "That may not bode well for a healthy pregnancy and a successful delivery. Our goal with this club and collaboration with the Central Bucks Family YMCA is to help our women modify weight gain and keep fitness in both their pregnancy and everyday lives."
The YMCA she adds, is exceptionally supportive of women and starting families. The Central Bucks Family YMCA offers "Mommy and Me" classes to new moms who are dedicated to a fit life post-pregnancy. The facility also provides a safe and nurturing environment also known as the "Stay and Play" for babies starting at 3 months of age for mothers looking to exercise solo.
Dr. Fitzgerald also notes that information regarding science and nutrition is always changing. This evolution is something she aims to keep patients abreast of with the Stork Club website.
Other information that can be found on the site includes necessary information on genetic testing—which Dr. Fitzgerald mentions has increased in options available to parents— among other information such as preparing for the baby's arrival, development of one's baby, and even traveling. She mentions the outbreak of the Zika virus and although little is heard regarding the outbreak in today's news, expecting mothers still need to take necessary precautions while traveling. Providing women with vital information to sustain a successful and healthy life is just one of the ways Doylestown Women's Health Center is making a difference one mother and baby at a time.
"I have been a YMCA member for decades, and I'm thrilled they decided to partner with us," Dr. Fitzgerald states. "This is our practice's way of giving back to a community we love. Pregnancy is the time a woman should be looking at what she's doing and where she's going, now that she's responsible for the life of another human. We want to educate women, empower women, and give them the most compassionate care. This is more than just a job for us—it's a brand new start to someone's life."
DOYLESTOWN WOMEN'S HEALTH CENTER
708 Shady Retreat Road, Suite 7 Doylestown, Pa. 18901
(215) 340-2229
DoylestownWomensHealth.com
Published (and copyrighted) in Suburban Life Magazine, February, 2017.