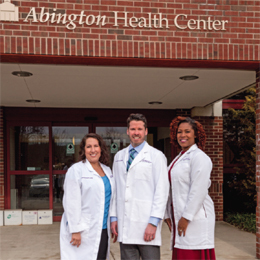 A Woman's Health
Pelvic floor disorders impact a surprisingly large segment of the population. In fact, the National Center for Biotechnology Information estimates one in four women suffers from one or more pelvic floor disorders, which can include urinary and/ or fecal incontinence and pelvic organ prolapse. Such conditions can have a devastating effect on a woman's life; fortunately, there are dedicated professionals such as those at the Institute for Female Pelvic Medicine & Reconstructive Surgery who can help.
"We practice what's known as evidence-based medicine at the Institute for Female Pelvic Medicine," says Miles Murphy, M.D., MSPH, FACOG, FPMRS, practitioner at the Institute for Female Pelvic Medicine. "This means we need to stay abreast of all the latest scientific research to provide the most proven therapies for patients. Not only is this from an educational stand- point—educational journals, national meetings—but also being involved in research trials ourselves. We have two nurses with us who are just 100 percent dedicated to doing clinical research.
"We're always involved in various medical trials, surgical trials and epidemiological studies," he continues, "so not only can we provide the best care but provide the best expectations of what to experience with therapy."
In line with this office-wide effort to stay up to date with the latest technologies and techniques is the Institute for Female Pelvic Medicine team's commitment to institutional involvement. In 2015, Dr. Murphy served as program chair for the American Urogynecologic Society's Seattle convocation. He also just completed a three-year term as chair of the research committee for the Society of Gynecologic Surgeons. His fellow Institute for Female Pelvic Medicine practitioners—Vincent Lucente, M.D., MBA, and Sonya Ephraim, M.D., FACOG, FPMRS—are quite active in the American Association for Gynecologic Laparoscopists, attending annual meetings and publishing in peer-reviewed journals.
This type of involvement, Dr. Murphy notes, "Allows us to bounce ideas off of other experts in the field. It allows us also to learn about the newest techniques and medical therapies to treat our patients who have prolapse and/or incontinence."
Such a commitment to research and best practices informs how the Institute for Female Pelvic Medicine has been able to experience the growth it has in recent years.
Dr. Murphy first started working with Abington Memorial Hospital more than 12 years ago. In 2015, the Abington and Jefferson health systems merged to form Abington-Jefferson Health. Within just the past year, Abington-Jefferson Health grew its network even further, incorporating Aria Health, which is located primarily in northeast Philadelphia.
"The relationship is continuing to evolve," says Dr. Murphy, "and part of that is we are currently looking at offering services through Aria Health."
This means the talented practitioners of the Institute for Female Pelvic Medicine are looking to help more women than ever before.
"Currently, urogynecologic services are not being offered at Aria," he says. "We look forward to offering patients suffering from these types of conditions with quality care near their homes."
The urogynecologic conditions treated by the Institute for Female Pelvic Medicine are of a vast array, but largely fall into two categories, according to Dr. Murphy. These are urinary incontinence, or lack of the ability to voluntarily control one's bladder activity, and pelvic organ prolapse.
"Urinary incontinence is primarily divided into two types," Dr. Murphy explains. "One is stress urinary incontinence. That primarily involves leakage due to activities that increase pressure in the abdomen. The other form of incontinence falls under the umbrella of overactive bladder syndrome."
There are typically four symptoms that correspond with incontinence. "The hallmark symptom is urinary urgency. Everyone gets the urge to [void] but some people suffer significant urgency and can find it very difficult to defer that urge."
Others, he continues, are bothered by the frequent urge to urinate or urgency at night.
"The other main condition we treat is pelvic organ prolapse," Dr. Murphy says. "This is commonly referred to as dropped bladder or dropped uterus."
This condition can be the result of childbirth, aging or even, rarely, a genetic component.
The Institute for Female Pelvic Medicine team has a variety of means, both surgical and nonsurgical, for treating conditions. For some patients, Valerie Schissler, MSN, CRNP, can share innovative therapeutic means of nonsurgical intervention, such as pelvic muscle exercises and lifestyle modification, including simple fixes such as eliminating caffeinated, acidic or carbonated beverages from one's consumption. "When a patient eliminates those things, symptomology can change drastically," Dr. Murphy says.
For those requiring surgical intervention, Drs. Ephraim and Murphy can provide caring and compassionate treatment.
"Dr. Ephraim and I, while also providing [nonsurgical] services, also provide a surgical cure for these conditions by operating," Dr. Murphy says. "The vast majority of the surgeries are minimally invasive, such that a patient is up and walking and able to do most normal activities the night of surgery or, certainly, the day after."
In addition to treating prolapse and incontinence, the Institute for Female Pelvic Medicine team also treats women suffering from recurrent urinary tract infections, painful bladder syndrome as well as accidental bowel leakage or fecal incontinence. There are also options available for patients suffering from pain with intimacy.
"In addition to providing surgical versus nonsurgical treatments, there are ways to treat these conditions that don't involve hysterectomy," Dr. Murphy says. "There are many options that allow a woman to preserve her uterus."
Innovative therapies abound at the Institute for Female Pelvic Medicine. Botox, for example, can be used to treat overactive bladder syndrome. This in-office therapy is employed to calm spastic muscles within the bladder wall. While there are medicines that work in similar fashion, these drugs are distributed throughout the body, thus introducing potential for side effects. This is far less of a concern when using Botox therapy, as the treatment is localized.
Another cutting edge piece of technology is the MonaLisa Touch laser, primarily used, Dr. Murphy says, to treat post-menopausal vaginal dryness or pain with intercourse. Three treatments of less than one half-hour are administered over the course of a year, with one to two treatments per year administered in the years thereafter.
"This non-hormonal therapy is very nice for people who are concerned with the effects of exogenous hormones, especially people with a history of breast or other female cancers," Dr. Murphy says.
By putting patients first, and truly treating each patient with a team approach, the care provided by the Institute for Female Pelvic Medicine continues to excel.
"Everyone who works in our practice is important in terms of making the patient experience, from start to finish, the best it can be," Dr. Murphy says. "That starts with the front desk people who originally meet with patients and goes on to the nursing staff that brings the patient back, gets the patient's history and does basic evaluation. We really pride ourselves on having people who work in the practice who are caring, hardworking and compassionate, because the conditions people are coming to see us about are often embarrassing and not easy to talk about sometimes.
"Even though they are not life threatening, these are issues that steal joy from people's lives, affect their quality of life," he continues. "It is a very regular occurrence when people tell me, after I operate on them, that I've given them their life back, and that's an extremely rewarding feeling."
For more information on Institute for Female Pelvic Medicine locations in Allentown and North Wales, Pa., call (215) 855-4713 or visit FPMInstitute.com.
Published (and copyrighted) in Suburban Life Magazine, February, 2017.