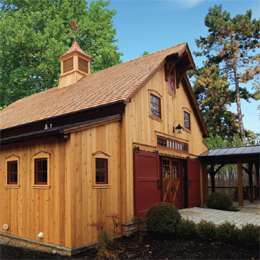 Building on Tradition
It is often said that difficult roads lead to beautiful destinations. For Daniel Glick and Ben Esh, this saying holds true.
As two friends who attended the same vocational school, and who also happened to work for the same employer building backyard storage sheds, they realized at the age of 18 that they shared a passion for shed construction. Two years later at age 20, they took a leap of faith and began their own business—B&D Builders—constructing sheds and pole barns both small and large.
But when the economy slowed down in 2003, Glick says the two suffered a decrease in projects and needed an alternate plan to keep their business alive.
Glick and Esh decided to pick up a few remodeling projects, which in return, lead to other jobs Glick says the two otherwise would not have landed.
"The economy downturn actually ended up being a blessing," Glick says.
Now taking on anywhere from 40 to 50 projects a year, B&D Builders, located in Paradise, continues to pride themselves on personal and historic tradition.
Suburban Life: How did you decide on starting your own business?
Daniel Glick: Everything started as teenagers, after Ben and I realized how much we really enjoyed doing those projects. Once we both turned 20, we decided to create a business out of it and make this a full-time job. Our base started out in the upstairs of my father's dairy barn. My office was located in an old deserted chicken coop which I fixed up and insulated. In 2004, we built a brand new shop and office—about 1,400 square feet of office space and 6,000 square feet of shop space. We still own this building today, but it now houses our CNC laser and press break for our metal shop, Mid Atlantic Steel Fab[rication], which was founded in 2015. We manufacture all of our own steel components. In 2011 we founded Mid- Atlantic Timberframes and operated out of the same office, but had a separate location to do all joinery on the timbers. By 2014 we purchased a piece of commercial ground and built a new shop and office space—about 50,000 square feet.
SL: I understand your business uses timber frame construction specifically. Why timber frame?
DG: Timber frame construction is one of the oldest types of construction known to man. It's also an art that was nearly lost after the advent of balloon framing in the 1920s. Now Ben and I feel like it has made a strong come back in the past 10 to 15 years and will continue to play a major part in new construction of higher end homes. Most builders avoid this type of construction because they're not familiar with the techniques. We simplify everything by drafting in 3-D so we can give the client a lot more than just a bunch of lines trying to represent timber frame.
SL: What are the benefits of using timber frame construction?
DG: The setup time to build an all-timber home is much less than a stick-built home. We spend a lot more time in the pre-planning phase than you would otherwise with a stick-built home. The other great thing is you can really open up a floor plan without having a meaningless, giant, empty space. If you use the SIP panels, you get a house that uses significantly reduced heating and cooling costs—something that plays well in the green building movement.
SL: Can you explain the process of constructing a project with timber frame?
DG: We get the plans from the client and most times, it is the clients' desire to incorporate timber frame into the home. Some- times, however, we will get plans from architects that already have timbers built into them. Regardless, we sketch the plan in 3-D which will show any potential conflicts; present the plan to the client; and we go from there. Once construction begins, the frame goes in first, and then the envelope gets built around it. We've actually retrofitted a lot of stick-built homes with timber frames in the past few years.
SL: I've heard you most recently finished a major barn project in the Malvern area. How long did the project take from start to end?
DG: We began the project in August 2016 and finished the day before Christmas! Designed as an extension of the main house on the property, the semi-attached timber frame party barn is used to host large family functions and entertain friends. The cedar-sided barn, with about 1,000 square feet of sitting area for up to 60 people, features a large, stone, wood-burning fireplace, a full kitchen with a state-of-the-art pizza oven, two bedrooms and two full baths in the basement. The idea behind a party barn is to be able to host multiple events without disruption to the main house.
SL: Any other recent notable or major projects you're working on or have finished?
DG: Of course! For the past year we have been working on the Star Barn. This barn is a wedding and corporate event venue in Elizabethtown. It's also the most photographed and most artistically painted barn in the history of the U.S. We dismantled the barn piece by piece and moved it 11 miles. The barn will be finished in the spring of 2018. The public is also invited to the raising July 3 and 4. In addition, we're also reviving all of the outbuildings that were formerly associated with the Star Barn, such as the chicken coop, hog barn, carriage house, corn crib, manor house and of course, the nut house.
SL: What would be your favorite part of your career?
DG: For one, the collaborative design process. But nothing beats handing the keys to the client, looking him or her in the eye and thanking them for the opportunity to work together.
B&D BUILDERS
34 S. Vintage Road Paradise, Pa. 17562
(717) 687-0292
CustomBarnBuilding.com
Published (and copyrighted) in Suburban Life Magazine, February, 2017.