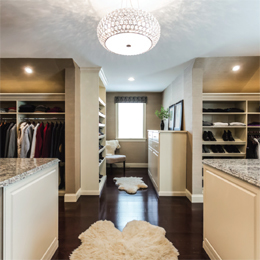 Straightening Up
Thoughts turn to spring the minute the air gets warmer and the leaves start to turn green. For some, this means a return to the great outdoors for picnicking, hiking or just enjoying the great outdoors. While for others, it signals the time for the annual tradition of spring cleaning.
While a daunting task for some, there are experts, like the experts at Closets by Design who can help. Closets by Design in Exton helps their clients by starting their free in-home consultation by asking the client what they want to keep, toss or donate. Then as one client of theirs stated, "everything is now in the closet and off of the floor." Charles Waterman, owner of Closets by Design (CBD), says that "We've even been told by our clients that it's like having your own (clothing) boutique in your house. You can find everything quick and easily so you can have that extra cup of coffee in the morning and have more of a variety in your daily clothing instead of wearing the same thing over and over."
Closets by Design designs, builds and installs all of your storage areas including closets, garages, kitchen pantries, mudrooms, murphy beds, dressing areas and more. Their free in-home consultation starts with the CBD Designer reviewing the client's dream goals for their space. The also views the area to be organized and begins working with the client to inventory the belongings currently occupying the space. This enables them to design a one- of-a-kind solution to the client's storage needs. This design will feature the client's input in everything from interior accents to molding to hardware.
After the design is complete, construction foot facility in Exton. The best part for the clients is that the entire process of concept to design to construction to install takes a couple of weeks. This is because as Waterman says, "We maintain a lot of control over the process so we can make sure we satisfy each customer. If a customer wants to make a change last minute, we can do that. We keep control so you can make sure your clothes are off the bed and back in the closet tonight." This also enables a quick turnaround from start to finish.
All of the items manufactured by CBD are not only made in America but all done in their facility. All shelving units are made from industrial-grade melamine. The high pressure laminate material is ideal for storage space organization as it doesn't have any of the defects of natural wood, including the tendency of natural wood to expand and contract. It's also easy to clean.
It's not just the high quality of building material that has made Closets by Design an industry leader. It is a seasoned and expert staff trained to value customer service above all, that contributes to the company's success. All of the installers, production, plan check, designers, and customer service staff are full-time employees. They do not hire sub-contractors.
"We're probably the largest home organization company on the East Coast," Waterman says. This is no accident of course. Waterman praises his employees for being punctual and detailed oriented. These are just a few of the qualities that set his exceptional staff apart.
"All of our installers are neat and tidy," he notes. "It is, after all wood, so there is cutting to be done. Above all, we don't want to disturb a customer's home. Our installers are courteous—they will not wear outside shoes inside, for example and all vans have vacuums.
"You might get a (similar) price elsewhere," he continues, "but you won't get our value for less." Waterman, who has background in Industrial Engineering and certifications in efficiency improvement, says, "It's got to be about the customer. Our litmus test is—will this make a better product or experience for the customer? If not, we don't need to do it; if yes, we need to do it well."
CLOSETS BY DESIGN
For more information on Closets by Design, call (888) 500-9215 or visit ClosetsByDesign.com
Published (and copyrighted) in Suburban Life Magazine, March, 2017.