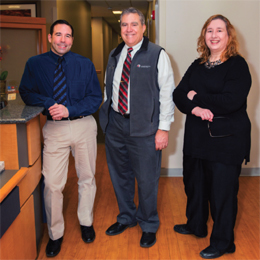 A Team Effort
Springtime brings a great migration to the outdoors. For some, this means a shift in seasonal sports, and for others, it simply means getting outside more to enjoy nature's warmth. Oftentimes, such increased physical activity leads to an unwanted accident—even one as detrimental as a concussion.
When concussions occur, a patient will generally consult with their primary care physician first. But one visit for an injury of such significance isn't enough. The team at Jefferson Comprehensive Concussion Center in Philadelphia would know. The center opened its doors in October 2013, and utilizes a collaborative vision of methodologies and treatments designed to tackle concussion injuries from all sides, by bringing together the region's leaders in concussion management from Jefferson, Rothman Institute, and Wills Eye Hospital. This collaboration of the best minds on concussion has developed cutting-edge research and treatments to become one of the leading destinations for concussion diagnosis and management.
We interviewed three specialists from the Jefferson Comprehensive Concussion Center to learn more about the multidisciplinary practice working to shed light on this silent injury. Dr. Robert Franks, medical director and sports medicine physician from Rothman Institute, Dr. Kimberly Atkinson, a neurologist from Thomas Jefferson University Hospital, and Dr. Scott Edmonds, a neuro-optometrist from Wills Eye Hospital, each weigh in on their roles at the center.
Doctors at Jefferson Comprehensive Concussion Center frequently treat concussions pertaining to sports-related injuries, a leading cause of concussions. Most involve high contact sports, such as football, soccer, lacrosse, ice hockey, cheerleading, and boxing. Patients who suffer a sports-related concussion require a specialist who works with athletes, athletic trainers, and schools to focus in on sport and school re-entry.
"My practice is about half concussion management and half traditional sports medicine and non-operative orthopedics," says Dr. Franks. "For my patients, we try to figure out the triggers behind the concussion symptoms by looking at their cognition, balance, vision, sleep, stress and neck areas, and then within those symptom clusters, find out who in our multidisciplinary team is best suited to treat them. This includes not only neurology and neuro-optometry, but also physical medicine & rehabilitation, clinical sport psychology, physical and occupational therapy, and neuropsychology."
For those suffering from head trauma from an accident such as a slip and fall, care is managed by the center's neurology team led by Dr. Atkinson.
"While many patients experience similar symptoms such as headaches, nausea, fogginess and dizziness, as a neurologist, I'm trained to perform a comprehensive evaluation to look for and treat the many other signs and symptoms," says Atkinson. "I address the neurological issues from direct trauma and rule out any neurological comorbidities. Things like a previous history of migraines can complicate recovery from a concussion. Having access to not only our services at the center, but also active research studies and other specialized departments at Jefferson ensures patients get the most comprehensive care."
In many instances, regardless of the source of injury, patients experience vision issues following their concussion. These select patients are sent for further evaluation by Dr. Edmonds, the center's Neuro-Optometrist, who treats vision problems related to not only concussion but also stroke and traumatic brain injury.
"Of these three, concussion is our most common brain injury," he notes. "Most of the time, patients who experience a brain injury will also incur some level of vision problems. I can examine the visual system to pinpoint the exact type of oculomotor defect that is affecting control of the eye muscles and movement. When the network of axons that control these muscles has been jostled by a head injury, the precise synchronization between each muscle is lost. This is why patients experience difficulty while reading and during computer work."
Dr. Edmonds uses a series of eye movement exercises and therapy programs that utilize stereoscopic targets to resynchronize the nerves. Oftentimes, lenses, prisms, patches and filters are integrated into a patient's therapy.
"One eye movement that is at particular risk is convergence," Dr. Edmonds says. "We use3-Dglasses similar to those at movie theaters, which aid in allowing the patient to lock each eye precisely on a stereo-target. This form of computerized therapy challenges the visual system and better serves to correct the problem."
Dr. Edmonds stresses the importance of using stereo glasses and a target system during the correction process.
"The trouble with not using a stereo image is that if you see a target and you lock on with just one eye, you don't realize that one eye has shut down and the other eye is being stressed," he says. "If the brain sees two images, it will tend to shut one off. If untreated, the brain develops this defense mechanism and will only process one image. Over time, the vision symptoms will get worse. The 3-Dimages cannot be seen with just one eye."
Patients who respond correctly to the 3-D targets will receive computer feedback in the form of a beep tone, which notifies the patient of the correct eye movement, before progressing onto a more challenging exercise. However, if the computer detects improper eye movement, a different tone will sound from the machine. This auditory bio-feedback allows the patient's brain to correct the error and Dr. Edmonds and the team to monitor the rehabilitation process.
The doctors and staff at the center mention a common myth behind concussion recovery, saying a large majority of patients are inclined to believe they should eliminate any physical activity during their period of recovery.
"This is not necessarily true," Franks says. According to the doctors, patients shouldn't rest too much or for too long. The team encourages rest for patients initially, but notes that your physician might recommend activities such as dog walking or riding a stationary bike.
"The important part here is that the activity is outlined first by your managing specialist, and monitored closely by them during recovery" adds Franks. "The last thing we want is our patients to overexert and get a second injury. If a patient is reinjured within that sensitive recovery window, they're putting themselves at risk for complications including Second Impact Syndrome," something he notes can be fatal. "Anyone who suspects they're suffering from a concussion should absolutely be seen by a specialist."
The team suggests several ways in which athletes and non-athletes can prevent concussions from re-occurring in the future. Most of these preventative measures rely on common sense and safety.
"Prevention is always key and centers around wearing protective equipment such as helmets, seat belts, and keeping a hearty dose of commonsense," Dr. Atkinson states. "Keeping your environment safe helps to limit falls and keeping fit which helps balance."
"If you're over 50 years of age, it's best to practice holding hand rails," Dr. Edmonds adds. "This goes for everyone, however. A fall down the steps from someone who wasn't looking properly or in a hurry can lead to serious injury, and concussion is high on that list."
In regard to recovery, Dr. Franks recommends a few simple ways in which patients can aid in the process, including seven to nine hours of sleep at night, no napping, and eating three balanced meals.
"It's best to stay toward a high protein diet and stay hydrated," he says. "No electronics in the bedroom, and be sure to exercise per the instructions of your provider."
"Take time to rest and listen to your body," Dr. Atkinson adds. "Avoid drinking alcoholic beverages, which can exacerbate symptoms, delay brain recovery, and also put you at risk for another injury."
This caliber of expertise and care is truly why Jefferson Comprehensive Concussion Center has become the premier destination for concussion management. Between the ground breaking technology, challenging rehabilitative program, and multidisciplinary approach, patients can rest assured they're in the best of hands.
"We stand out as leaders in concussion care because of our true team approach," Dr. Atkinson states. "You'll usually find us together in someone's office over lunch hours discussing a case. We really do treat all aspects of concussion and move the whole person toward recovery."
Jefferson Comprehensive Concussion Center
4050 South 26th Street, Suite 140
Philadelphia, Pa.
(267) 463-2300
Published (and copyrighted) in Suburban Life Magazine, March, 2017.