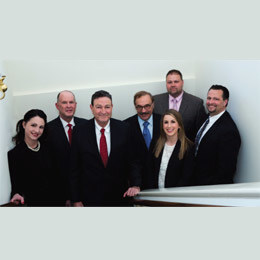 For the Win
Suffering personal injury, facing difficulties in marriage, or any traumatic life event can take a toll on one emotionally and financially. Personal injury can result in costly medical bills, emotional suffering, and time spent away from work. Cases relating to divorce and family law may cause difficulties between the spouses regarding division of marital property, child support, child custody, alimony and other issues. During times of such vulnerability, one may simply not know where to turn, where to begin, or how to go on, but the attorneys of KRHB, with offices in Newtown and Trenton, will guide you through the process.
Since its establishment over 28 years ago by Mel Kardos and Marc Rickles, who are both experienced trial lawyers, the firm has provided clients with realistic solutions and trusted advocates on their behalf. The firm consists of seven attorneys—four who practice family law including Marc Rickles, Kevin Hand, Marisa Perini Semmel and Abby Tuttle. Mel Kardos and Clifford Bidlingmaier, concentrate their practice in personal injury. Keith Bidlingmaier, focuses his practice in criminal defense/DUI and municipal law. With such varied disciplines, it's no wonder the firm and its attorneys remain as successful today as they have been since their founding.
Mel Kardos is the first attorney in the country to win a case against Bic lighters. In the case, Littlejohn versus Bic, the local media labeled Kardos "a fighter, not a quitter." This statement is as true today as it was at that time.
"We fight for our clients, no matter what the case," Kardos says.
Attorney Kevin Hand approaches Family Law in an empathetic and logical perspective. Hand ensures clients receive rational and realistic solutions, rather than giving them false hope.
"Many times a person will come to see us and I can tell they are not ready to get divorced," Hand Says. "Sometimes, they will complain about issues that may be resolved through counseling or therapy. I cannot in good conscience, initiate a divorce proceeding until they tell me directly that they want to proceed with the divorce."
Hand also notes that in some cases, his advice allows spouses time to sort things out, resulting in a successful marriage.
"Many couples experience financial stress and other issues that will cause anxiety in their marriage." Hand believes, "Couples should deal with these issues and keep moving forward. I believe people should stay married. The grass isn't necessarily greener on the other side. However, If you cannot solve these issues, we are here to assist you on proceeding with your divorce in a practical and realistic manner."
Practicality is the standard for the lawyers of KRHB. Marc Rickles understands practicality is necessary to ease stress induced through divorce. Rickles states, "Our firm's experience with family law hearings helps to ensure a successful conclusion for our clients."
"When we first meet a client, we discuss with them what percentage of the marital assets they will receive at the conclusion of their case. We calculate their obligation or what they shall receive in child support, spousal support or alimony." Rickles advises clients what expectations they should have and what is reasonable considering their circumstances under the law. "We have at our disposal, the most recent support calculations and frequently predict the financial outcomes of clients' cases."
Hand recalls an encounter with a client who sought to relocate with her children to Pittsburgh. What Hand told her next took her by surprise. "I wanted to be realistic. I told her that the Court would most likely not permit her to relocate to Pittsburgh against the father's wishes."
"Some lawyers will tell you what you want to hear and will give you false hope," he continues. "There is a lot of competition in the legal field, especially domestic relations. Oftentimes lawyers will guarantee something they cannot promise. Your client must have reasonable expectations."
The attorneys of KRHB are not hesitant in providing sound advice on commonly discussed topics, such as mediation. While most lawyers would suggest mediation for nearly all cases pertaining to family law, Hand finds it is not ideal for everyone.
"Every good family lawyer should try to compromise and negotiate a resolution to a particular problem. However, many times one person or the other is unreasonable," Hand states. "If that occurs, the Court becomes the only option. If Court is necessary, the attorneys from KRHB will be well prepared and confident in our abilities to successfully advocate on behalf of our clients."
"Our lawyers are in Court almost every day, I would suggest that no domestic relations firm in Bucks County has more experience than KRHB. Our track record in Court is exceptional."
"Our experience and trial skills guarantee our clients that their expectations will be met and exceeded," Rickles adds.
To better assist clients, KRHB utilizes a highly refined network of resources and professionals to bolster their clients' case. These resources are in addition to the diverse backgrounds of the lawyers of KRHB. They have an attorney who was previously a policeman, two attorneys that were Assistant District Attorneys, an attorney who was previously a Public Defender and two attorneys that act as Solicitors for Municipal Law. Attorneys Mel Kardos, Keith Bidlingmaier, Marc Rickles and Clifford Bidlingmaier practice in both the Commonwealth of Pennsylvania and the state of New Jersey in both state and federal courts.
"I'm able to provide services to people on both sides of the bridge, working with a network of attorneys, professionals and medical experts that can accommodate the various needs of our clients," Bidlingmaier says. "I understand a client may be in a situation they have never been involved in before. We will help our clients through this difficult time in their life."
Keith Bidlingmaier refers to the attorneys as litigators, stating their dedication to fighting for each client, in addition to the firm's commitment to professionalism throughout each case.
"We are litigators, which means we try cases," he says. "This isn't required in all cases, but when it is, we're more than ready. We have great reputations amongst the legal community, and we leave no stone unturned. The skill and experience of our attorneys and our creative trial strategies helps us maximize results for all of our clients."
The attorneys at KRHB frequently argue in the Superior and Commonwealth Courts of Pennsylvania. Their record of success is second to none in Bucks County. The level of expertise and understanding possessed by the attorneys at Kardos, Rickles, Hand & Bidlingmaier is what truly sets us apart from other law firms in the area.
"If you want to win your case, you need a good lawyer," Kardos states. The clients who turn to Kardos, Rickles, Hand & Bidlingmaier in their time of need should expect nothing but the best representation.
KARDOS, RICKLES, HAND & BIDLINGMAIER
626 South State St.
Newtown, Pa. 18940
215) 968-6602
210 SOUTH BROAD ST., SUITE B
Trenton, N.J. 08608
(609)-989-7995
Published (and copyrighted) in Suburban Life Magazine, March, 2017.
To subscribe to Suburban Life Magazine, click here.