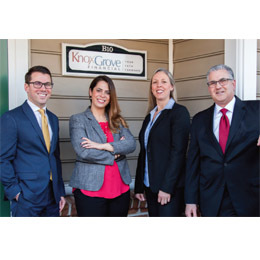 More Than Meets the Eye
One would generally not associate "family," "community," and "charity" with something as technical as "Financial Group." At Knox Grove Financial, LLC in Pennington, N.J., these three words are the foundation of their business. Christina Nash, Founder and CEO of Knox Grove Financial and advisers Brian Hartmann and Bill Stolow wouldn't have it any other way.
Personalized attention to clients, best-in-class service to clients and the community are embedded into the backbone of the Knox Grove Financial values.
Knox Grove Financial is a boutique financial firm that offers personal, business and private services, including investment and income strategies, income tax reduction strategies, advanced estate conservation strategies, annuities, life insurance and 401k retirement plans and services. Nash says the firm offers a more holistic approach in terms of finding the best path forward for Knox Grove's individual clients, with their client's unique lives and goals at the forefront of operations.
"A lot of firms are very one-track based," Nash says. "They either offer investments or insurance or employee benefits. This can often make things more difficult for the client. We offer a variety of services to meet all client needs."
Similar to Nash, Bill Stolow and Brian Hartmann, financial advisers at Knox Grove Financial, sit down one-on-one with a new client for an introductory consultation. This initial consultation allows each adviser to gauge the needs of the client and create a starting point for the relationship.
"It's important we have a comprehensive conversation in the beginning to find out what's important to them, what's keeping them up at night, where their assets are, and how we can meet their goals," Nash states. "We want to ensure that our firm is a good fit for the client."
"For us, meeting with a new client has a defined process," Hartmann adds. "First we'll help a client articulate what they're expecting from their investments, money and life; then we'll research and put together the necessary information to present to the client. The last part of the process involves implementing the plan and monitoring it on an ongoing basis."
Client goals and satisfaction remain the firm's top priorities. To make this possible, all advisers remain actively involved in their clients' lives. Stolow notes this allows them to become privy to any significant changes or events that may occur down the road.
"We can take proactive steps addressing these changes in their lives, whether its changes in employment, a new birth in the family or an unfortunate passing of family members," Stolow says. "We realize we need to be there for our clients every step of the way.
"We don't just do what we need to do and move on," he continues. "It's a family here, and we treat our clients no different than we would our own families. Our clients find this aspect makes us different."
Both Nash and Hartmann can attest to this. Most recently, Nash encountered a client who needed help after losing her husband only a few months prior. As Nash does with all clients, she listened to the client's needs from the client's perspective. What came next, Nash says, surprised her the most.
"At the end of the appointment, she grabbed me by the shoulder and said 'You are so wonderful,' and thanked me, as she never in her 65 years had this type of an experience with a financial adviser," Nash says. "It was a great compliment, and I was elated she felt this way."
Another aspect that the firm prides itself on is simplifying the experience into layman's terms for clients to better understand their plans.
"Something I always hear from clients is, 'I never understood that until now,'" Nash says. "You have to explain things in terms from where the client is sitting. It needs to be understandable."
In addition, Jodi Viaud, the firm's Chief Operating Officer, leads an operations team that strives to create a memorable client experience. She understands the importance of accessibility. Knox Grove clients feel comfort knowing that when they have a question, Jodi, her team and the advisers will be there for them. This is just one of the several ways they exhibit team work and dedication to each client individually.
"People are bombarded every day, hour to hour with almost too much information," Stolow says. "I tell my clients stick to the plan— stay on track. The path can always be changed, but I try to emphasize to my clients not to get knocked off of the path they're on by too much outside information."
"Because sometimes the path does change its course, we encourage our clients to trust in the process," Hartmann adds. "We all believe that trust comes from years and years of a relationship together."
Second only to their commitment to their clients, Knox Grove is committed to servicing and taking an active role in the community. The Knox Grove team provides continuous support to community based organizations and larger organizations, such as the Wounded Warrior Project, Boys and Girls Clubs of America, the Hopewell Valley YMCA and the American Heart Association, to name a few. Each advisor also remains active within their own communities.
Nash, a Mercer County resident, co-founded a group called Women in Networking, one devoted to better serving women as business owners. In addition, she has also served as a member of the rotary club. She says her passion truly lies in giving back to the community.
"I tend to do a lot of speaking engagements within the community to give advice and empower women," she says. "It's really all about getting out there and giving back."
Hartmann serves as the chair of the Robert Wood Johnson Young Professional Group at the Robert Wood Johnson Hospital in Hamilton, N.J. He leads a team of 30 members to raise funds and awareness in relation to the hospital system. He also is responsible for founding and currently serving as president of a group called "Your Executive Round Table," that brings business professionals of various industries together within the community.
"Every quarter, the group adopts a charity in the local Bucks and Mercer County areas and takes on one of the initiatives the charity is currently working on," Hartmann says. "Not only are we doing business together, but we're helping the community we all do business in."
Stolow and his wife Carol founded The Lyme Disease Network of New Jersey in 1992, a self help organization dedicated to the diagnosis and treatment of Lyme Disease. The website, "LymeNet", which launched in 1993, provides a forum for the community to share information and experiences, while providing them comfort and support. LymeNet was recognized by Stolow's Township of East Brunswick for the support and education delivered to the Lyme community.
The honesty, trust and community involvement all exhibited at Knox Grove Financial comes to show there's truly more than meets the eye with these group of dedicated advisers. With a continually evolving market and the firm's shift to independence as of April 2015, one thing Nash guarantees that will remain the same is the firm's loyalty to providing clients the utmost in personalized plans to sustain a lifetime of prosperity and security.
"We've found that people are not so much focused on the investments, but rather they are really seeking the guidance," Nash says. "Our clients have always told us they want trust and the best possible options for them. At Knox Grove Financial, it's your path forward; whether that's building up investments or planning for retirement, we will take that path forward— and we think clients see that difference in us."
Knox Grove Financial offers securities and investment advisory services through Signator Investors, Inc., member FINRA/SIPC, a registered investment advisor.
KNOX GROVE FINANCIAL, LLC
23 Route 31 North, Suite B-10
Pennington, N.J., 08534
(609) 216-7440
KnoxGroveFinancial.com
Published (and copyrighted) in Suburban Life Magazine, March, 2017.
To subscribe to Suburban Life Magazine, click here.