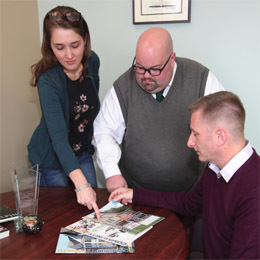 Helping One Community at a Time
Running a condominium or homeowner association is quite a big undertaking. Homeowners who are elected to the association board have many responsibilities on their plate, from enforcing rules, regulations and architectural controls, to hiring contractors and maintaining fiscal security and property values. Tony Campisi, executive director of Community Associations Institute compared an association governing body to the way a municipal government functions, and his organization is there to help make sure everything runs smoothly.
CAI is a membership organization for condominium and homeowner association communities; helping them in every way they can to build better communities.
"CAI's mission is to make sure a community functions well," says Campisi. "We educate those who live in, govern and manage the community association to make sure the community is well governed and well maintained."
Some of the educational topics CAI offers to association leaders and managers include legal, property insurance, financial, rules enforcement and more, all in the name of building a better community. CAI also offers resources, publications and tips on maintenance issues for common property like roads, landscaping and recreational facilities.
To help the governing bodies of the communities fulfill their legal and fiduciary responsibilities, CAI offers resources, best practices reports and various educational classes. Resources are also offered to homeowners to help them better understand the governance and management of community associations.
"For community association managers, there's an approved curriculum across the country with a series of classes from 100 to 400 levels, and managers who complete a certain amount of credits can receive accredited professional designation in the industry," Campisi says. "These classes are important so that they ensure managers understand what it takes to effectively manage a community association."
Campisi says these classes also touch on how to resolve conflicts in the community.
"Conflict is always going to occur, whether it is between neighbors, or between owners and the board," he says. "Helping to manage and resolve conflicts is a big part of the resources CAI offers."
Educating elected association leaders is critical from the start, Campisi notes.
"Many programs we offer are for homeowners that are newly elected leaders in the community," he says. "From their perspective, a newly elected member to a condo or HOA board may have no idea what it takes to govern such a community. Maybe they are elected president of their board. All of a sudden, they are responsible for a 500 home community, protecting property values and managing finances. In many cases, a community association functions like a municipal government. Not many people have the expertise necessary to govern this community of 500 homeowners. That's why CAI exists."
Some of these classes, resources and more will be offered at CAI's annual conference on May 11 at Valley Forge Casino Resort. This popular networking event is free to attend for homeowners and managers. More than 160 exhibitors will be on hand, including banks, insurance companies, roofers, pool companies and more.
"It's an opportunity to visit the exhibit hall and see what products and services are available to communities," Campisi says. "It's the biggest networking and learning opportunity we offer all year."
Two new classes that will be discussed this year are on medical marijuana and how it impacts a community, and service and comfort animals—what kinds of restrictions communities can place on animals. Campisi says these are important topics that are new to communities and need to be addressed.
"In many cases, you can't deny someone's request for a service animal," Campisi says. "Medical marijuana is a new topic that communities need help on addressing. Can the community regulate the smoking of medical marijuana in common spaces such as the clubhouse and pool? They need to know what those implications are. It's a very new area of the law and we think it's an important topic to cover."
CAI primarily serves members who join the organization. Their educational classes are open to anyone, but members will either get them for free or pay a reduced rate.
"Obviously you would get much more out of CAI if you joined, but we offer advice and information to any community who needs answers," Campisi says. "We suggest any homeowners elected to serve on their board, property managers, as well as any kind of business that may have an interest in serving the industry join CAI. This includes landscapers, contractors, attorneys and insurance companies— any kind of service you would need operating your home."
Campisi says these homeowners and businesses receive valuable information from each other to make their communities better.
"One of the biggest reasons why one should join CAI is to network and chat with someone who is in the same experience as you," he explains. "Homeowners come to our programs and meet people from other communities who have experienced similar situations. Sharing experiences and ideas helps communities come up with solutions to whatever they may be dealing with in their community."
COMMUNITY ASSOCIATIONS INSTITUTE
Pa. and Delaware Valley Chapter
601 S. Henderson Road, Suite 151
King of Prussia
1 (877) 608-9777
CAI-PaDelVal.org
Published (and copyrighted) in Suburban Life Magazine, March, 2017.
To subscribe to Suburban Life Magazine, click here.