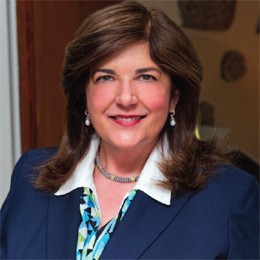 Unbreakable Bond
"They say that where you come from has a big impact on who you are, and I think that's true," she says. "I come from a very hardworking background of working-class people, which has given me a great work ethic."
Bond, who grew up in Beaver Falls, a suburb just outside of Pittsburgh, found her life's calling as a youth when she was inspired by her father, a working class man who lost his job in the steel mills of Beaver County.
"It was that era in the 1980s when the mills were closing and all these 50-year-old men were out of work with nowhere to go," she recalls. "I saw what an impact this had on my dad, and I just wanted to do something about that. It had a big impact on me; it had a big impact on a lot of families."
Her path was "not linear," however. Bond attended Indiana University Bloomington with a household name—successful businessman and philanthropist Mark Cuban. The two used to share rides home from their college. As Bond says, "The people you meet—you never know where they will go, or who those people will become." In fact, Cuban wrote the foreword to Bond's book "How to Negotiate a Killer Job Offer."
After graduating from Indiana University Bloomington, Bond went on to attend the University of Pittsburgh School of Law where she earned her Juris Doctor degree. Though she always knew she wanted to use her skills to help hardworking individuals like her father, she started her career in law as an Air Force JAG attorney prosecuting criminal cases, and at the same time, serving as an Assistant U.S. Attorney for the southwestern district of Texas. It was at this point that Bond says she was tapped by the Air Force Surgeon General to attend a specialized medical law school. She then served as an attorney on the Air Force Surgeon General's staff for two years.
After leaving the Air Force, Bond moved into in-house counsel roles with healthcare institutions which enabled her to significantly expand her legal knowledge, particularly in the transactional and deal-making arenas. "I was always raising my hand to volunteer," Bond says. "I wanted to learn everything that I could possibly learn."
This included learning the ins and outs of employment contracts, from an "insider's" perspective on what was important to employers in getting these deals to closure. Bond began to see a niche, one that would allow her to help working people – one modeled on the way athletes and entertainers benefit from the agents who help them. She saw that employees could often benefit significantly if someone with her knowledge and experience helped them advocate for pay, perks and protections in employment and severance deals. She launched her law firm and called it Transition Strategies to capture the essence of what she helps her clients do. This was nearly 20 years ago, and Bond hasn't looked back.
She analogizes her approach to the art of the deal with a popular martial arts discipline.
"I am an employment strategist and deal-maker who routinely takes on 'David v. Goliath' fights against the biggest companies in the world," she says. "In doing this, I practice an art of negotiation that can be likened to the martial art of judo—using the weight of the opponent against it, and for my clients' benefit."
Indeed, Bond has made helping others her life's work.
"What differentiates me from other employment attorneys is not only the vast wealth of experience from which I can draw in knowing what a deal should look like, but also that I teach clients how to move forward with better skills and to learn how to turn today's weaknesses into tomorrow's strengths. Through the process of working with me, I help empower people so they can learn what to do—or what not to do—in their next employment situation."
Bond's work ethic shines in her pursuit of negotiating employment and severance agreements as well as helping employees with discrimination and wrongful termination claims.
"If termination or layoff is on the horizon, I help employees strategize dignified exits, with a goal to achieve enhanced pay and benefits to enable them to weather a stretch of unemployment," she notes. "This can also include reducing the scope of restrictive covenants, like non-compete agreements, and getting positive references to help with the job search."
Bond's dedication to helping others stretches far outside of her office, however.
"I have always been passionate about helping others, and especially for being a role model to women who otherwise don't have role models," Bond says. "For example, I worked with HELP Philadelphia for many years, teaching life skills to homeless women trying to enter the workforce and succeed at holding jobs so they can support their families.
"I enlisted the help of the Greater Valley SHRM Chapter to create a full-day workshop entitled, 'How To Write Your Own Success Story' and paired each woman with a [human resources] professional to be her personal coach for a year," she continues. "One of the graduates of the program worked security in an office building in town, and every time I entered there, I found it so rewarding to get her warm greeting and see her smiling face."
Bond, a frequent legal contributor to national media outlets including CNN, FOX, The Wall St. Journal, The Boston Globe and the New York Times, has had the honor of being named a five-year Pennsylvania Super Lawyer in the practice area of employment law.
"I want to be the go-to person that clients call when they have any workplace issue," Bond says. "A lot of people today just go to the internet. That's really not the best way to go about doing things. My goal is to be a great workplace resource to all the people of Chester County."
Transition Strategies, LLC
88 Militia Hill Drive
Chesterbrook, Pa.
(610) 640-5373
Transition-Strategies.com
Published (and copyrighted) in Suburban Life Magazine, March, 2017.
To advertise in Suburban Life Magazine, click here.