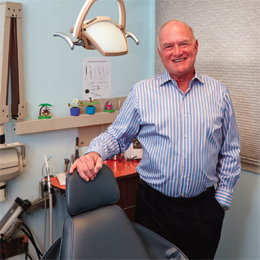 A Bright Future
If you haven't heard about Children's Dental Health Associates by now, residents of Delaware County will soon find out after visiting their new office location in Media.
The practice's 15 offices are well-known for their notable décor tailored to the fascinations of children. Depending on location visited, patients can either find themselves floating underwater among tropical fish, in the midst of a jungle adventure, or some may even find themselves drifting to another galaxy. The practice's new location, which re-opened its doors as Children's Dental Health Associates as of October 2016, has yet to follow in the vibrant footsteps of its other locations throughout Pa.—however, according to Brook Murphy, the practice manager, patients can be rest assured an enchanting and kid-friendly theme will be underway in the near future.
"Though we haven't decided on a set theme yet, we have already integrated the office over to an all digital X-ray platform, which is much safer," Murphy states. "In addition, we've gone entirely paperless."
Other exciting news for the practice includes the addition of Dr. Miniman, D.D.S. Dr. Miniman has been practicing pediatric dentistry for more than 37 years, and has been practicing in Media for nearly 30 of those years. He completed his Pediatric Dental training at the University of Pennsylvania and Children's Hospital of Philadelphia, and is a member of the National Dental Honor Society. Dr. Miniman is dedicated in the pursuit of providing the best pediatric care to all children.
"I was influenced by a dental student who was two years ahead of me, during my dental education, and ended up developing a true affection for my chosen field," he recalls. "I found that working on children's dental health gave me a true source of accomplishment by helping a large majority of children to overcome their fears of the dentist."
Patients of Children's Dental Health Associates both seasoned and new needn't fear upon entering through the practice's doors. Aside from the eye-popping murals and décor, Children's Dental Health Associates most compelling aspect is its strong culture of safety at all locations. All staff members and prospective new hires are required to undergo several clearance checks, including a Federal Bureau of Investigation finger printing, a Pennsylvania background check and a child abuse clearance. This rigorous process ensures all staff members and new-hires at Children's Dental Health Associates are eligible and safe to work alongside children.
"The screenings continue throughout the whole employment," Murphy notes. "Every year we redo all educational classes, all finger printing, etc. We also have strict policies on children not being left in rooms by themselves, no matter the age. We always have staff in the rooms with each doctor."
Safety of all children has remained of paramount importance to the practice since its beginning. Murphy and Dr. Miniman both guarantee this culture of safety will undoubtedly carry over to the practice's new location.
Besides all mandatory safety protocols put in practice at Children's Dental Health Associates, all staff members participate in a yearly training and educational program offered through HealthStream. The program assists staff members through all necessary topics for a pediatric setting, including identifying and assessing victims of abuse and neglect, Health Insurance Portability and Accountability Act (HIPPA) compliance, and workplace violence and diversity, to name a few.
In addition, the practice also employs Christie Yanez, a family and patient advocate for Children's Dental Health Associates. Yanez's presence remains an integral part of the practice, as she coordinates care for patients and their families, as well as assisting patients and families in need of guidance on care and treatment.
"We saw a need within our patients for someone to be advocating for them," Murphy says. "We make sure we continually stay on top of child safety laws and educating our patients and staff on these as well."
Dr. Miniman understands the importance behind pediatric safety through his years of practice and from his education in the field. Alongside safety protocols, Dr. Miniman notes the staff's advanced training geared specifically towards pediatric dentistry, including a two to three years post-dental school education which includes techniques unique for children, child-related medical issues, as well as child psychology. All education doctors receive ties back to the practice's culture of safety in one way or more—especially in alleviating dental phobia.
"The use of tell, show and do methods holds an abundance of calming effects for the child patient," Dr. Miniman states. "For those children who are still highly fearful or those who can't be treated within an office environment, we have operating room facilities to improve their overall dental health, and we continue to see them back in the office after their work is completed.
"My years of experience within the field allow me to know most of the avenues of treatment that are available to treat children in the most pleasant environment possible," Dr. Miniman continues. "I continue to give the best possible care that they can receive."
Care goes beyond a child's teeth at Children's Dental Health Associates, and translates to the child's overall well-being. Similar to the each of the practice's other locations, Dr. Miniman and his team utilize disposable dental instruments when possible to prevent infection and cross-contamination, use mercury-free fillings, and each patient is required to wear safety glasses as an added safety precaution.
The care provided by Dr. Miniman and the staff at Children's Dental Health Associates extends well past routine dental health, and into everyday operations, with a number of themed employee participation days that have grown increasingly popular among both staff and patients alike. Staff and patients are encouraged to dress up accordingly to the designated theme, which in past months have included National Superhero Day, PJs Day, and Favorite Movie Day. The practice is also committed to serving their local communities through PB&J drives, and plans to coordinate frequent employee charitable runs. In other words, there's a bright future ahead for Dr. Miniman and the staff at Children's Dental Health Associates—and anyone who steps through these doors will surely agree.
For more information or to find a location, please visit ChildrensDentalHealth.com
Published (and copyrighted) in Suburban Life Magazine, April, 2017.