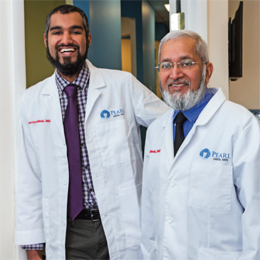 A Family Affair
Let's face it – some dread going to the dentist. Hearing certain words such as "root canal," "implants" and "tooth removal" can frighten some enough to put off going to the dentist for months, even years, to avoid going through dental procedures.
Rather than putting off an appointment, patients can turn to a family owned and operated dental office to put their nerves at ease. Dr. Abid F. Paghdiwala and Dr. Murtaza Paghdiwala of Pearl Dental Arts, a father/son duo, have made it their mission to make sure everyone feels comfortable walking into their office and not the slightest bit intimidated.
Pearl Dental Arts has been serving the Bucks County region for more than three decades since the office opened in 1981. Both doctors make it easier to for patients to get work done by "warming up to them, utilizing our technology and utilizing skills sets we've studied," Dr. Murtaza says.
Dr. Murtaza and Dr. Abid both pride themselves on setting aside enough time for each patient to ensure they receive the individualized care they need. Both doctors do not rush through any appointments.
"Over the last 35 years, we've emphasized that we still keep that personal touch," Dr. Abid says. "There is plenty of time set aside for that patient. It's not hurried, fast or in-and-out kind of treatment. We spend enough time explaining the procedure and give them breaks if they need in between to make them feel comfortable. It's very personalized and precise treatment."
Pearl Dental Arts offers comprehensive family dentistry, from regular check-ups to teeth whitening and dentures. The practice specializes in advanced cosmetic dentistry, such as Invisalign, and implants. Since they expanded their services twelve years ago, Pearl Dental Arts has updated their facility with the latest advances in technology, incorporating CT scans for implant planting. All implants are computer guided, surgically placed with computerized guidance from CT scans.
"We spent a lot of time on educating ourselves with the most recent advancements of technology, and we're continually working on it." Dr. Abid says. "In 2009 I received my fellowship in dental implantology and in 2012 I received my mastership in dental implantology from International Congress of Oral Implantologists (ICOI), one of the leading associations of implants in the country. Dr. Murtaza is also working towards receiving a fellowship in dental implantology."
In turn, both doctors educate patients with their knowledge regarding the latest technology. Dr. Abid says most patients aren't educated on dentistry, and teaching them will help "win their confidence." Using an instrument called the "Insta-Oral Camera," patients are able to see their teeth and gums on a screen, which Dr. Murtaza says gives them a better understanding on why certain procedures have to be completed.
"The first thing they will say is, 'Wow, I've never seen the inside of my mouth before,'" Abid says. "Sometimes people say, 'I was eating a french fry.' Well, it's not the french fry; the cavity has been there for years and years. Cavities eat the whole tooth inside and you're left with the shell and it cracks. With this camera, patients can see what it looks like before, in the middle of the procedure and what it's supposed to look like when it's finished."
Another piece of technology that eases patients' nerves is called "The Wand"–a computerized anesthesia system which eliminates pain associated with injections.
"It's a very small handheld device, and is a lot gentler and a slower method of injecting," Dr. Murtaza says. "The medicine doesn't depend on the dentist using sheer muscle strength to dab under the gums."
For those who want a great smile, there is better alternative to braces. Patients can turn to Inviaslign, a series of clear, invisible aligners that gently and gradually move teeth with less pressure compared to traditional braces. An added benefit includes less time involved–most treatments take a year or less.
"There are less chances of the pressure damaging the bone and gum support, and sometimes teeth can become loose because of the amount of pressure needed to move the teeth," Dr. Abid says. "The pressure with Invisalign is much milder."
"The results are phenomenal and Invisalign stands by their work," Dr. Murtaza adds. "If the teeth go back [to their original shape], they will send you more trays [to straighten your teeth], even if it's years down the road."
Pearl Dental Arts accepts a wide variety of insurances and completes all necessary paperwork for each patient. The practice understands insurances don't cover entire treatments and it can be difficult to afford dental work–however, they have payment plans for everyone; even those lacking great credit.
"We want to make it as easy as possible to get the best dental work and not cut corners," Dr. Abid says. "We have CareCredit where there's no credit check, and we can spread payments out. We don't expect everybody to come up with the entire payment up front."
The practice remains paperless, which makes it easy and convenient for patients to access their information. With everything computerized, patients are able to log onto a portal to check on outstanding payments and the date of their next appointment. Patients also receive automated reminders about their appointments through email, text messaging and voicemail two months, two days and two hours before the appointment.
Dr. Murtaza recalls being in his dad's office quite often when he was a young child interacting with patients. But it wasn't until he started working as a dental assistant one summer vacation when he realized he wanted to follow his father's footsteps, which was a surprise to Dr. Abid.
"I grew up in the dentist office," Dr. Murtaza says. "When I started working as a dental assistant, I thought, this is a good gig. I see he's [Dr. Abid] helping people and they are happy. I told myself I'm going to go for this."
And Dr. Murtaza could not be happier going down this path. Giving patients a better smile is what he does every day, and the interaction with patients all day is what he enjoys the most about his job, especially with those he's known since he was a young boy.
"It's truly unreal," he states. "I can remember patients off the top of my head that tell me, 'I saw you as a child playing in the office and now you're the one doing my dentistry; I've literally seen you grow up.' My dad and I have treated generations of patients who have basically become our dental family in this area."
That family-friendly atmosphere is what sets Pearl Dental Arts apart from other practices. Walking into one of their offices, one should not only expect to receive quality dentistry and the utmost care, but leave feeling as if they've known the Paghdiwalas and their staff for quite some time.
"A lot of people are surprised that I remember our last conversation, whether it be last year or in 2007," Dr. Abid says. "This is my life; this is all I do. Everyone I meet is a person, not just a number I needed to see. I enjoy getting to know them."
Pearl Dental Arts
660 Newtown Yardley Road
Newtown, Pa. 18940
(215) 504-4070
PearlDentalArts.com

4409 New Falls Road
Levittown, Pa. 19056
(215) 874-6791
Published (and copyrighted) in Suburban Life Magazine, April, 2017.