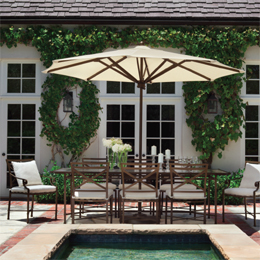 The Great Outdoors
March 20 officially marked the first day of a much anticipated spring solstice, and for some, signified a day to begin thinking about re-opening and remodeling their outdoor spaces. Fortunately for those seeking to completely remodel or add only a few minor touches to already existing furniture, homeowners can turn to Patio.com, with 15 locations nationwide, including King of Prussia.
The company's founding predates its dot-com name, however. Originating as a pool cleaning service in 1984 by three brothers David Ross, Phil Ross and Mitch Ross, Patio.com has since transitioned and expanded its offerings to fine outdoor furniture and game room furnishings. One thing that has remained the same is the company's outstanding service—and because of the quality service provided, it's no wonder upon speaking with Mike Ferrara, store manager of the King of Prussia location, the store already was filled with customers that morning.
"All of our deliveries are by our own professional drivers with our white glove service," Ferrara notes. "If you visit one of our stores and place an order for stock furniture or even a special order, our delivery staff inspects your furniture, assembles it, then blanket wraps each piece and then sets out on the drive to your home." Ferrara also mentions upon arrival, homeowners can sit back and watch their creation come to life, as the white glove service allows homeowners a hassle-free experience void of assembly, moving the furniture or cleaning up all the packaging materials and boxes.
"We'll set the furniture up to the client's liking," he adds. "If we have to set it up more than once to see how it looks visually in various places, we will gladly do so because ultimately, we want the client to have the very best of service and experience from the beginning of when they first walk through our store doors, to the very end of when our drivers leave the property."
Ferrara also adds that many times a customer makes a purchase during the week and the entire delivery is completed before the weekend so the customer can fully enjoy the outdoors with family and friends. This fast, hassle-free delivery is just one of several reasons Patio.com stands out among the competition.
"Because we carry a tremendous amount of stock, we want our customers to be able to start enjoying it as soon as possible," he says. "Every weekend with family and friends is precious and we are determined to do our part so every day can be enjoyed fully."
Patio.com carries the highest quality in outdoor pool and patio furniture, with the most famous and high quality brand names including Brown Jordan, Kingsley Bate, Outdoor Classics, Lloyd Flanders, Tropitone, Gloster and Barlow Tyrie. Those visiting the King of Prussia location, Ferrara says, can expect to be greeted by an indoor and outdoor showroom totaling 20,000 square feet with displays of every major manufacturer.
"Each of our locations caters to our specific customer, choosing products which fits our clientele's needs perfectly," Ferrara states. "In addition, we will help you also customize the exact set which you envision working with every manufacturer, every available material, fabric and color."
Patio.com keeps their showrooms fresh and up-to-date with the latest designs, colors and pieces which change monthly, while also maintaining the classic looks allowing a customer to add a piece to complement that set they purchased from Patio.com 15 years ago. Ferrara stays on top of the latest in outdoor and indoor fashion to bring his customers the best product and looks that are available.
Local residents in search of wicker, teak, or aluminum dining and seating for their outdoor oasis will certainly have a myriad of options when visiting patio.com in King of Prussia. All fabrics used are specifically made to withstand the outdoor elements and are fade-resistant, water repellant and withstands extremes in temperature.
"I get about a 50/50 split of people who come through the door," Ferrara states. "I either have the customer who has a new home and wants to furnish it with a transitional look or a classic style, as well as customers who are replacing their set of many years. The furniture purchased today can be expected to still be in outstanding condition in 2040!
"Of course, it helps to cover your furniture during the winter months and put down umbrellas before any large storms," he adds.
For the off-seasons when homeowners are nestled inside the warm comforts of their homes, Patio.com offers game room items to keep homeowners and guests entertained all year long. Including Brunswick pool tables, ping pong tables, shuffleboards, air hockey tables and dartboards, those looking to make the most of their space all year round will find all the essentials needed at Patio.com.
Customers of Patio.com however, will find more than home necessities within each showroom. With excellent service and unbeatable prices, customers will unexpectedly find friendship within fellow staff members and designers. Ferrara says he still has customers who will invite him over for a game of pool, or even gift him a bottle of wine in thanks of his dedication to customer happiness.
"I consider our customers to be my friends and I treat them as such," he states. "I suggest only furnishings with which I would furnish my family's home. We treat everyone the way they want to be treated. Our clients are not numbers here. They're friends."
Patio.com
125 N. Gulph Road
King of Prussia, Pa.
(610) 205-0970
Published (and copyrighted) in Suburban Life Magazine, April, 2017.