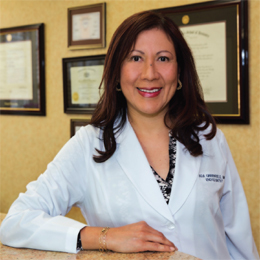 Living Her Dream
Today more than ever, the American dream is a topic of worldwide discussion. To successfully attain the American dream is one to be celebrated—and for some, to do it as a woman is even greater. Dr. Ada Greenfield, D.M.D. and owner of Lower Gwynedd Endodontists is one outstanding example.
Born and raised in Lima, Peru, Dr. Greenfield drew inspiration from her aunt, who owned her own dental practice. After several years of studying the ways of her aunt, Dr. Greenfield set out to become a dentist and also open her own practice, by attending the Federico Villarreal School of Dentistry, where she received her DDS degree. During her time in school, however, she noticed an increased fascination with endodontics. Realizing her educational sojourn was not yet complete, she obtained a graduate degree in endodontics, and went on to achieve her goal of opening her first practice in Lima. She also became a clinical instructor of endodontics at the dental school.
Little did she know, an encounter with another professor at a lecture she was instructing, would forever change her life—and location.
"While teaching endodontics at a public lecture, I met Dr. Samuel Seltzer, who was an eminent Professor of Endodontics at Temple University School of Dentistry and one of the founders of endodontics," Dr. Greenfield states. "He encouraged me to come to the U.S.A, to study endodontics at an American university, which required giving up my successful practice, taking several dental school entrance exams, completing another D.M.D., and then pursuing another graduate program in endodontics."
Dr. Greenfield successfully completed her studies at the Temple University School of Dentistry while also serving as a clinical instructor to students in the program and residents of the post-graduate program in the Department of Endodontics. In 2009, Dr. Greenfield opened Lower Gwynedd Endodontists to residents of the area and beyond, and has grown tremendously since her beginning.
"Most of my patients come to me for emergencies," she says. "I have treated children as young as 5 years old and my oldest patient I've treated was 94. Most patients have been referred to me by their general dentists."
Services offered include non-surgical endodontics such as root canal therapy and re-treatments, and surgical endodontics such as the treatment of a traumatic dental injury. Dr. Greenfield acknowledges the practice's commitment to providing the highest quality of services to patients and referring dentists.
"We remain empathetic towards our patients and their individual needs," she adds. "I specialize in relieving dental pain and saving teeth. We provide effective relief of pain, comfortable office conditions and rapid service for emergencies. In addition, we work in close consultation with the dentists who entrust us with their patients, by providing them with a digitally prepared report. Patients are encouraged to visit their dentists regularly to practice preventative care."
In addition, Dr. Greenfield's practice runs on an entirely digital platform, and is equipped with the latest in technology to allow her and her team to perform state-of-the-art procedures on patients.
"We use a specific software designed for Endodontists," she says. "We use microscopes for every procedure and Cone Beam Computerized Tomography (CBCT) which helps us to diagnose and provide better treatment for our patients." Among these, the practice also utilizes Ni-Ti rotary files and rotary systems, ultrasonics, and digital radiography.
Those who have yet to visit Dr. Greenfield's practice are in for a comforting and relaxing dental experience—two words one would generally not expect associated with endodontics. Typical appointment duration generally lasts no more than one hour and, Dr. Greenfield says, if conditions permit, root canal treatment can be completed in one visit. She notes in some cases dealing with significant infection and swelling, treatment can take up to two visits.
"Many of our patients have unusual and highly complex problems when they first arrive," she states. "They require, and we provide, different protocols of treatments."
Though Dr. Greenfield may be to the public eye, best known for providing the full gamut of top quality procedures and treatments in endodontics, she is also well known for her involvement in pro bono and community service. She is a clinical instructor of Endodontics at the Abington Memorial Hospital, where she instructs residents of the GPR program at the hospital. Dr. Greenfield is also an active member of several dental organizations, including the American Dental Association (ADA), the Pennsylvania Dental Association (PDA), and the American Association of Endodontists (AAE).
"As a clinician, we are trained to provide service to help those in need," she notes.
Above all, Dr. Greenfield feels passionate about being a woman-owned practice, in addition to women in the workforce. Between the strong encouragement from her parents and her self determination at a young age, Dr. Greenfield has not only achieved her childhood dream, but encourages women of all ages to strive to achieve theirs, too.
"Being a woman in business is not always easy while raising a family and attending to domestic duties," she says. "Similar to everyone else, we have to work hard and be persistent to achieve our goals. That makes us stronger. I believe we all have to have self-confidence in our potential. Never give up on your dreams—and especially don't let others undermine your confidence."
Lower Gwynedd Endodontists
1600 N. Bethlehem Pike, Suite S-100
Lower Gwynedd, Pa.
(215) 654-5380
LGEndodontists.com
Published (and copyrighted) in Suburban Life Magazine, April, 2017.