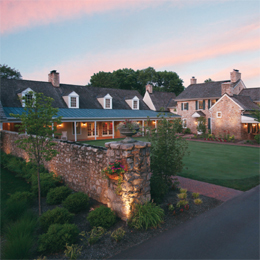 An Exceptional Experience
Lookaway has it all…exceptional golf, beautiful scenery, great facilities and a friendly atmosphere. Tucked away in a bucolic setting in Buckingham, Bucks County, Lookaway Golf Club is one of the top-ranked golf courses in the Philadelphia region, and the only Bucks County golf course rated by Golf Digest on its list of the best in the state of Pennsylvania.
Lookaway, a private equity golf club opened in 1999, is situated on a historic tract of land in Buckingham Township, first deeded by William Penn himself in 1713. The original stone Manor House, constructed in 1752, is the oldest building used as a golf clubhouse in the United States.
Lookaway's unique character is exemplified by the preservation of this Bucks County property's historic architecture. The club's restored original farm buildings form a courtyard that surrounds the clubhouse and creates a warm, inviting enclave of serenity unique to modern golf facilities.
The 7,000 yard championship course was designed by renowned architect Rees Jones, whose skills have been applied to seven U.S. Open venues, eight PGA Champion courses, five Ryder Cup and two Walker Cup sites. According to Rees Jones, "This is a signature course that captures the spirit of the game…and will continue to stand the test of time. I think it stacks up to the best courses in Pennsylvania because it's playable."
The Lookaway golf course encompasses 250 acres highlighted by rolling hills, wetlands and 100-year-old trees enhanced by carefully placed bunkers and rough areas. The course features multiple tee placements on each hole, enabling low handicappers to play from the championship tees, as well as allowing for an equally challenging and enjoyable golf experience for the mid and high handicap golfers. With only 229 partners, this provides the freedom to come out, put your tee in the ground and go. While carts are available, walking such a great course with experienced caddies not only enhances Lookaway's golfing experience, it is preferred by many golfers.
The relationship between the clubhouse and the golf course itself is given great importance. Like a second home, intimate spaces were created where club partners, family members or golf and business associates feel welcome and enjoy the friendliness of shared activities and interests. The inviting stone clubhouse features a bar, grillroom and dining facilities. Outside, a large outdoor covered terrace overlooks the 18th green, rated as one of the best finishing holes in the Philadelphia region.
A dedicated multi-green practice facility provides a tranquil setting to hone your short game, while the separate driving range, chipping area and putting green all sit close to the golf shop and clubhouse. The comfortable men's and women's locker rooms with individual lounge areas are in an adjacent fieldstone structure. A third original building was renovated to house the golf shop, complementing the clubhouse.
Lookaway Golf Club is defined by its seclusion, tranquility and dedication to attentive services. In a world of easy praise and unmet accolades, it's rare to find a place that exceeds expectations, that delivers rather than promises, that truly feels like home.
Lookaway Golf Club
4219 Lower Mountain Road
Buckingham, Pa.
(215) 794-5727
LookawayGC.com
Published (and copyrighted) in Suburban Life Magazine, April, 2017.