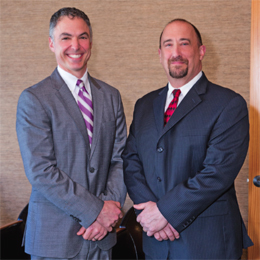 Solutions to Smile About
It's not uncommon for a multitude of questions to arise several weeks prior to one's dental appointment. With limitless amounts of information at the tip of our fingers, confusion or confliction is bound to occur. Fortunately, there are doctors such as Dr. Aaron Ufberg, D.M.D, owner of Ufberg Dental P.C. and Dentistry on the Hill, P.C. that are willing to answer the most commonly sought out questions pertaining to dentistry.
Dr. Ufberg currently maintains his full-time practice in both Berwyn and Drexel Hill. He specializes in general, cosmetic and restorative dentistry, and has been certified and trained in techniques such as CERINATE no-drilling veneers, Zoom! Teeth Bleaching, surgical implant placement, Invisalign, Oral ID Oral Cancer screenings and other cosmetic and implant procedures. Not only is his practice committed to exceeding patient expectations, but is equipped with the highest advancements in technology in Dentistry such as the DEXIS CariVu, Digital X-rays, Arestin, SNAP Instant Dental Imaging, Camlog Implants, among several others. In other words, Dr. Ufberg and the team know a thing or two about excellence in dentistry.
In the words of global spiritual leader Thich Nhat Hanh, "sometimes your joy is the source of your smile, but sometimes your smile can be the source of your joy." Read on to discover how Dr. Ufberg and the team at Ufberg Dental make smiles the source of joy for many patients now, and many more to come.
What are the benefits of dental implants?
Dental implants are a wonderful option for missing teeth that look and function similarly to natural teeth. When patients lose a tooth (or teeth), they can experience bone loss, periodontal disease, tooth movement and even further tooth loss. Most of our patients choose dental implants over other replacement systems due to ease, predictability and the fact that we do most cases from start to finish right in our office. A dental implant that is accurately placed in the bone can very closely replicate the one found in nature, and can even replace the need for a removable full or partial denture.
With major advancements in dentistry and dental implants, most people are candidates for dental implants. After the placement, a patient will return in approximately three months to make sure the implant has integrated successfully and correctly into the jawbone. After that period of time, impressions can be taken to begin creating the porcelain crown to place over the implant.
How safe are traditional dental X-rays? Are the new digital X-rays safer?
Digital X-rays are one of the most important advances that our profession has seen in quite some time. Patients are thrilled with this technology. We now have the ability to reduce the exposure of radiation to the patient used by traditional x-rays, while increasing diagnostic proficiency—which has had astounding implications. The reduction of the use of harsh chemicals and other waste materials associated with traditional X-rays is also an added benefit to our environment.
Exposure to all sources of radiation—including the sun, minerals in the soil, appliances in your home and even dental X-rays—can damage the body's tissues and cells. For our patients, the dosage of X-ray radiation received is typically extremely small-equivalent to a few days' worth of background environmental radiation exposure, or similar to the dose received during a cross-country airplane flight.
Are more patients interested in Invisalign today than in earlier years?
Invisalign has allowed patients who are unhappy with their teeth to change the look and function without metal brackets. It's a very easy process that straightens teeth using invisible trays that are custom-made for you. Each tray changes the position of the teeth by shifting them slightly, moving them as needed. Your aligners are engineered to use the right amount of force in the right place at the right time. More and more patients are opting for this option due to its ease and predictability.
For those interested in changing the shape of their teeth, what options are available?
A great smile can improve your self-confidence and have a positive impact on your life. Cosmetic dentistry is not just about pretty smiles, however. Because of the advancements in hands-on continuing education courses, we are able to offer the most modern treatment modalities using the most modern techniques and materials. With the latest techniques and materials, your mouth can look great, get healthy, and function better all at the same time.
Besides Invisalign, there are several different options available to change the shape of teeth, make teeth look longer, close spaces between teeth or repair chipped or cracked teeth. Among the options are bonding, crowns and veneers.
Dental bonding is a procedure in which a tooth-colored resin (a durable plastic material) is applied to the tooth surface and hardened with a special light, which ultimately "bonds" the material to the tooth. Dental crowns are custom fabricated porcelain placed over teeth. The crowns, when cemented into place, fully encase the entire visible portion of a tooth that lies at and above the gum line. Veneers are wafer-thin, custom-made shells of tooth-colored materials that are designed to cover and are bonded to the front of the teeth.
What is the latest dental technology you are offering patients at your practice?
I have several new and wonderful tools being used in my office. In addition to the low radiation digital X-rays, we offer CariVu. CariVu is a cavity detection device that uses trans-illumination technology to detect a range of carious lesions and cracks. Using absolutely zero radiation, the enamel appears transparent while cavities appear as dark areas and cracks become visible.
We also have intra-oral cameras, which allow us to communicate with our patients in a clear and easy way. Patients are able to see exactly what's going on inside their mouths through pictures we take and project—in other words, patients can see what we see.
There's also Oral ID which is a cancer screening technique we have been utilizing for several years, allowing us to see any abnormalities or issues hidden under tissues in the mouth. Targeting issues early allows for palliative and easy treatment.
Patients generally don't enjoy going to the dentist. How do you alleviate or manage fears differently than other practices?
We really enjoy seeing new patients. It allows us to show off our ability to make someone feel very comfortable as well as educate them on the most modern dental techniques. We also truly understand the concerns and anxiety of our patients.
Along with nitrous oxide, we provide movies, massaging chairs, and a very calming atmosphere for patients. We also do not rush, and take as much time with our patients as needed to answer their questions. Doing this along with our advanced technology makes our office a wonderful place for patients.
Ufberg Dental, P.C.
664 Lancaster Ave.
Berwyn, Pa.
(610) 251-2227
UfbergDental.com
Published (and copyrighted) in Suburban Life Magazine, April, 2017.