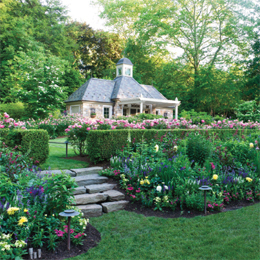 Experience is What Matters Most
Today, there are a plethora of options when it comes to sprucing the grounds of your home. From creating ornate gardens to planting spring flowers and installing extensive masonry work, Gale Nurseries has worked on such projects and much more. After all, they've been in the landscape and design business for almost 100 years.
Vice President Loren Foster prides Gale Nurseries on the experience and skills they've gained throughout the years. Experience and maintaining strong relationships, he says, is what sets Gale Nurseries apart from the rest.
"The number one thing is our experience," Foster says. "We are a fourth generation business that's been around since 1927. We have a pretty good wealth of knowledge having been around so long and have encountered just about every type of landscaping issue you can have. We have developed such strong relationships with clients that we are still working with some of the same families that the Gale family worked for two generations ago."
Although owner Chuck Gale and his late father Charlie's heritage is "rooted" in classical English garden design principles, Gale Nurseries is not pigeonholed by any one design style. Many of their current projects still involve traditional and classical gardens, but Gale Industries has evolved, adding contemporary designs to their portfolio.
Gale Nurseries offers a variety of design services, from master planning to detailed smaller gardens and landscape installation, which includes planting, masonry and lighting. There is no "typical" project–Gale Nurseries works on vegetable gardens that may take only a day to install, but also work on larger scale installations on large estates that can take anywhere from a few months to a year or more to complete.
"There is no one size property that we specialize in," Foster says. "We take it all on."
They offer everything one needs for a current popular trend–the outdoor living space–such as fire features, televisions, kitchens and pergolas. Foster and his team also like to challenge themselves by taking on unique, almost unordinary projects, such as a recent project that involved designing a fairly intricate chicken coop.
"We had a client that was interested in raising chickens on his property and having eggs in the morning, so it grew from there," Foster recalls. "We educated ourselves by going to a number of different farms and talked to different people about the best techniques and incorporated that into our project. We've been around for a long time and had a lot of different requests; we don't like to say no, so we educate ourselves. It's a fun process and we learn the best practices and how to install these types of features. We are always learning something."
In addition, Gale Nurseries specializes in updating outdated gardens that need a fresh look by utilizing present day plant material to add texture to the property.
"We've had a lot of calls from people who have gardens that were installed 10 to 20 years ago and it comes to a point where they need an overhaul," Foster says. "Certain plants outgrew spaces, other plants aren't successful, paving crumbles and sometimes they just need a fresh makeover. We try to maintain the positive aspects of the gardens but bring them up to date for 2017 and beyond. Although we love to have a splash of seasonal annual color in many of our gardens, we probably plant fewer annuals in today's world than we used to and focus a lot more on perennial flowers, textures and variations of green tones."
His clients are discovering more ideas through the internet, social media and numerous design publications, and Foster and his design team find ways to make them work. Listening to the clients' needs and wants is the first and most important thing during the design process.
"We have a lot of clients that generate ideas from something they have viewed on Pinterest or Houzz, something they have read in a book or even ripping pages out of magazines, and a lot of our gardens start from there," Foster says."As our client list has grown, we've kind of adapted to different styles. It's about taking those ideas and figuring out how to apply them to their specific situation for their home and property. We want the gardens to be a true reflection of the people that live there."
Establishing relationships with clients and going through each step of the design process from start to finish is gratifying for Foster and the design team.
"The most rewarding part is taking it from plan to installation," Foster says. "Being able to take their ideas, put them on paper and really bring a design to life is a great feeling. In most cases, we get to watch it grow and mature as we're there shaping the gardens while we maintain them." Once the landscape installation is finished, Gale Nurseries recommends garden maintenance services to maintain and embellish gardens over time.
It's an extensive process, and on many projects Gale Nurseries is collaborating with interior designers, architects and engineers, as well as the client to make sure each area is carefully tended to and flows together. Foster says the architecture of the home "dictates what's going on in the landscape," such as the structure and colors of furniture, pillows and draperies.
"The garden photos found in this article are a prime example of listening to our clients' requests and closely collaborating with the other design professionals and trades," Foster says. "The hardscape features, such as the steps, walls, bluestone banding, and terraces, were driven by the architecture and materials of the house, which was designed by Michael Visich Architects. A 100-foot perennial garden was designed to exploit the grade change, facing the living areas of the house to create a spectacular show. The gardens boast more than 75 varieties of perennial and annual flowers, and were driven by the colors found in our client's furnishings. Although installed in 2002, we continue to shape and maintain the gardens to date."
Gale Nurseries also caters to clients who prefer a simpler project that doesn't need much maintenance over time.
"Sometimes you have to step back and simplify things a little bit," he says. "If somebody tells us we don't want to spend a lot of money every month to maintain gardens, we talk about that from day one…We go above and beyond to maintain relationships and gardening is a very personal thing to some people, wanting to be outside and doing things. We love being a part of that. We share our passion with our clients."
Gale Nurseries
1716 School House Lane
Gwynedd, Pa.
(215) 699-4714
GaleNurseries.com
Photo courtesy of Rob Cardillo
Published (and copyrighted) in Suburban Life Magazine, April, 2017.