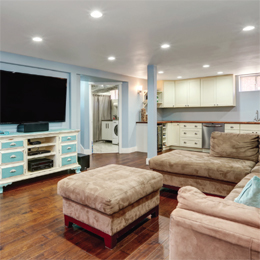 A Solid Foundation
If one were to ask Shawn Becker about construction, one would learn his love comes from a longstanding family history within the industry. With both parents well seasoned in both basement waterproofing and foundation installation, it's not surprising that several years later, Becker married the two industries together.
"I love this industry and more importantly, I love construction," Becker states. "After running my father's company for several years, I decided to go out on my own, gathered my own contacts and started gathering sub-contracting work off of larger companies. I've been on my own for ten years now."
Basements Love Us provides services from basement waterproofing, structural repair and mold remediation—all vital necessities designed to enhance the quality and lifespan of one's home. Though the majority of projects Becker receives pertain to basement waterproofing, he notes his favorite to be structural repairs from his background in construction at age 20.
"My foundation experience circles back all the way to when I was running a multi-million dollar development company, who also had me certified and put me through schooling to handle heavy duty equipment and reading and developing blue prints," he recalls. "Unfortunately, after the company went down, I knew I needed to start Basements Love Us."
Becker mentions the critical importance behind a stable home foundation, especially for homeowners looking to sell within the next year or two.
"You can't sell your home with a cracked foundation, cracked basement floor or anything bowing," he says. "A lot of companies will claim to do structural repairs and they'll only fill cracks in basement walls. That's not what we do—we get our on-staff structural engineers and architects involved to develop drawings in order to rebuild or replace the foundation altogether."
Similar to the detriment a cracked foundation can bring upon a house, so can the lingering presence of mold. Fortunately for clients of Basements Love Us, mold remediation services include comprehensive mold testing, with results within 48 hours. Samples are sent to a third-party laboratory and will determine whether or not the mold is present and if it is toxic.
"I don't allow my company to automatically say, 'this is toxic mold therefore you need all of this gutted,'" Becker says. "I don't run my business off of fear. Mold can either be toxic or just a mildew form, and it's important we determine which form a client has." Becker also mentions the company just received an exclusive mold remediation contract from the Atlantic City Housing authority, and they are the only company to offer a warranty on their mold remediation services.
"Mold remediation ultimately helps to look out for your health and overall well-being," he adds.
It's no coincidence the company's services all hinge off of one another—including their most-notable service of basement waterproofing. For homeowners seeking to prevent mold and mildew damage, Becker strongly suggests waterproofing the basement, among a multitude of other reasons.
"Homeowners should absolutely have the basement waterproofing systems installed primarily because if you don't get them installed, foundations will slowly crack or deteriorate from water pressure," he says. "Not only that, but it will keep water from entering into the basement and flooding—and moisture causes mold.
"If I'm replacing a foundation that's collapsing, the only reason this is happening is because of a water moisture issue," Becker continues. "Therefore, when replacing the foundation, we have to include a basement waterproofing system—and for our waterproofing service, there is a lifetime transferable warranty."
With seasonal upticks in certain projects and spring being in full bloom, it's best for homeowners in need of Basements Love Us' waterproofing system to start planning anywhere from now through fall. And with humidity levels on the rise for summer, Becker states it's best for homeowners to start thinking in advance.
As for structural repairs, Becker says homeowners needn't fret about planning around nature's fluctuating temperatures. Basements Love Us repairs and replaces structural foundations year round, due to the high volume and high demand of these projects received.
"The reason I expanded this company was due to the high volumes of these projects I was receiving," Becker says. "We don't need the weather to change in order to fix foundations, which is one of the reasons I try and focus on a lot of structural repair projects, and to keep my guys working all year round."
Those looking to complete any of these projects—whether it's in the next few months or even within the next year—should turn to Basements Love Us not only for their quality of work, but outstanding customer service and warranties they stand behind. Becker utilizes all in-house crews exclusive to his company, in addition to all company-owned trucks and equipment. This he says, keeps his company's reputation professional and his services exceptional.
"We follow the rules and do things the right way," he notes as one of the reasons Basements Love Us truly stands out in the industry. "I apply for permits on every single job. In this industry, you should always get permits. Any company that doesn't recommend getting a permit—buyers beware.
"Every house and building has a different footing and concrete floor," he continues. "I will do whatever I have to do to install this correctly and get to the bottom of your footing. To me, it doesn't matter how deep it is—there's no extra charge, like there is with some companies."
With the ease in accessibility of the World Wide Web homeowners have, Becker also suggests completing some thorough research prior to enlisting a company's services.
"There's nothing to hide anymore," Becker continues. "Let the research sell you. More importantly, don't fall for the scare tactics."
Basements Love Us
3653 Salmon St. | Philadelphia, Pa.
519A Cinnaminson Ave. | Palmyra, N.J.
(888) 799-3056
BasementsLoveUs.com
Published (and copyrighted) in Suburban Life Magazine, April, 2017.