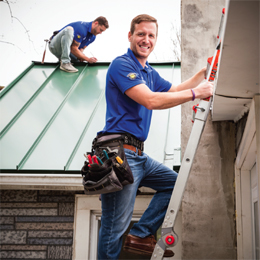 A Greater Cause
With spring in full bloom, it's time to consider home improvement projects like roof, siding, or window replacements. While homeowners may be eager to start, it's important they find the right team to complete the job. With locations in Pennsylvania and Delaware, G. Fedale Roofing and Siding is a recognized leader in the industry.
More than a last name, Fedale is also an acronym for the company's core values: F for family; E for excellence; D for dedication; A for attitude; L for leadership, and E for experience—and notoriously positive reviews from thousands of customers reflect each of these values, with leadership insuring that these attributes are demonstrated by all employees.
Suburban Life/Philadelphia Life spoke with Allen Fedale, co-owner of G. Fedale Roofing and Siding, about the business, its awards–including a Better Business Bureau Torch Award–and its foundation created to serve community members in need.
Tell me the back-story on how your business got started.
About 15 years ago, my older brother Glenn began his own business. We previously all came from the roofing business, as we worked on roofing projects throughout our high school years especially during the summer months. Once we finished high school and went off to college, we often worked on roofs during the day and attended school during the night. Together, we saw an opportunity to start our own business down the road. To start, we were working out of my brother's garage. As things progressed and our reputation spread, we expanded by adding more employees, and eventually a second location. Today, we're at 90-plus employees, all learning and growing together. We have a great team.
Did you ever anticipate seeing yourselves as a large company with 90-plus employees, or did you always envision the company as a small, family owned and operated business?
I think we always thought we would be a small business, but each year we found that we were growing more and more. We experienced a greater influx of customers—word of mouth travels fast. There's also this stereotype about roofers out there that isn't the best. Our company has broken that stereotype by staying true to family values and committed to our local community. Even with our growth, we consider the entire Fedale team family.
Besides roofing, what are other services the company offers to homeowners?
We pretty much offer everything exterior-related. This includes siding, windows, gutters and insulation such as attic insulation. We also do painting, masonry work and decks.
What would you say is your most popular or most requested project?
The statistics are that every 5 hours someone in the area hires G. Fedale to work on their home. 70 percent of the time that work has something to do with the roof. Roofing is our most popular service requested by home owners mainly due to the necessity of it.
I understand your employees not only have extensive experience in the field, but also go through specific training and safety precautions. Can you elaborate on this and how this is important for your business?

Our employees go through 140 hours of training a year for safety, customer service, character development, manufacturer installation specifications and new technology. Every employee also has to complete a 10-hour OSHA course. We had two managers who just received and completed the 30-hour OSHA training course as well. Safety is a top priority for us because our crews are using ladders, lifts, among many other tools. We want to ensure our employees are safe and careful while on the job to avoid potential hazards. In addition, we have "toolbox" talks two to three times a month, which are meetings with our in-house safety officers.
Are there any particular certifications or awards your business has earned?
Last year, we won the Delmarva Media Group Readers' Choice award and the North Delaware Happening List award, but my favorite is the Better Business Bureau Torch Award we received in 2015. It was an award granted for business ethics. As a company, we've been associated with the BBB since 2005, and we have maintained an A-plus rating with them since then. There are more than 74,000 businesses in our area, and G. Fedale was selected as one of four businesses for the Torch Award. We are certified by every top shingle and roofing manufacturer, which I don't think many other roofers can say. We're certified to offer customers the best warranties with these roof manufacturers. We also are pleased to have been awarded the President's Club award from GAF, North America's largest roofing manufacturer. It is their most prestigious award for installers to receive and requires years of demonstrated excellence in every aspect of our business.
Among these certifications and training requirements, what are other aspects that make your company stand out?
We are careful to install our roofing systems with excellence and with all manufacturer specifications and local building codes in mind. This certainly sets us apart from the competition, but I think the greatest and most significant difference is our company culture that our employees appreciate and experience here at G. Fedale. It's amazing when our employees are truly glad to come to work every day and they feel as if they're a part of something bigger than themselves. I believe that happiness and attitude trickles down to the customer service, ultimately making the customer experience that much better. Our culture really stems around our core values. We're not just repairing roofs—we're working hard to improve the lives of our employees and to build up our community. We feel that there's a greater cause then only having a successful business. When we treat others with kindness and respect, the experience is profitable for everyone involved – our business, our employees and our very satisfied customers.
You mention helping the community. In what ways does your business do this?
G. Fedale has many different affiliates, such as the American Heart Association, Habitat for Humanity, The Boys and Girls Club, Little League Baseball, among others. Just recently in the past two years, we started our own foundation called "Roofs From The Heart." Each season—spring and fall—we allow people to nominate themselves or others they believe are deserving and in need of a new roof. We get hundreds of entries and select five finalists based on who we believe are the most compelling based on stories. We post the stories on our Facebook page and let the community vote on who is most deserving, and whoever receives the most engagements and feedback will be awarded the free roof replacement, which includes the best quality roofing and best warranty. We also throw the winner a party as well. Our employees really love the foundation because they see the need within our community on a regular basis. It is an incredible blessing for us to serve others in this small way.
For more information, visit GFedaleRoof.com.
Published (and copyrighted) in Suburban Life Magazine, April, 2017.