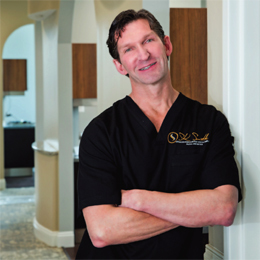 Out With the Old, In With the New
Dr. Scott Smith has had much success with his practice, Center for Periodontal & Implant Dentistry, in King of Prussia since it opened in 1997. As a periodontist, he has treated thousands of patients for gum disease with advanced treatment modalities improving their ability to eat and smile. With reconstructive treatment of the jaws and gums and replacement of teeth with dental implants Dr. Smith has helped thousands more patients improve their function confidence and appearance.
The past 10 years the dental profession has seen," Dr. Smith says. "Sometimes these technologies make treatment more robotic, however. One thing I will not compromise is the quality and individualized care we provide our patients." How to implement the cutting edge technology and maintain the personal care was the challenge. "I had to offer more treatment options with new equipment and state-of-the-art technology." Dr. Smith decided he had to move to a more ideal building that would offer more space in a more tranquil setting. He even went to the extent to change the name of the practice—Center for Periodontal & Implant Dentistry" is now S.K. Smith Advanced Periodontics, Dental Implants and Facial Esthetics.
"We are going from an office that was older and didn't reflect the quality of what we provide our patients, to a state-of-the-art aesthetically pleasing facility," Dr. Smith says. "It's as if we are doing a makeover ourselves."
The new office opened April 14 and boasts an approximate 3,100 square feet compared to 2,000 square feet at his previous location. "The office offers so much more for my staff and patients and is only a mile and a half away from my old location in King of Prussia".
"The ambiance is exclusive – we have beautiful panoramic views of King of Prussia. On the one side, we have colonial Valley Forge with views of beautiful homes and rolling hills, and on the other side you see the other iconic King of Prussia site -cars driving by on the Schuylkill Expressway," Dr. Smith laughs. "It's an excellent location and the office is convenient to get from areas such as Bryn Mawr and the upper Main Line with easy access to the Schuylkill Expressway and Route 202."
Dr. Smith acknowledges the fear many patients have going to the dentist–pain, time and money. But one step into his office and all changes. Dr. Smith and his team take their time to meet with each patient, make them feel at ease, and decide which treatment is best.
"They come into my office with missing, loose or unsightly teeth; they are very uncomfortable," he says. "They do not like the way their smile looks; they are looking older, can't enjoy a simple meal with friends. Most patients are afraid of the amount of time it will take to get the teeth they want, but that's what we're here for—to help minimize that worry. It's a great, teamwork atmosphere with caring doctors and genuinely caring staff."
Three dimensional visualization of the jaws and teeth via CT scans is one of the newest pieces of technology in Dr. Smith's new facility. "Although we have routinely used this technology in the past, with it being on the premise we can better utilize this technology to virtually place the replacement teeth before we do the procedures. With this computerized guidance we can more efficiently provide the treatment reducing time in the chair and providing them with the smile they long for."
Dr. Smith breaks down his typical patients in a few categories. "Probably the bread and butter of our practice is the treatment of oral diseases, in particular Periodontal disease. With more than one third of the adult population suffering from this disease it has been my mission to make the treatment more comfortable and less time consuming, thereby getting more of those afflicted in for treatment." He goes on to say, "Although there is no panacea for Periodontal disease LANAP (laser gum treatment) has been a game changer." Dr. Smith is one of the few periodontists in the area to be certified in LANAP—a less painful, more successful treatment alternative to conventional surgery that results in new bone growth and gum tissue reattachment.
Another advanced treatment that draws patients from all over the tri-state area is Pinhole Rejuvenation Technique – a suture-free procedure for correcting gum disease.
"Traditional gum grafting strives to reinforce the thickness of gum where is was becoming worn away. Traditionally this involved obtaining gum tissue from the palate, suturing this to the area where there is missing gum or exposed roots," Dr. Smith explains. "This was uncomfortable as it required two surgical sites – stitches and a long healing process. Pinhole Rejuvenation Technique provides the same result with two, maybe three little access holes places in the gum tissue where specialized instruments free up the tissue and gently move their own gum tissue to cover the exposed roots. There are no incisions, no sutras, and the healing time and discomfort is much less. It truly has revolutionized the 'gum grafting' technique."
Another category of treatment Dr. Smith specializes in is facial esthetics. With products and techniques such as Botox, dermal fillers, PDO thread lift and numerous lasers to reduce wrinkles and age spots, he is able to mitigate common concerns of patients after dental work, such as laugh or angry lines, smokers lines around the mouth, sagging chin and cheeks, thinning lips and even making gummy or long teeth more esthetic.
"I found that I had to get more involved in the entire smile as my practice progressed. As patients would get their teeth restored so did their confidence, I found many patients were "unhappy with their full smile," Dr. Smith says. "For instance, patients will say I love my teeth, I love that I can eat food again and I can smile and feel comfortable with my friends eating. However, I still have these lines around my mouth and my skin is still sagging around my chin and these deep grooves make me look so much older."
Facial rejuvenation not only improves a patient's face cosmetically, it alleviates pain in the jaw and helps relieve migraine headache pain. It also gives patients "social confidence that their smile is beautiful." "When I first started the practice, I mostly treated disease and replaced teeth with the goal to get a patient back to health and function," Dr. Smith states. "Now I am finding my patients' goals are function and esthetics. We are in a unique position to provide overall facial esthetics to our patients."
Dr. Smith knew from a young age he wanted to go into dentistry, mostly because he came from a dental family – his father was a dentist and his uncle was a dental lab technician. "I would marvel at what my dad and uncle could collectively do to make what looked like a horrible condition beautiful," he adds. "It's funny how times change. Now it's my dad and uncle who marvel over what I can do to make beautiful healthy smiles."
"It's an honor to provide our patients and referring doctors with the latest and best techniques and state-of-the-art equipment, and to be able to provide our patients with exceptional results via implant reconstruction, advanced periodontics, or giving patients that revitalized beautiful smile that has been missing for so long."
S.K. SMITH ADVANCED PERIODONTICS, DENTAL IMPLANTS AND FACIAL ESTHETICS
357 S. Gulph Road
King of Prussia, Pa.
SKSCosmeticProcedures.com
CPIDent.com | (610) 265-7023
Published (and copyrighted) in Suburban Life Magazine, April, 2017.