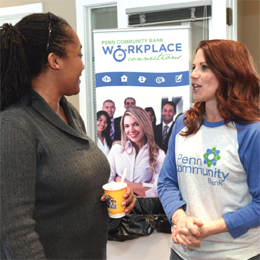 Your Best Interest
If remodeling a kitchen, finishing a basement, or creating a relaxing outdoor oasis are tops on your to-do list these days, you are not alone. Kitchen and bath upgrades, basement remodels, and landscaping, deck and patio projects are among the most popular renovation projects that homeowners undertake, as Stephen Murphy and his team know firsthand.
"We love being a resource for people who are looking to buy or create the home of their dreams," says Murphy, senior vice president, Residential and Consumer Lending for Penn Community Bank, which serves Bucks County and the surrounding areas. "Homeowners have so many options these days when it comes to financing home and garden renovations. Our experienced lenders are here to help homeowners find the right financing for every project."
Developing longstanding relationships with customers is at the heart of Penn Community Bank's business philosophy. As Bucks County's leading independent, mutual financial institution—and the second-largest mutual in Pennsylvania— Penn Community Bank is not publicly traded and does not have to make decisions with investors in mind.
Local Decision-Making
Being independently run means that every loan decision is made locally, and borrowers can easily get in touch with their loan officer throughout the process.
"Whether they are applying for a mortgage or borrowing to finance a renovation, what really resonates with our borrowers is that we are local in every sense of the word," says Murphy. "Our decisions are made here; we aren't writing the loan here for someone else to make the final decision in, say, Des Moines, Iowa."
Murphy leads about 20 people who make up Penn Community Bank's Residential and Consumer Lending team, including loan officers, underwriters and processing staff. With decades of collective experience in the consumer lending business, they know how challenging the borrowing process can be, and they are committed to ensuring that each applicant has access to the experts they need to keep the process moving smoothly.
Having local decision-making means the lenders are able to be nimble. In fact, Penn Community Bank aims to have all loan transactions completed within 30 days. Lenders can meet applicants face to face at any of Penn Community Bank's 23 branches from Bristol to Riegelsville, including its newest branch, which opened recently at 601 Louis Drive, in Warminster.
"So many exciting things are happening in the Warminster area right now," says Shellie Barone, manager of the new Warminster branch. "Penn Community Bank is thrilled to be a part of the exciting development that is taking place throughout Warminster Township and the entire Bucks-Mont area."
Customized Advice
The process of borrowing money to buy or renovate a home can be hectic and time-consuming. Moving the proceedings along as efficiently as possible is a priority for all Penn Community Bank lenders. The residential and consumer lending team tries to respond to customers and partners such as Realtors in a timely fashion—in most cases, by the end of the day.
"Our customers' time is precious, so our business day doesn't end until all calls are returned," says James Drinkwater, who oversees mortgage and consumer lending for Penn Community Bank in the Warminster area. "We are committed to being accessible when people need us."
While the process of applying for a mortgage or a home equity loan may follow the same steps, Penn Community Bank knows that each borrower is unique. A 30- year mortgage that might be perfect for one homeowner may not be the best option for another borrower, who would be better off with a shorter term loan.
The mortgage officers and consumer lenders at Penn Community Bank tailor their expert advice to suit every borrower's needs; there are no one-size-fits-all approaches.
Doing Business Backward
When people come to the bank with a lending situation, they may discover that they have other financial needs, as well. Having the resources of Penn Community Bank at their disposal enables the consumer lenders to connect customers with other solutions and opportunities, including commercial lending, banking, insurance and investments.
And the relationship with the customer doesn't end when the loan is signed. Penn Community Bank prides itself on being a "life-cycle lender."
"We offer everything from first-time mortgages to home equity loans to mortgages for people looking to upsize or downsize," says Murphy. "We are happy to be a part of such major decisions in our customers' lives, and proud to offer products and services that we have developed through more than 100 years of listening to and meeting each customer's unique needs."
Focusing on personal service to meet each borrower's particular needs is a reflection of the way Penn Community Bank does business.
"We call it doing business backward; focusing first not on the numbers but on our values and the way we behave," says Jeane M. Coyle, president and CEO of Penn Community Bank. "Our goal isn't to hit some artificial quarterly sales target; it's to build relationships with our customers and partners that will last for many years to come."
For more information or to find a location, please visit PennCommunityBank.com.
Penn Community Bank
PennCommunityBank.com
Published (and copyrighted) in Suburban Life Magazine, April, 2017.