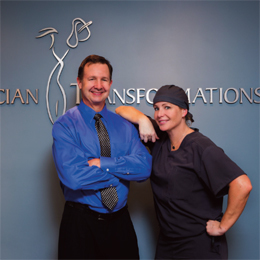 Helping Men Get Their Groove Back
More than 18 million men in the United States over age 20 are affected by erectile dysfunction ("ED"), according to a study by researchers from the Johns Hopkins Bloomberg School of Public Health. For men who have erectile dysfunction – a condition where one loses the ability to achieve and sustain an erection sufficient for sexual intercourse - it can take a major toll on their self-esteem.
"Most men have difficulty talking about their [erectile dysfunction] issues because it's a sensitive topic," Dr. Earl Bryant of Physician Transformations LLC says. "It's a very meaningful issue to most men and their partners. For men, their sexuality is a significant part of who they are. When men suffer from ED, it can be difficult and embarrassing and create stress in their intimate relationships. Finding a way to improve their condition becomes a priority."
The current nonsurgical treatment modalities in the management of ED consist of oral medications such as Viagra, Cialis, etc., or more invasive options such as tablets or injections placed into the penis. These options all cause increased blood flow into the penis causing an erection. Without good blood flow, an erection cannot occur.
Physician Transformations LLC in Newtown Square is one of the first facilities in the tri-state area to offer GAINSWave – a new, innovative treatment option utilizing low-intensity acoustic wave therapy to enhance sexual performance without medication or surgery. During the non-invasive, painless procedure, acoustic energy waves are used to stimulate new blood vessel growth inside the penis, causing greater success in getting erections as well as maintaining erections throughout sexual intercourse. Dr. Bryant calls GAINSWave a "breakthrough solution for men."
"I'm really excited about this technology and I think it could potentially revolutionize the way we treat erectile dysfunction," he says. "The true problem was not addressing the changes that occur in the penis as men age. Current therapies put band-aids on the problem without attempting to repair the underlying pathology. This is the first therapy that is designed to improve the general overall health by stimulating blood vessel growth within the penis rather than simply using a chemical such as a pill or an injection to dilate blood vessels."
GAINSWave is a non-invasive treatment that takes 20 to 30 minutes, twice a week, for three weeks. According to Dr. Bryant, the therapy has been shown in studies to allow men to decrease the need for their medications or eliminate the need for them altogether. The studies also showed no significant complications or side effects from treatment. Dr. Bryant feels the biggest benefit is that it can give the patient longlasting results and the patient doesn't need to worry about popping a pill or injecting a medication just prior to "that special moment."
"The treatment is not just being used by men with severe ED," Dr. Bryant says. "Word of mouth has been spreading and we are getting patients in for treatment who don't necessarily have significant ED, but who have noticed they have lost a little magic in their wand. They want the very best performance they can achieve as they age and we have found the treatments help most men regardless of how much dysfunction they have."
"I've treated dozens of patients and the reaction is overwhelming positive," Dr. Bryant continues. "Men are having fuller erections for the first time in years, and they've noticed that, during sexual intercourse, they are having firmer erections that last longer. The extra blood flowing to the penis is giving them the strength that they need and they are able to have erections naturally, the way they did years ago."
Most men start seeing changes about a month to a month and a half after they start treatment, but others have noticed an immediate difference after only one treatment. Dr. Bryant says their demeanor and outlook on life changes for the better once they get started.
"As men start to see what treatment will do for them, every time they come to the office, they have more pep in their step and are more excited to talk about it," he says. "They look at the future much more optimistically."
The process begins with a consultation between Dr. Bryant and the patient to collect medical and sexual history, and to determine the best course of therapy to make sure GAINSWave is an appropriate method of treatment.
This procedure is not covered by insurance, but Physician Transformations offers CareCredit, a six month payment plan with no interest. "We do our best to work with patients to create financial terms that they can work with," Dr. Bryant says. "Our main goal is to create a game plan for every patient with erectile dysfunction so that every patient can enjoy the benefits of this revolutionary technology."
Dr. Bryant's goal since he started Physician Transformations LLC in 2008 has always been to help patients' look and feel their best and to achieve their goals for personal transformation. As a full-service, state of the art medical aesthetics practice, they offer services such as hormone replacement therapies, liposuction, laser body sculpting, and CoolSculpting, to name a few. Dr. Bryant's interest in treating erectile dysfunction was spawned by his interest in mens' health based on his own aging process and his personal quest to find ways to maximize his health as he gets older.
"I began to look at my own aging body and to try to figure out the best ways to optimize my health," he explains. "After looking at the tidal wave of information available on different aging topics, I chose to start providing bioidentical hormone replacement therapy [natural hormone therapy] to my male patients who were testosterone deficient. Treating those patients helped me see other issues men face such as erectile dysfunction. From that bloomed this whole new segment of our practice. Optimizing health is truly a fascinating endeavor."
As technology continues to evolve, it's no surprise he took on this new therapy, helping one male at a time.
"In everything we do, we always aim to take advantage of the latest technologies that most benefit our patients," Dr. Bryant says. "I see this treatment becoming THE standard of care for erectile dysfunction over the next 10 years and I am proud to be able to offer it to my patients."
PHYSICIAN TRANSFORMATIONS LLC
17 Bishop Hollow Road, Suite C
Newtown Square, Pa.
(484) 685-0480
Published (and copyrighted) in Suburban Life Magazine, April, 2017.