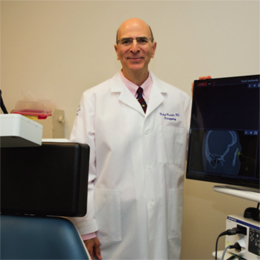 A Better Experience
If one is having sinus issues, trouble sleeping or experiencing hearing loss, the first person they will most likely call is their primary doctor. If the symptoms don't improve after the initial treatments, primary doctors may refer their patients to ENTACC (Ear, Nose and Throat Associates of Chester County) specialists who have more than 40 years of experience and provide the highest quality of care. They have locations in Exton, Kennett Square and West Chester, and provide a comprehensive evaluation for an extensive range of ENT disorders for children and adults, including sinusitis, hearing loss, sleep disorders and head and neck and thyroid and parathyroid masses.
In addition to providing patients with the highest quality of care, they pride themselves on being equipped with the latest advancements in technology to treat patients in the most effective and efficient ways possible. One of their newest technology additions is an in-office CT scanner. Doctors perform both a thorough history and physical exam, and, if warranted, a CT scan, allowing them to give a more precise and prompt diagnosis. Unlike previous years, patients don't have to go to the hospital to get CT scans and/or X-rays prior to their ENT visit.
"It's very fast and convenient," Dr. Alexander Keszeli explains. "Patients with sinus and/or ear complaints that come into our office are now able to be scanned. This allows us to make a proper diagnosis and more directed treatment options for them. Imagine patients who previously would come to our office, you give them a prescription for a CT scan and they would have to go to a hospital to get scheduled and wait for the CT appointment. They eventually get it done, receive a copy of the disc and make another appointment to review the film. It can take weeks."
"When patients must arrange CT scans or X-rays at hospitals and then have to come back to the office to pay an additional co-pay for the follow-up visit, that's an example of how the level of economic frustration is elevated," Dr. Michael Picariello adds. "Now, with our new mini CT scanner, patients don't have to lie flat and go into a large tube to have their scans done. They are seated and an X-ray emitting device rotates around them for 10 to 15 seconds. The results are displayed on a monitor and our doctors will usually go over the films immediately with patients. We also have the films officially read by board certified radiologists as well. Patients are relieved we can give them a diagnosis more promptly and implement therapy based on that more exact diagnosis and it gives us that extra tool of providing quality patient care in a timely way."
Dr. Picariello says this procedure is much more cost and time efficient for everyone involved—the patients, their families and the referring physicians.
"Without a doubt, there's a time factor, cost savings factor and immediate efficiency factor," he says. "It's valuable for us as practitioners and most importantly, patients who have to be more efficient in their time and resources due to increasing costs of medical care and rising insurance premiums."
Another technology advancement being performed in their office is Balloon Sinuplasty, a less invasive surgery than conventional sinus surgery. Patients are awake during this procedure that's done under local anesthesia.
"Balloon Sinuplasty essentially opens the blocked sinuses using a balloon and gently opens and reshapes the sinus drainage pathways and restores normal sinus drainage, offering long-term relief," Dr. Keszeli explains.
"We're not cutting or removing tissue with Balloon Sinuplasty, we're dilating the sinus openings and there's less bleeding and less tissue trauma," Dr. Joseph Smith also mentions.
Dr. Picariello adds that ENTACC also has 'image-guided technology' that allows them to target precisely where the instruments are within patients' sinus cavities.
"This assures a confirmation of therapy and enhanced safety for the patients," he says. "This technology allows us to do that."
"A lot of studies have shown patients experience less facial pain, less use of antibiotics, fewer visits to the doctor, and a greater ability to go back to daily activity at home and work sooner," Dr. Keszeli adds.
Less down time and less time away from work is not just in the patients' favor, but Dr. Picariello says, "it's related to workforce economics."
According to the medical literature, sinusitis affects more than 37 million people and the overall costs are over $8 billion each year. "This disease has a strong impact—workdays are lost, personal and company goals aren't being met because of chronic sinusitis," he says. "If we can get people back in the workforce helped by a more prompt diagnosis of sinus disease and less time out of work, I think we're doing a great part for the patient's quality of life and economics overall."
Up until a few years ago, this procedure could only be done in the hospital, which made patients reluctant to address their sinus problems. Now, ENTACC provides a complete, patient friendly, personalized experience in a pleasant office atmosphere.
"The hospital itself can be kind of scary for some people," Dr. Keszeli says. "They basically have to go through the entire bureaucratic process at the hospital to get something done and sometimes you spend the day there."
"The experience at ENTACC is more streamlined than going to a surgery center or hospital," Dr. Picariello says. "It's less institutional and more patient friendly when procedures are done with the help of professional staff with whom you already have a familiarity."
Building that strong-patient relationship and making patients satisfied and happy about their overall visit is the top priority at ENTACC.
"In years past, some doctors were less inclined to assess the overall patient experience in their offices," Dr. Picariello says. "They sometimes acted like it was just business as long as the diagnosis and treatment plans were correct; those days are gone. We have to make the office visit a great and value added experience from the initial phone call to the exit conversation. Patient satisfaction variables are becoming more front and center related to the complete scope and continuum of patient care. There is certainly an important patient satisfaction component to the patient-doctor experience where they not only want to feel well, but want to have a superior, effective and successful experience along the way."
EAR, NOSE AND THROAT ASSOCIATES OF CHESTER COUNTY
111 Arrandale Blvd. | Exton
(610) 363-2532
402 McFarlan Road, Suite 203 |Kennett Square
(610) 363-2532
600 E. Marshall St., Suite 101 | West Chester
(610) 363-2532
ENTACC.com
Published (and copyrighted) in Suburban Life Magazine, May, 2017.