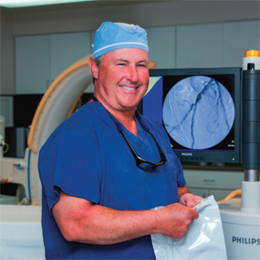 Saving One Limb at a Time
When Dr. James McGuckin began his outpatient career in 2002, his mission was to "provide enhanced patient care through clinical excellence and unparalleled service in treating patients with vascular disease." Over a decade and a half later, their mission is still the same. Currently, Philadelphia Vascular Institute provides services in multiple locations, including the Peripheral Vascular Institute of Philadelphia, which is the largest practice for Peripheral Arterial Disease (PAD) in the Philadelphia region. PAD is a circulation issue in which the arteries that carry blood to the legs become narrowed or clogged. With locations in Philadelphia, King of Prussia and Bethlehem, patients have easy access to quality care and a convenient and friendly outpatient environment for all of one's endovascular needs, including PAD and other circulatory issues of the arteries and veins.
"The outpatient area provides a dedicated staff and care team specializing in the diagnosis and treatment of vascular diseases," Dr. McGuckin says. "We have a fully certified non-invasive laboratory where ultrasound testing can be performed to diagnose the area of blockage prior to the scheduling of endovascular minimally invasive treatments performed in our free-standing surgery suite. Advances in technology allow us to perform high level complex therapies through just a band-aid sized incision."
PAD affects 10 million Americans and is most commonly found in men and women over age 50–roughly 12 to 20 percent of those Americans are ages 65 and older. Dr. Watts says most people don't recognize the symptoms of PAD. "They think this is a normal part of aging and don't report it to their doctor," he says. "It is important to recognize the signs of PAD as early as possible so proper first-line treatments can be sought to avoid having bypass surgery or amputation."
The most common symptoms is claudication— leg pain that occurs when walking or exercising, and disappears when the person stops activity. Other signs include numbness and tingling in the lower legs and feet, and ulcers or sores on the legs or feet that don't heal.
"If there is pain in the feet that at rest gets relieved when you dangle your feet off the bed, or if you have skin breakdown or ulceration that does not heal, those are more serious symptoms that when intervened early on with minimally invasive techniques, can be rapidly relieved," Dr. McGuckin explains. "We perform angioplasty, atherectomy and stenting—the basic tools to re-open blocked blood vessels to get blood flowing again. We also utilize technology like intravascular ultrasound for higher level diagnosis and CO2 angiography in consideration of patients who have compromised kidneys."
The majority of the patients they see are diabetic, have a history of vascular disease such as PAD, aneurysm, heart attack or stroke, high cholesterol, high blood pressure and current and past smokers.
For a number of patients, untreated clogged arteries where oxygen is prevented from getting to their lower extremities can lead to amputation, especially in diabetics.
"They don't have good feeling in the nerves in their toes or feet, and can get cuts and wounds that don't heal and get infected because the arteries have been blocked," Dr. Watts explains. "Blood can't get down the leg to heal the wounds, which leads to infection, tissue death and amputation. We do things differently—we open up very small arteries down to the ankles and feet where some physicians are only experienced above the knee. We work in the small vessels to restore blood flow where it's needed most."
Dr. Watts says he sees himself and Dr. McGuckin as limb salvage specialists. "Our goal is to basically use our training, experience and expertise to help patients who are the worst of the worst—who are in danger of losing their legs and doing everything we can to save their limbs," Dr. Watts says. "Once someone has their leg amputated for PAD, their quality of life and life expectancy drops significantly. It's a huge problem when patients lose their leg and a huge boost when we can save them."
Building relationships with patients, along with saving their legs and giving them a new lease on life is what Dr. Watts finds most rewarding about his job.
"We get to know these patients and their families really well, and they have a great rapport with our staff," he says. "It's a great feeling, but also a lot of pressure because we don't want to let these patients and families down."
Dr. Watts recalls a procedure done a few months ago on an elderly patient who was told there was no other option but to have his leg amputated, until he came to Main Line Vascular Institute.
"Ulcers had developed on his foot and the doctor basically said he was going to have to amputate his foot," Dr. Watts recalls. "His children were upset, and he got a second opinion and ended up meeting a former fellow of mine who sent him to me. I was able to restore blood flow in his foot, his pulse was so much better and his daughter was in tears. I had her feel the difference in warmth from one foot to another. We see this at least once a week, where a patient's family member is told nothing can be done. We see people come in with one leg, their other leg was amputated the year before and we were able to save the other leg."
With outpatient centers fully staffed with doctors and nurses, Philadelphia Vascular Institute physicians are able to perform procedures "urgently, some the same day they call the office for people who are in acute need that are referred by a podiatrist or cardiologist with threatened limbs," Dr. Watts says.
Providing quality care and a personalized experience in a comfortable setting is an aspect that sets the centers apart. When patients are greeted at the front desk, the team at Vascular Institutes knows them by name and appointment times are closely kept—patients are not sitting in the waiting room for hours on end.
"We pride ourselves on offering a much different experience from that of a hospital setting, where some patients refuse to set foot in because they are scared," Dr. McGuckin says. "When patients come in for a procedure, they have not eaten for a period of time as part of their pre-operative preparation, but when the procedure is over and they are in recovery, we give them a sandwich and juice. We want them to be as comfortable as possible."
"Patient experience is a huge priority for us," Dr. Watts adds. "As an outpatient center, we have a very individualized high touch; it's sort of a personal experience. We can assist in scheduling transportation on the basis of need if patients can't get to us; they don't have to worry about parking. We have a very reliable and competent staff of nurses, receptionists and technologists that patients get to know very well and they have our full attention…We have their best interest in mind at all times."
MAIN LINE VASCULAR INSTITUTE
700 S. Henderson Road, Suite 225
King of Prussia | (484) 808-5220
PERIPHERAL VASCULAR INSTITUTE OF PHILADELPHIA
4220 Market St.
Philadelphia | (215) 240-6007
LEHIGH VALLEY VASCULAR INSTITUTE
3450 High Point Blvd.
Lehigh Valley Corporate Center
Bethlehem | (484) 896-9880
Published (and copyrighted) in Suburban Life Magazine, May, 2017.