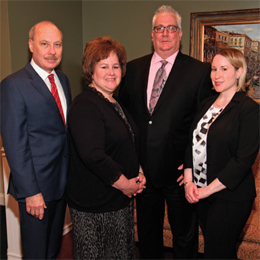 Light at the End of the Tunnel
When people go to the altar and get married, divorce is usually not a thought that comes to mind. Unfortunately, however, it is a common occurrence today—perhaps more than ever before. According to the American Psychological Association, 40 to 50 percent of married couples in the United States divorce. It's a decision that will not only affect you and your spouse, but your children and other family members as well, according to Jeffrey Liebmann of Liebmann Family Law. He recommends that the couple first meet with a family counselor for guidance before sitting down with their children and addressing the matter collectively.
"We think it's important as you begin the process, to be up front and honest about what's going on," he says. "First, discuss it with each other and ideally with an experienced counselor how you will tell your children what's going to happen."
Following these important conversations, one must decide what lawyer they will choose to handle the divorce, which is one of "the most important decisions they will make," says Liebmann. People want and need someone they can trust, someone who will guide them in the right direction and constantly pursue their best interests, and Liebmann Family Law represents all those qualities. Liebmann and his fellow attorneys— David Sowerbutts, Mindy Snyder and Jamie Jamison—have over 100 years of combined experience practicing family law.
"Our first obligation is to help people through the process and all we focus on is family law," Liebmann says. "We are unique in that regard. Our office has one of the best groups of family law attorneys."
Liebmann says sometimes the hardest thing for potential clients is stepping into his office and coming to the realization that they are about to go through one of the biggest changes in their lives.
"They got married never thinking they would be sitting in our office," he says. "It's heartbreaking, terrifying and there's all sorts of emotions. They have to get answers to some difficult questions. We never take for granted what it took for them to come in here and ask the questions they are asking and consider the things that a few short years ago were inconceivable."
"We understand that sharing the most private and intimate details of their lives is difficult," Jamison adds. "The initial consultation is a good opportunity for them to meet us to determine if they can feel comfortable. It is also an opportunity to inform them of the law and process so that they can make the best decisions given their individual circumstances."
If there is one best decision to be made, it is choosing one of the attorneys from Liebmann Family Law because of their desire and ability to connect with their clients and achieve the best outcome while understanding the magnitude of the changes their clients are undergoing.
"One thing that sets us apart is that we remain sensitive to our clients' needs," Sowerbutts says. "Divorce affects all aspects of their lives. It's easy to be very aggressive and talk all the time and it's more difficult to not only strongly represent our clients, but to do so in a strategic way and remain sensitive to all the ways divorce is affecting our clients lives."
"Emotion is a big component of this process," Snyder says. "People are so anxious at the initial consultation that they often don't hear what we are saying. We try to gather as much information as we can. It's difficult for clients to set aside the emotional component and listen to the legal aspects. Even making the initial phone call to our office is difficult, but [the] consultation isn't to convince them to pursue divorce, it's to give them information if they choose to go down that road."
The advice given to clients is not always what they necessarily want to hear. However, the attorneys at Liebmann Family Law remain honest about their clients' issues and always have their clients' best interest firmly under control.
"There is a very good balance between being sensitive and being objective. We have to give our clients tough advice sometimes," Sowerbutts says. "People can't always get what they hope to out of divorce proceedings."
Jamison says during the initial consultation, it is important to advise potential clients what they should and should not do with regard to their personal and financial assets.
"For example, if the potential client owns a house, they should continue paying the mortgage on their property so as to preserve the equity and avoid the consequences associated with a default," she says. "We want to avoid foreclosure or negative credit consequences," she says. "The documents you'd want to bring to the initial consultation are your W-2s, tax returns, recent pay stubs, retirement account statements, bank account statements, investment account statements, credit card statements and other financial documentation."
The attorneys can then immediately begin giving the best possible advice and immediately begin controlling the divorce process.
"Sometimes it's best to safeguard important photos, jewelry and personal items so that if the separation and divorce does become contentious, those items don't start to disappear," Sowerbutts adds.
Liebmann Family Law recommends to their clients that they stay away from all aspects of social media during the divorce proceedings, as postings and conversations have a huge potential to negatively impact all aspects of the proceedings, particularly the custody proceedings.
"Postings on Facebook, Instagram, or any of those social media sites can be used to support cases, but it can also affect your case negatively," Snyder says. "Clients should refrain from social postings while going through the divorce and custody process. As you go forward, be very wary of what your friends and family post about yourself and your spouse."
"Doing so can substantially hurt your credibility, causing you to be viewed as vindictive rather than committed to co-parenting," says Jamison.
The attorneys at Liebmann Family Law are strong, experienced litigators which gives their clients a distinct advantage if a courtroom hearing is required. At the same time, the philosophy at Liebmann Family Law is that court should be the last resort, after all reasonable attempts to resolve an issue short of court have failed.
"We always put great effort into any litigation that may be required, but always first explore whether an equally great effort on a smart, strategic negotiation and settlement will produce a better outcome for the client," Liebmann says. "Amicable settlements allow a client to maintain control over the outcome, instead of giving the ultimate decision to a judge, and produce less trauma and emotional discord, and are less expensive."
Liebmann Family Law is by their clients' sides every step of the process to assist them in understanding the short- and long-term consequences of their decisions and doing what's best for their families, no matter what it takes.
"We understand that ultimately, we are dealing with families and the decisions you make now with regard to issues pertaining to divorce and custody will affect you and your children for years to come," Liebmann says. "In the end, we are trying to preserve families."
Liebmann Family Law
4 Terry Drive, Suite 4, Newtown
(215) 860-8200
LiebmannFamilyLaw.com
Published (and copyrighted) in Suburban Life Magazine, May, 2017.