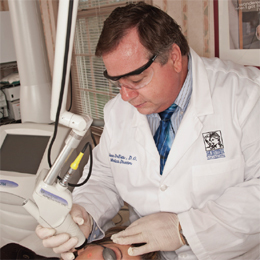 Looking Your Best
"Aging is for people who don't know any better," as health and fitness icon Tony Horton likes to say. Truly, people can look and feel their best—youthful, vibrant, refreshed—longer into their lives than ever before. Even so, the trio of exercise, diet and clean living can do only so much. In other words, sometimes people need a little help.
Glenn A. DeBias, D.O., founder and medical director of The Institute for Laser and Aesthetic Medicine, understands this notion better than most. At his offices in Doylestown and King of Prussia, Dr. DeBias and his staff offer an array of innovative aesthetic procedures for the face and body. These include everything from ActiveFx fractional laser skin resurfacing and body-contouring services to a lineup of cosmetic injectables, all to help patients maintain their hold on health and beauty—safely, naturally and effectively.
"Most patients today don't want to be 'cut and pulled,' which has the potential to lead to unwanted and in some cases irreversible consequences, including an unnatural appearance, nerve damage and scarring," Dr. DeBias says. "Patients, now more than ever, demand a rejuvenation process that offsets the aging process in a safe, natural way."
Patients who arrive with realistic expectations— meaning, understanding they won't look 20 years younger but they will be able to offset some of the "downward spiral" effects of aging— generally experience the most satisfying results. Furthermore, once these men and women have achieved their best look for their age, Dr. DeBias recommends ongoing maintenance to ensure longterm success.
To achieve this "best look" in the first place, patients require the touch of a gifted physician. By Dr. DeBias' definition, this means someone who is not only experienced and knowledgeable but also blessed with an artistic eye and has the right cutting edge technology and proprietary protocols.
The Institute has the most comprehensive collection of tissue tightening and resurfacing devices in the Delaware Valley. "The most popular and longest studied of these devices is the CO2 laser, which today is used in a fractional technique," says Dr. DeBias.
Dr. DeBias owns six fractional CO2 lasers, which are used at his facilities, and he has received international acclaim and recognition for developing the first fractional CO2 procedure in the world, ActiveFX. He has performed more than 20,000 of these procedures over the past 19 years and is most likely the most experienced physician performing fractional CO2.
"Fractional equals forgiving," he says. "Before fractional technology, it was not uncommon for overzealous or poorly skilled and inexperienced physicians to overheat the skin, causing scarring or loss of skin pigment. Active FX is our most popular fractional procedure involving a seven minute in-office procedure with four days of recovery afterwards. The results are nothing less than spectacular with extremely high patient satisfaction. Most patients are so satisfied that they wind up coming back once or twice a year to repeat the procedure as a maintenance strategy." The procedure has been dubbed by DeBias' patients as the "proverbial fountain of youth."
Frequent non-invasive treatments are far superior to more invasive and aggressive less frequent treatments based on data that Dr. Glenn DeBias has accumulated over the past 19 years. It's not onetime refreshments but frequent refreshments that consistently give patients the best skin health leading to higher satisfaction ratings at the Institute. The same holds true for fat destruction. Fat deposits effect all of us and they are mostly the result of genetics and age. Liposuction and Laser Lypolosis are less frequently sought after and have been replaced by non-invasive treatments to result in reduction in fat cell volume leading to body contouring. It doesn't matter what body fat percentage you are, these fat deposits affect all of us especially in the abdomen, flank and extremities to name a few. The Institute has seven devices to non-invasively reduce fat deposits and sculpt/contour body segments. Today, the non-invasive devices-SculpSure, Vanquish ME, and Excilis Ultra are the most sought after treatments at the Institute for fat destruction. Patient satisfaction is more than 95 percent using Dr. DeBias' proprietary protocols and technologies.
Another revolutionary service recently adopted by Dr. DeBias is SculpSure™, the world's first FDAcleared laser treatment for noninvasive fat destruction of the flanks and abdomen. This state-of-the-art, light-based technology is ideal for patients desiring body sculpting and the removal of stubborn fat.
Unlike other cold-freeze devices, this heat process is more intuitive and treats an anatomical area in approximately 25 minutes, as opposed to hours using a cold-freeze device, according to Dr. DeBias.
SculpSure utilizes a unique wavelength for fat destruction, with results noted as quickly as six weeks. The technology effectively heats the fat layer under the skin, while providing constant cooling on the skin surface for patient comfort. Well tolerated and used on all skin types, SculpSure has patient satisfaction rate of higher than 90 percent.
The Institute for Laser and Aesthetic Medicine is located at 110 Hyde Park and 1030 Continental Drive in King of Prussia, for office hours, to schedule an appointment or for more information, visit ILAMed.com or call (215) 230-1804.
Photograph by Michael Sahadi
Published (and copyrighted) in Suburban Life Magazine, May, 2017.