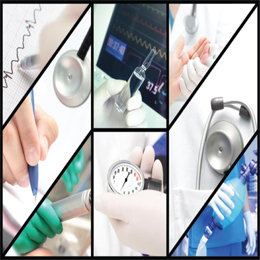 On the Cutting Edge
It's impossible to keep track of how many advancements medicine has made in the last decade, but suffice it to say, medicine is taking a giant leap, thanks to precision medicine, targeted therapies and patient-focused care. Suburban Life/Philadelphia Life spoke to some of our area's leading hospitals about their cutting edge advancements in the most demanding fields of medicine.

CARDIOLOGY
Nationally, there's a collective effort to improve cardiovascular health and St. Mary Medical Center's Heart and Vascular Center has been among the first hospitals in the area to offer the latest treatments. Since becoming the first hospital in Bucks County to do open heart surgery in 1997, the center has since led the charge, whether it is with stents or structural heart programs.

"Generally when everything comes out, St. Mary has really made an effort to get it first," explains Medical Director of the Heart and Vascular Center Ronald Fields, M.D. "[We have] the second largest [cardiac catheterization] volume of any hospital in the Philadelphia region."

Outside the cath lab, St. Mary instituted telehealth centers to keep tabs on their off-site patients with congestive heart failure, in addition to opening a congestive heart failure clinic this summer. What's more, St. Mary has dedicated efforts in emergency care for heart attacks.

"A big effort St. Mary has made is to work with all the local ambulance companies [so] they can do an EKG at the person's house, transmit it to us—especially if someone is off hours or [it's] in the middle of the night—and the ER can … activate our heart attack team so we're getting there as the patient is getting there, and we can get them right up to the cath lab."

NEUROLOGY
After years of basic neuroscience research, doctors and specialists in the field are gaining a better understanding of many common neurologic diseases, which were otherwise known to be unapproachable. Treatments and therapies for Parkinson's disease, Amyotrophic Lateral Sclerosis (ALS/Lou Gehrig's Disease), multiple sclerosis (MS) and more, are becoming a lot more precise with the help of advanced magnetic-resonance imaging and genomics.

Arguably leading the charge is the University of Pennsylvania, whose system includes Hospital of the University of Pennsylvania (HUP), Pennsylvania Hospital and Penn Presbyterian Medical Center, plus additional local area hospitals including Chester County Hospital. As a result, the system's services have grown exponentially. "We've doubled the size of our faculty across the health care system at University of Pennsylvania at all three central hospitals [and] we've added both brand new critical care units," explains Frances E. Jensen, M.D, F.A.C.P, and chair of the department of neurology at the Perelman School of Medicine University of Pennsylvania. "We've added new outpatient clinics and we've started to develop more centers of excellence around specific disease sets."

Particularly for MS, there has been a groundbreaking advancement with the new drug, Ocrevus, which according to Jensen, has been approved for treatment to modify MS and decrease the person's disability. "We've been getting better and better with our research and trying to find drugs that precisely get at the MS lesions more effectively. .... Penn is the only place in the region offering this," she notes, adding Amit Bar- Or, M.D, F.R.C.P.C, who helped with the drug's discovery, is now at HUP.

"We're able to blend highly-skilled, experienced researchers with our world class clinicians and really get innovations like this out because it needs to be available to the public as soon as clinical trials are completed."

ONCOLOGY
When it comes to cancer treatment, specialists are looking to clinical trials and research to find new ways of targeting cancer, with the least amount of side effects possible.

The Children's Hospital of Philadelphia (CHOP), in particular, is at the forefront as they're discovering the latest in immunotherapy and proton therapies. CART-19, an immunotherapy, for instance, was piloted at CHOP several years ago and used to put relapsed leukemia into remission.

"It's basically harnessing the child's own immune system to fight the leukemia," explains CHOP Medical Director of Oncology Anne F. Reilly, M.D, M.P.H. "You take some of these T-lymphocytes, a type of white cell, transform them in a lab to fight the leukemia and then infused them back in and they fight the leukemia." The therapy is currently going up for FDA approval, with the end goal of having it distributed to hospitals around the country.

Additionally, CHOP—with the University of Pennsylvania—was the first to adapt a new way of giving radiation: proton therapy. "It allows you to [focus] on the tumor and get less scatter of radiation to normal tissues, which gives you reduced side effects," explains Reilly.

As for Main Line Health, their Lankenau Institute for Medical Research (LIMR) is also leading with clinical research trials—particularly with National Cancer Institute (NCI) Community Oncology Research Program funded studies. "We've just started a second trial looking at immunotherapy in aggressive form of breast cancer," explains Chief of the Division of Hematology- Medical Oncology Paul B. Gilman, M.D, who is also the Director for the Clinical Research Center at LIMR.

"Immunotherapy has really been this rapidly growing and expanding field [with] a great deal of excitement about the results," he says, adding, "The clinical trial program here helps to ensure that we have the cutting edge and investigational therapies to offer our patients."

Another aspect is Main Line Health's focus on precision medicine. "When we're treating cancers, we're looking at the very basic fundamental genetic makeup of cancer cells within that tumor and started to direct our treatment based on that, the analysis of proteins [and genes] … so we [can] be much more precise in our treatments."

ORTHOPEDICS
When it comes to orthopedics, St. Mary Medical Center is bringing the focus back on its patients as the system has been focusing on patientfocused care, multimodal pain management and rapid recovery for the past decade—in addition to using the most up-to-date instrumentation in the operating room.

"[We're] always looking for the best things to add that are going to help the patient," explains Medical Director of the Center for Joint Replacement George P. Cautilli, M.D. "It may not be technologically cutting edge, but it's certainly, in this day and age, about what's important to the patient—especially when a lot of them are footing the bill … and they're starting to become more consumers of health care."

That focused care involves educating the patient about the surgery, both pre- and postoperation. "It's gathering all this information for the patient so all they have to do is participate," says Cautilli. As for multimodal pain management, he explains it involves a multitude of options including injectable Marcaine—a novocaine derivative—during surgery, ice, Tylenol, antiinflammatory medication at appropriate doses and post-op therapy exercises.

"You can control a lot of pain … [and] you get a lot more out of patient. Obviously they're more satisfied, but they can perform tasks more rapidly." This is in part of St. Mary's rapid recovery, which gets patients up and moving once the anesthesia wears off. "We've gotten to the point where a patient can go home the next day and have the therapist come to the house the following day," adds Cautilli. "We've learned a return that you can get these patients up and moving quicker and they actually do better, have less complications and have a higher satisfaction."
RESOURCES

Children's Hospital of Philadelphia
CHOP.edu

Thomas Jefferson University
and Jefferson Health
Jefferson.edu

Main Line Health
MainLineHealth.org

St. Mary Medical Center
StMaryHealthCare.org

Penn Medicine
PennMedicine.org
Published (and copyrighted) in Suburban Life Magazine, June, 2017.