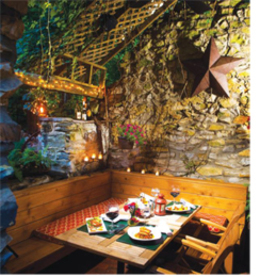 Warren Peace
Russian novelist Leo Tolstoy writes: "There is no greatness where there is not simplicity, goodness, and truth."

Indeed, this can be said of greatness in all places—the heart, the mind and even the kitchen.

At General Warren in Malvern, chefs strive to, and achieve, such greatness through exactly these means—by serving cuisine that is not simple, but hardly overwrought; made of ingredients emanating fresh, honest goodness; and resonating with the truth of the parts of which each dish is comprised.

Dating back to the 18th century, this establishment has been housing a sparkling mosaic of beautiful dining areas, both in and outdoors, as well as guest accommodations featuring modern amenities nestled in charming cottage decor. General Warren invites weary guests to slumber in any of their many well appointed suites, be it for a single night or a week-long getaway.

Proprietor Patrick J. Byrne explains that amongst his greatest professional joys, he feels honored" to be the current overseer of a historic property that has been providing comfort, sustenanceand safety to Great Valley travelers for 272 years."

Byrne says that the satisfaction of helping people with a special occasion, wedding, rehearsal, birthday or simply an anniversary dinner or business meeting makes his a fulfilling career like no other.

Also one of a kind is the experience in store for each and every guest.

Inside the restaurant, elegance abounds, from the linen napkins and candle lit tables to the ambiance harkening back to simpler times. Outside, a lush and verdant oasis features both covered and al fresco tables, each resonating with the charm of an English country garden.

The two-tier brick terrace features an upper terrace, open for lunch on weekdays and dinners everyday but Sunday. "With better weather, the upper terrace can accommodate up to 50 people with up to 14 at one table,"explains Byrne. Libation lovers can rejoice during happy hour, held 4:30 p.m. to 6:30 p.m. on weekdays.

The lower terrace, which can accommodate up to 60 guests for a cocktail and hors d'oeuvres reception, features a fireplace and aesthetically pleasing heating for guests to stay cozy on chilly nights. On the night I visited—a cool and misty evening in early June—a fireside table proved the perfect setting for my memorable meal.

One of General Warren's most stunning features is found on the lower terrace; this area features a handful of well-appointed patio tables as well as a secluded dining cove housed inside a stone springhouse that is more than 200 years old. Dine under the green and tangling vines in the stone enclosure for an intimate and rare experience.

Of course, as they should be, the true stars of the General Warren experience are the fresh and thoughtful dishes crafted by the expert kitchen staff.

"We combine our classics with new contemporary dishes we see and also respond to our loyal patrons requests for new dishes," Byrne explains. "I travel to Philadelphia, Washington and New York regularly to see what's happening in the restaurant scene.

"Freshness and uniqueness [are] paramount," he continues. "We are lucky to be in an area with access to farm products—fruits, vegetables and meats—and also from the sea and waterways of the Mid-Atlantic."

Such fresh ingredients flourish in the snapper turtle soup, a dish featuring gently seasoned meat blended into a base of rich caramel roux. The result, topped with a splash of dry sherry, is a thick, hearty, soul-warming medley reminiscent of Southern haute cuisine.

Elegant fruits de mer steal the show in the pan-seared scallops small plate. Delicate orbs of sweet undersea meat are accented by nicely seasoned miniature patty pan squash and set atop velveteen carrot purée."Drunkenplums"embody a tart acidity that make them the perfect complement to the dish.

As a long-time Southerner (nearly 15 years as a resident of New Orleans, La.), I can safely say I know my grits and often, this dish falls short when travelling north of the Mason-Dixon. Yet, General Warren does this Southern staple justice. Creamy grits featuring a confetti sprinkling of roasted red pepper and whole kernel corn keep spicy crustaceans good company in the Cajun shrimp and grits dish.

After much deliberation, my heart felt pulled to one main dish in particular—the beef Wellington. A true classic in culinary history, this dish is stunning when properly executed; afeat that is not small. Yet, General Warren rises to the challenge. Hearty filet mignon is topped with pâté and mushroom and enveloped in a beautifully rendered puff pastry. Accompanied by a wild mushroom demi-glace, asparagus and potatoes, this savory entrée is a must-try for diners seeking a truly elevated main course.

As any goodmeal should, my General Warren experience ended on a sweet note.

The coconut cream pie was positively ethereal; light, delicately sweet, almost gossamer intexture. The pecan praline cheesecake approached the table from the opposite side of the flavor spectrum, offering sinfully rich texture and a beautiful crunch from the candied nut topping.

Overall, the dining experience at General Warren was all one might expect of an establishment with hundreds of years of history; charming surroundings, amiable, knowledgeable and attentive staff and cuisine to remember.
General Warren
9 Old Lancaster Road,
Malvern, Pa.| (610) 296-3637
GeneralWarren.com
Published (and copyrighted) in Suburban Life Magazine, May, 2017.