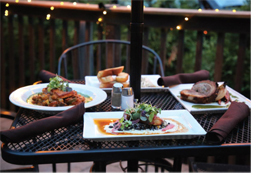 Tastefully Different
Ask General Manager Maggie Fellenz or Chef Thomas McGinn to describe Bowman's Tavern, and both will con- currently sum it up as a down-to-earth atmosphere with unparalleled service and cuisine, which constitutes the backbone of the business.
The Tavern has been long in existence for several decades prior under various names and ownerships. The current owners, James and Christine Seward, have since sought out to create an impeccable and memorable dining experience for residents of New Hope and beyond.
Though the contemporary American cuisine and tastefully decorated interior seating for up to 135 guests remain center stage focal points among patrons, the experience arguably begins before doors open to satiate the voracious appetites of its guests.
"We offer complimentary valet parking Wednesday through Sunday in order to accommodate our guests," says Fellenz. "Our need for valet is imperative to accommodate our guests. At one point, we were having reservations cancel or guests parking on streets nearby and walking in the dark down River Road. Our valet staff is second to none."
Additionally, Bowman's Tavern boasts a charming exterior, featuring a vegetable and herb garden tended by Christine herself, and a spacious outdoor patio area lined with six tables and accented with newly planted Arborvitaes and hanging flower baskets. Fellenz notes the herbs grown in the Tavern's garden are frequently used in both menu items and cocktails. As for diners who opt for the outdoor seating, they're encouraged to bring their four-legged friend to accompany them.
When guests enter the Tavern's foyer, they 'll experience the restaurant's relaxing atmosphere and gather an aroma of fresh popcorn from the Tavern bar. Fellenz illustrates the restaurant's aesthetic as "rustic industrial," from renovations as recent as 2014. The interior features weathered barn wood laminate floors, knotty pine walls and dainty illumination by Edison light bulbs to offer guests a cozier feel.
"Each room is unique and has its own theme, but it all ties together what Bow- man's is," Fellenz notes. "And the same menu is offered in each space, seven days a week."
There is no shortage of dining preferences at Bowman's Tavern, as it offers seating aplenty from its 16 bar seats and 5 high-top tables in the Tavern bar; 16 seats and 6 tables in the Lounge bar—or the piano bar—and numerous tables through- out the main dining room. Those grabbing a libation at the Tavern bar will also notice beer taps are custom-made from vintage fly- fishing rods—a longtime hobby of owner James himself.
"The piano in the Lounge bar was re- claimed years ago from Odettes Cabaret and Piano bar," Fellenz adds. "Repurposed instruments embellish the barn wood walls in the music-themed Lounge bar."
If there's one thing for certain, it is that the Tavern's cuisine matches up to its one- of-a-kind décor. While some may assume the food associated with a tavern to be standard, ordinary American pub fare, the dishes served regularly by Chef Thomas McGinn are anything but.
"The cuisine offered at Bowman's is loosely based around the contemporary American style, and we strive to offer up- scale pub food with a sophisticated twist," McGinn says. McGinn is classically trained in French cuisine, and strives to marry his training and roots with the style of the Tavern—with less butter and cream, to cater to a health-conscious customer base.
"Our patrons today are looking for a product that is environmentally conscious, local and wholesome," he says. "We take all of these factors into consideration when developing our seasonal menus and weekly specials."
Favored dishes among Tavern regulars include the scallops with sweet corn polenta and roasted mushrooms, and any variations of the salmon entrée. McGinn says they'd be hard-pressed to consider removing either from the rotating menu, after a massive up- roar broke out when the Tavern originally re- moved the polenta and mushrooms from the scallop dish.
"We have changed the accouterments many times," he says. "For the summer, we have returned the scallop dish to the local sweet corn grits with the roasted mush- rooms and white truffle oil."
The summer menu was introduced as of June 16 and has nothing short of variety that reflects the piquant and lush flavors of the season. Items include a compressed watermelon salad with pickled fennel, local feta cheese sourced from Fulper Family Farmstead, toasted pistachios drizzled in an orange coriander vinaigrette, and house roasted porchetta with a kohlrabi purée, roasted heirloom carrots, local spring onions and chimichurri."We are also featuring an heirloom tomato salad with fresh burrata cheese, arugula, aged balsamic vinegar and basil," McGinn adds. "Within the next few weeks we will be able to source the tomatoes for this salad locally, as it will be Jersey tomato season."
In addition to seasonal entrées, Bowman's Tavern also offers seasonal libations, including their newest fan favorite, the Blue- berry Lemonade, crafted with fresh-squeezed lemonade and house-made blueberry simple syrup. Other favored cocktails include the Bowman's Old Fashioned, the Raspberry Cosmo and the Pear Sour. If a meticulously crafted cocktail isn't your drink of choice, the Tavern has an extensive list of craft beers, scotch, whiskey, bourbon and wines to select from.
"Wines, liquors and beers are all based on the demands of our guests and current trends," Fellenz notes. "We occasionally get requests from regulars for a particular brand or type of alcohol, and we do our best to accommodate their requests."
Aside from the diversity of outstanding Tavern fare, there's one other thing diners can collectively agree on—the variation of live music performed nightly by local and out-of-town artists seven nights a week. Fellenz says that Friday night in the Lounge bar with New Hope's very own Bob Egan is truly the place to be.
"Bob [Egan] plays the piano and guests have the opportunity to get up and sing a song of their choice," she states. "It's probably our busiest night in the Lounge bar, with tables being reserved weeks in advance. People drive from all over to have dinner, catch up with friends and of course, to have the chance to sing along with Bob."
After just one bite or one night of singing along to an assortment of classics with Bob Egan, Fellenz and the staff at Bowman's Tavern guarantee you won't leave without al- ready planning your return visit.
"The experience you will have at Bow- man's is remarkable and unlike any restaurant in the area," she continues. "Bowman's offers a one of a kind experience that will appeal to all. Our team of both front and back of the house staff work in unison to attain the same goal—to provide a memorable experience to each guest, while providing exceptional food and beverages."
Bowman's Tavern
1600 River Road, New Hope, Pa. (215) 862-2972
BowmansTavernRestaurant.com
Published (and copyrighted) in Suburban Life Magazine, July, 2017.
To subscribe to Suburban Life Magazine, click here.