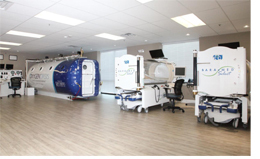 Breathe Your Way to Wellness
Victoria Bliss-Calkins vividly remembers the suffering her husband, Tom, went through almost 10 years ago when he was diagnosed with stage four squamous cell carcinoma, also known as throat and neck cancer. Tom's tonsils, neck muscles, and 40 lymph nodes were surgically removed and he under went a rigorous regimen of chemotherapy and radiation. It took a toll on his body and the radiation caused damage in his jaw and neck area.
"He had severe tissue dam- age that caused paralyzing muscle cramps. He couldn't even catch his breath," Victoria re- calls. "His salivary glands were so damaged that as soon as food entered his mouth, it was like eating a piece of wood as he could not break down the food. He dropped a tremendous amount of weight, and was at a point where he wanted to give up on life."
When the Calkins' searched for treatment options, they came across Hyperbaric Oxygen Therapy (HBOT)—a non- invasive medical treatment that delivers 100 percent oxygen in a hyperbaric chamber. Tom experienced remarkable results: he regained flexibility in his neck, his salivar y glands began functioning again, and the muscle spasms were completely gone. After noticing his vast improvement, Victoria found a calling—she wanted to help others the same way HBOT helped her husband.
In 2011, Victoria left her job of 32 years to start her own company—Oxygen Therapurity, LLC (O2TP) to make HBOT more widely available to hospitals, medical centers and clinics. She received certification in Hyperbaric Medicine and Facility Safety, and in 2014, she opened Oxygen Oasis Hyperbaric Wellness Center in Langhorne, Pa. to provide the community with access to HBOT for a number of diagnoses.
Patients inside the hyper- baric chamber breathe 100 per- cent pure oxygen, compared to the 21 percent oxygen we breathe in daily, according to Medical Director Benjamin Lam, D.O., FACOS, FACS. Oxy- gen within the chamber is delivered at pressures greater than 1.5 to 2.5 times the normal sea level pressure.
"You are simulating an environment where you're going below the ocean at depths of 17 or 33 feet," Victoria says. "Oxygen under pressure becomes soluble, and super saturates the body with oxygen deep into the tissues and all body fluids. It also aids in the growth of new blood vessels."
According to Dr. Lam, creating new blood vessels increases blood supply to the damaged tissues and breathing in more oxygen also decreases inflammation inside the body, expediting the healing process.
The number of treatments patients receive depends on their condition and each treatment lasts for 60 or 90 minutes. Prior to undergoing treatment, patients meet with the hyper- baric physician for an initial evaluation, physical, and re- view of their medical history. Oxygen Oasis treats a spectrum of diagnoses, ranging from neurological disorders such as multiple sclerosis, fibromyalgia, RSD, stroke, cerebral palsy, anoxic brain injury and autism, to athletes with sports injuries such as concussions, high ankle sprains, fractures and pulled muscles, and veterans suffering from traumatic brain injury and/or post-traumatic stress. Other common conditions treated with HBOT include Lyme disease, migraine headaches, Crohn's/colitis, rheumatoid arthritis and even substance abuse.
"Patients' pain decreases, their memory improves, and various short- and long-term effects of brain injuries or concussions subside," Victoria says. "One of our patients who was treated for multiple sclerosis stopped using her cane for the first time in 20 years."
This holistic approach to healing the body has led some patients to stop taking medications because HBOT treats the underlying causes.
"When we looked at all the things being done today to help veterans, many are treating the symptoms and not the underlying causes," Dr. Lam says. "For instance, depression is often caused by the inflammatory process. But, instead of treating the root cause, they are prescribed a pill to mask the symptoms of depression."
Former Philadelphia Flyer and Hall of Famer Brian Propp received HBOT after he suffered a massive stroke in 2015. This left him unable to speak and with impaired motion on his right side. After treatment, Propp says his speech is much better; he's thinking clearer and feels better overall. He credits Oxygen Oasis with the improvements he experienced.
Jennifer and David Torres also credit Oxygen Oasis with helping improve the life of their daughter, Gia. Diagnosed with autism at the age of two, she had problems communicating verbally and barely made eye contact. Gia was disconnected from Jennifer and David, and they didn't exactly feel like parents to their little girl.
"Most of the time we just felt like babysitters," Jennifer says. "We took care of Gia and we met her needs, but there was no connection between us. She wasn't interested in our world or having us play with her."
Following HBOT, they noticed improvements in her fine motor skills—she was able to pick up a cup and eat food with a fork for the first time— and two months after treatment, Gia had an "explosion of words," says Jennifer. Gia also had extremely dry skin due to eczema and her skin instantly cleared up.
"After doing treatment, she just started coming up to us, looking at us and grabbing our hands and taking us places. We started to feel like her parents," Jennifer says. "Her response to HBOT blew everybody away; even our home therapist was surprised. I would absolutely recom- mend it to other families."
Oxygen Oasis Hyperbaric Wellness Center is the first free- standing advanced wound care and hyperbaric facility in Pennsylvania to offer both multiplace and monoplace hyperbaric chambers, which gives patients the choice of receiving treatment sitting up in a group setting or lying down in a single chamber.
According to Victoria, studies have shown that a relaxing and peaceful environment can be instrumental in the healing process. By combining a state- of the-art wound care/hyper- baric center with a soothing environment run by caring physicians and staff, Oxygen Oasis provides maximum peace of mind for patients. From the visually appealing, spa-like setting to the warm, compassionate staff, every aspect is designed to create a calming treatment atmosphere conducive to healing.
Oxygen Oasis adheres to all hyperbaric industry standards to provide a safe, comfortable environment and experience for all patients. All treatments are administered under the super vision of their physicians and well-trained staff of certified hyperbaric and wound care technicians. The center has been accredited by The Joint Commission, the premier health care accrediting body in the nation by meeting all of its high standards for quality and safety.
Oxygen Oasis Hyperbaric Wellness Center
O2Oasis.com
848 Town Center Drive
Langhorne, Pa. 19047
(215) 352-3720
Published (and copyrighted) in Suburban Life Magazine, July, 2017.
To subscribe to Suburban Life Magazine, click here.