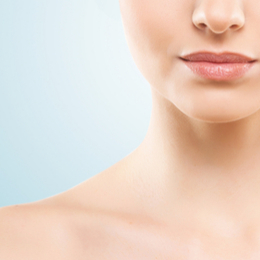 The "Precision Lift" … The Neck's Best Thing!
Facial Rejuvenation reaches new levels at Bucks County Plastic Surgery and Dermatology.
With so many options that exist today for rejuvenating the face and neck, how does one know what is the right procedure to select to turn back the clock and give a person a more youthful, refreshed look Injectables, botox, dysport, Kybella, ultrasound, radiofrequency, lasers, and, of course, surgery are all options heavily advertised as being the latest and greatest fountain of youth. There are many choices with too little education for the patient. While each procedure or product can give rejuvenation benefits, patient education is critical to align the appropriate procedure with patient expectations and avoid costly errors that sometimes occur when patients select easier procedures that fail to accomplish their desired aesthetic outcome.
The answers to all of these questions can be found in the surgical offices of Dr. Robert Skalicky and Dr. Michael Shafran, plastic surgeons at Bucks County Plastic Surgery and Dermatology. After years of treating patients and seeing their level of satisfaction with different procedures, Drs. Skalicky and Shafran decided to develop a technique for facial rejuvenation that gives the best aesthetic rejuvenation result with the greatest return on investment for the patient. The procedure termed, "The Precision Lift," is a technique that combines traditional surgical facial techniques with laser technology.
This procedure utilizes a two layer surgical tightening and volumizing technique in the cheek and mouth area, along with laser skin tightening on the neck area utilizing Cynosure's Precision TX technology. The laser treats fullness in the neck area by "melting away" excess fatty tissue that is present and also shrinks the skin of the neck through laser heating of the dermal skin layer. The procedure is performed in the office in about 90 minutes, and can be done with or without mild sedation.
Results are immediate and long lasting. Recovery is approximately 10 days for most patients.
"The technique combines two proven technologies into one procedure to rejuvenate the face and neck by combining the advantages of laser technology with surgical tightening," Dr. Skalicky states.
The beauty of the procedure lies in the details. It is a procedure that is done in an office setting, and is done without the need for general anesthesia. It gives a rejuvenated look without tell tale signs that major surgery has occurred. And recovery time frames are quicker. In short, it provides the answers that everyone is looking for in facial rejuvenation—a "natural" rejuvenated appearance, safety, and cost effectiveness.
The Precision Lift offers patients a single procedure that naturally rejuvenates the face and neck, giving real results that dramatically refresh facial appearance. The technique creates a rejuvenated foundation for the face and neck reducing or eliminating the need for additional types of treatments.
Drs. Skalicky and Shafran lead the aesthetic team at Bucks County Plastic Surgery and Dermatology. The team consists of plastic surgeons Drs. Skalicky and Shafran, dermatologist Dr. Ivy DeRosa, physician assistant Kaitlyn Nelson, nurse injector Michelle Petrillo, and aesthetician Brittany Bray. The team provides full service aesthetic and medical care to patients in multiple locations throughout the area including Newtown, King of Prussia, and Buckingham.
Complimentary consultations can be made by calling (215) 860-9600.
Published (and copyrighted) in Suburban Life magazine, February 2019.

For more info on Suburban Life magazine, click here.
To subscribe to Suburban Life magazine, click here.
To advertise in Suburban Life magazine, click here.