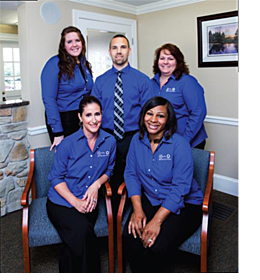 Relationship-Based Dentistry
For Dr. Jason Petkevis of Dental Distinction, his job isn't just about performing dental cleanings, filling cavities and dental implants. His approach to dentistry is building relationships with patients, offering them the highest quality of care that goes above and beyond the typical dental experience. He calls this philosophy, comprehensive dentistry.
"Complete care dentists provide high quality care with a relationship-based approach to treating patients, not just treating their teeth," he says. "There's much more to health than just teeth. We like to get to know our patients, address their concerns and achieve what they hope to accomplish. ... We make sure patients have optimal function. Not only do they feel good, they look good as well." Dr. Petkevis offers a full range of general dentistry services, including routine preventative care, cosmetic dentistry, dental implants, basic restorative procedures and treatment for TMJ (temporomandibular joint) disorders.
"We're equipped and trained to handle a variety of different types of dental patients, including those with complex dental problems, patients who have high aesthetic demands, and those who have trouble with their jaw joints or bite," he explains. "We really excel in those areas."Dr. Petkevis is one of the few dentists in the area who has received advanced training in treating TMJ disorders—the joint that connects the upper and lower jaw—and is responsible for the opening and closing of the mouth. He says most of the time, TMJ disorders and cosmetic concerns are interconnected.
"When people don't like the way their teeth look, they often have a functional problem that may have caused damage to their teeth and their smile has changed as a result," he says. "Many dentists aren't trained to handle these problems appropriately. A lot of these people have dealt with it for many years and never really found a solution until they came here."
That's in part because Dr. Petkevis and his staff are constantly taking continuing education courses, learning the newest techniques, and in turn, educating their patients. Dr. Petkevis's devotion to advancing his practice of dentistry has resulted in being awarded a Fellowship in The Academy of General Dentistry.
"I spend a lot of time training and working to learn how to handle complex issues, such as TMJ and bite issues," he says. "I made a commitment as soon as I got into practice to learn as much as I can and to give patients the highest level of care possible. That spirit has been passed onto the staff as well. As a team, we take courses and travel all over the country studying a myriad of topics. We bring back what we learn and our patients appreciate it."
Dr. Petkevis says he and his staff's thoroughness and attention to detail with every- thing they do—from routine appointments to complex procedures—sets his practice apart because of their interest in the whole health of the patient. This includes a new- patient exam that addresses 17 key components of oral health.
"One of the first things I'll do during the initial visit is meet with the patient, talk to them for five to ten minutes to get a feel for their concerns, and prepare them for what lies ahead," he explains. "Once I have listened to the patient and have an understanding of their goals, we begin obtaining relevant clinical information. We take photographs, check blood pressure, perform an oral cancer screening, evaluate the TMJ and bite, check the condition of each tooth, and complete a gum exam. In some cases, we will also obtain bite records and study models. Using this approach, treatments are well-planned. We are basically going through system of checks and balances—if we diagnose a problem, we can present options for a predictable solution. I spend a good deal of time with patients developing a personalized treatment plan. Practicing dentistry this way puts patients at ease. It leads to a more comfortable, longer lasting, and more aesthetically pleasing final result." And having a state- of-the-art facility helps diagnose problems quicker and more efficiently.
"We are constantly keeping up with any new technology and our office is completely digital," says Dr. Petkevis. "We have the ability now to use digital technology to take impressions and our digital bite recorder reads where bite contacts are off. We also have smile design software to guide aesthetic cases. It gives me measurements and dimensions so that, if we are working on redesigning a smile, I have a way to ensure the cosmetic changes are going to be appropriate for that particular patient."
Patients visiting Dr. Petkevis for a complete exam can expect to have his undivided attention. The visit lasts approximately 90 minutes with no interruption. Dr. Petkevis goes above and beyond to make sure his schedule allows individual time with each patient. He sees one patient at a time, allowing him to focus entirely on that patient.
"Patients compliment us on our thoroughness and attention to detail," he says. "People often tell us that they had never had an exam like the one they received at our office. They are grateful for the time we spend with them."
Recently, Dr. Petkevis worked on a complex case with a patient who had missing front teeth, alignment and bite issues. The transformation from start to finish took about a year, but was well worth it for both Dr. Petkevis and the patient, whose results were life-changing.
"We added dental implants, veneers and crowns and worked on his bite," Dr. Petkevis recalls. "His case took awhile to get to the results, but he was thrilled to death. He had been without his natural front teeth most of his adult life and never had anything that resembled his own teeth. The patient remarked on how normal and natural every- thing felt; he was amazed. He's been able to eat everything and he has an amazing smile. It's game-changing for him."
Transforming patients smiles, giving them that boost of confidence they haven't had in some time and changing their outlook on life is what's most satisfying for Dr. Petkevis and his staff.
"It's gratifying and rewarding for us when we can make a positive difference in someone's life," Dr. Petkevis says. "That's why we wake up in the morning and do what we do."
Dental Distinction
126 Pottstown Pike
Chester Springs, Pa.
(610) 400-1459
ChesterSpringsDentist.com
Published (and copyrighted) in Suburban Life Magazine, July, 2017.
To subscribe to Suburban Life Magazine, click here.