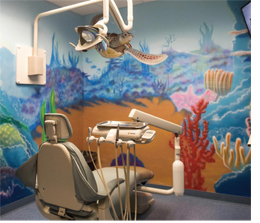 In His Father's Footsteps
Bringing joy, healing and a smile to patients is Dr. Jonathan Hayashi's goal each and every day at Children's Dental Health Associates in South Philadelphia —just like it was for his father, who was a doctor in Japan. Dr. Hayashi has been practicing dentistry for 17 years and is one of the practice's pediatric dentists who specialize in per- forming dental procedures with children. He was recently named the practice's first clinical director—a position that will assist new dentists in transitioning into the practice—and in turn, continue providing high-quality care to patients.
Suburban Life/Philadelphia Life spoke with Dr. Hayashi to learn more about his new role, his father's influence and his passion for practicing pediatric dentistry.
What will your new role as clinical director entail?
I am honored but humbled that Dr. [Eric] Felix has chosen me to be the first clinical director of Children's Dental Health Associates. This is a new role as we continue to expand and bring in more pediatric dentists into our practice. We have quite a few pediatric dentists joining us this summer, so my initial focus will be assisting our new dentists' transition into our practice. My responsibilities will include supervising our dentists and clinical staff, as well as evaluating our offices to make sure we are providing consistent, high-quality care to our patients across all of our offices. ... Over the years, I have had wonderful colleagues and instructors that taught me dentistry and more. My hope is that I can share some of that knowledge with our dentists at CDHA, learn from each other and continue to grow to be a better clinician and better person. Someone taught me long time ago that medicine is called a practice for a reason.
How did you get involved in dentistry?
I was born and raised in Japan. My father was a surgeon and an anesthesiologist, and he told me from very early on to follow his footsteps. He was a very beloved doctor in a small town and everybody knew who I was because of him. Unfortunately, his practice got so busy that it cost his life when I was 10. I moved to the United States at age 13 and my family did not want me to become a doctor because of what happened to my father. I did everything I could to find a passion in a different field, but I could never ignore or forget my father's wishes. In the end, I wanted to try to replicate all the joy and healing that he brought to his patients, but I chose dentistry instead as I felt it fit my personality and skill set.
What made you decide to practice pediatric dentistry in- stead of general dentistry?
I practiced as a general dentist for 12 years, and the last four of those years I spent part-time in a pediatric dental practice before deciding to go back to school/residency to become a certified pediatric dentist. At every practice I worked for, most senior dentists didn't like seeing children so I was forced into it, but I always enjoyed interacting with children more, and working at pediatric practice and seeing kids exclusively all day made me realize that I can make a better contribution in this specialized field of dentistry. ... The work is exhausting and sometimes thankless, but pediatric dentistry was the best career move for me. This is definitely not the career path I imagined when I graduated dental school in 2000. My only regret is that I didn't do it sooner.
What do you love most about being a pediatric dentist?
Every day is different and every day is a challenge. As I get older, chronic pain in my back, neck and shoulders makes it tough to get out of bed every morning, but doing my little part in making a difference in children's lives is what keeps me going. Parents depend on me to help their children get healthier mouths and I can't let them down. ... Once you talk to children and show them what you are going to do, most of them will listen and behave, even if they are scared.
Quite a few children are anxious going to the dentist. What do you do to make them feel comfortable and leave with a smile on their face?
Dentistry has [such a] negative perception but it becomes much easier when it's painless. Drawing from my own fear and painful child- hood dental experience, that's what I strive for with every patient, every visit. I never use the "n" word [needle]. My patients never see it, and I have a technique when giving injections that most of my patients don't even feel it. My greatest compliment is when my patient asks my assistant, "When is he going to give me the needle?" as I'm walking out the room after already giving an injection. A lot of older generations fear going to the dentist because of how dentists used to be, so I think it's every pediatric dentist's mission to make sure children we treat will love going to the dentist.
Each CDHA location has colorful, bright, kid-friendly décor. What is the theme at the South Philadelphia practice and what are children's reactions when arrive for an appointment?
All of our offices have different themes—space, jungle and ocean are the popular ones. Our South Philly office has the ocean theme, which is my favorite. I think most kids think it's cool with a big shark and a water dragon coming out of the wall, but I think the parents enjoy the cool décor more (laughs). They wish their dentists had offices like this when they were growing up.
Why should a parent send their child to Children's Dental Health Associates?
Most of our dentists have gone through two extra years of pediatric dental residencies after becoming dentists, and many of our pediatric dentists are board-certified as well. We take the time to explain and show everything to children. We are careful with words so not to scare them, such as the "n" word as I mentioned earlier. Not only our offices are kid-friendly, our dentists are more kid-friendly, too, and our staff makes sure all children that come to our offices leave with smiles on their faces and prizes in their hands.
How important is it to you and Children's Dental Health Associates to offer the highest quality of care to your patients?
My father taught me to treat people the way you want to be treated, so I try to treat every child like my own. I want nothing but the best for all my "children" so I give my best effort to give them the best oral health possible.
Published (and copyrighted) in Suburban Life Magazine, July, 2017.
To subscribe to Suburban Life Magazine, click here.